Dir: John Stockwell. US. 2014. 108mins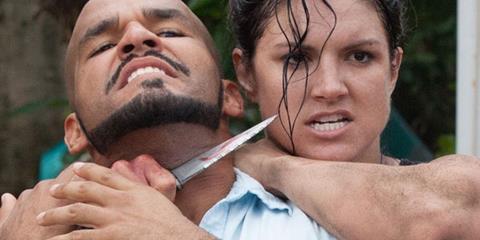 Mixed martial arts star Gina Carano confirms her action-star credentials in John Stockwell's brutal and bloody film In The Blood, something of a mirror image to Liam Neeson's hit thriller Taken, except it has a female lead who can handle the bludgeoning fight scenes for real.
The film is very much built around Gina Carano, and she certainly delivers.
Following key roles in Haywire and Fast & Furious 6, the film shows that she has the screen personality to carry an indie action movie, and while dialogue is still not yet her strong point, the trademark Carano fighting moves; muscular sexuality and her graceful ease show that she is becoming better and better. In The Blood, released by theatrically in the US by Anchor Bay, will appeal to action fans with its strong cast, cool locations and plentiful Carano fight scenes.
Directed by John Stockwell in Puerto Rico – always at his best when shooting in idyllic backdrops, as with his films Blue Crush and Into The Blue – the film moves at an appropriately frantic pace, and while its third act can't quite sustain the energy of the start (as it heads to a by-the-numbers climax) it has a breezy and violent energy that keeps it watchable.
The film opens with a flashback of the grungy young Eva (played as a youngster by Paloma Louvat) recalling the death of her outlaw father (Stephen Lang), a man who taught her how to fight and survive. As she says in narration: "When he was killed I never cried…not once."
Moving forward a few years, and the adult and nicely scrubbed up Eva (Carano) is getting married to hunky Derek (Cam Gigandet), much to the annoyance of his father (Treat Williams) who is suspicious of her shadowy past and thinks she may be after his son's fortune.
The couple head off for a Caribbean honeymoon – all glossily shot swimming and romancing – where it is clear the pair are in love. After being manhandled in a nightclub Eva gets the chance to show off her fighting skills (much to the bemusement of her husband), but things take a dark turn the next day when Derek is badly injured in a fall from a zip-wire.
He is rushed by ambulance to a hospital, but when Eva arrives there she is told there is no record of him ever being admitted. She seeks help from the local police chief (Luis Guzmán) but there seems to be no record of him or the zip-wire incident. Clearly it up to Eva to investigate herself – which she does so with violent ease – as she sets about tracking down those involved, uncovering a rather nasty conspiracy along the way.
The film has similarities to Stockwell's horror-adventure Turistas, about a group of tourists in Brazil who find themselves in trouble with members of an illegal organ transplant operation, but it is more Taken-style action-thriller, driven with breathless ease by Gina Carano's action moves and convincing fighting style.
Though there is a strong support cast, the characters drift in an out. Luis Guzmán is effective as the cop; Stephen Lang is familiar in a series of training flashbacks as her tough father; cult icon Danny Trejo chips into with a couple of important sequences and Cam Gigandet refreshingly has to play the hunk protected by his tough-as-nails wife.
Stockwell directs the early scenes in a glossy picture-postcard style, but as the film progresses the backdrops and atmosphere appropriately gets more and more seedy. The film is very much built around Gina Carano, and she certainly delivers. She has a rather innocent sexiness – there are a handful of shots to emphasise her body and physique, but never really exploitative – that suits her naïve but violently-trained character, and Eva's single-minded search for her husband does mirror that of Neeson in Taken….except that when it comes to the fight sequences she favours fist, knees and feet rather than guns.
Production companies: Movie Package Company, Lleju Productions, Verson Entertainment, MICA Entertainment, The Way We Roll Productions, Pimienta, Derby Street Films, ITB Productions
US Distribution: Anchor Bay
International sales: Cargo Entertainment, www.cargoentertainment.com
Producers: Raymond Mansfield, Shaun Redick, Marina Grasic, Cash Warren
Screenplay: James Robert Johnson, Bennett Yellin
Cinematography: P.J. Lopez
Production designer: Monica Monserrate
Music: Paul Haslinger
Main cast: Gina Carano, Cam Gigandet, Danny Trejo, Luis Guzmán, Stephen Lang, Amaury Nolasco, Ismael Cruz Cordova, Treat Williams, Yette Yates, Paloma Louvat