Dir/scr: Quentin Tarantino. 2009. US-Germany. 154 minutes.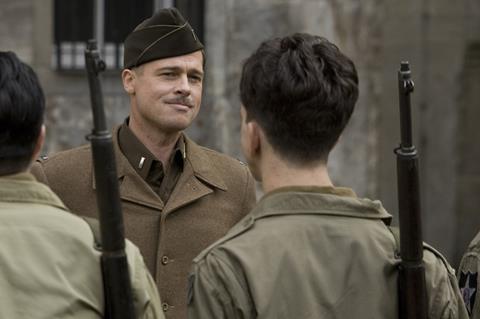 An intermittently-inspired World War II epic which illustrates both Quentin Tarantino's brilliance and his tendency towards indulgence, Inglourious Basterds is composed of a series of long-running vignettes strung together by a slender story thread. The problem is that no one character or set of characters runs through the entire two-and-a-half hour running time, and, with some of the scenes running up to half an hour each, the thread of the drama is left disjointed and the focus ever-changing.
Above-the-title star Brad Pitt plays the captain of a troupe of Jewish American renegades dubbed the Inglorious Bastards, but Pitt is far from the centre of attention and both French actress Melanie Laurent and Austrian actor Christoph Waltz both have more screen time and juicier roles. That, combined with the fact that most of the film is in French and German, will limit the film's box office prospects, principally in the subtitle-wary US where The Weinstein Company is opening wide on August 21. A big launch weekend should be guaranteed on the names of Pitt and Tarantino and the strong advance campaign which has been building on the internet, but like the Kill Bill films, it might fall fast in subsequent weeks.
Universal Pictures co-financed the film in return for international where audiences will be more receptive, especially in Europe. Results in Germany are unpredictable. A version of the script was leaked on the internet last year and already caused a firestorm in the German media, especially since the film – in which ordinary German soldiers are seen beaten and scalped – received considerable public funding from the government.
The Cannes world premiere ran to a shorter-than-expected 154 minutes but it still offers considerable challenges to the attention span of mainstream audiences. Even though there is some action and a fair smattering of Tarantino's customary blood-spilling, the film-maker devotes much of the running time to dialogue. As might be expected, Tarantino, the screenwriter shows off his ear for a witty back-and-forth or monologue with flamboyant frequency, often to the detriment of dramatic momentum.
And while much of the camerawork is tighter and more restrained than usual in a Tarantino opus, as befits the period, he still can't resist imposing a myriad of ostentatious references to other films on his original story (only the title is borrowed from Enzo Castellari's 1978 film). From constant references to Pabst and Riefenstahl to pieces of score from Dimitri Tiomkin (The Alamo), Ennio Morricone (multiple Italian scores, The Battle Of Algiers) and even snatches of music lifted from more recent horror movies like The Entity and Cat People (David Bowie's song Putting Out Fire) to hints of every war movie ever made, Tarantino once again insists on wearing his cinephilia on his sleeve. Some film lovers might appreciate his homages, others might view it as an obtrusive demonstration of a dearth of original ideas.
The opening scene alone, in which SS colonel Hans Landa (Waltz, perfectly evil) intimidates a French farmer (played by Denis Menochet) in 1941, runs to over 20 minutes, an indication of how the film is to continue. The result of the "friendly" interrogation is the massacre of a Jewish family hiding out under the floorboards although the teenage daughter of the family Shosanna (Laurent) escapes.
The second scene – already previewed in trailers – sees Lt Aldo Raine (Pitt, one-note in heavy Tennessee accent) briefing 12 Jewish American soldiers on their upcoming mission which is to fly behind enemy lines and kill as many Nazis as possible. Each is charged with collecting 100 Nazi scalps. Among the group are Sgt Donny Donowitz (Roth) who becomes famous for beating his victims to death with a baseball bat and a German soldier who has defected to the Allied side called Hugo Stiglitz (Schweiger, who doesn't say a word in the film).
The drama, scattered among so many characters as it is, eventually evolves into a 1944 plot called Operation Kino to blow up Goebbels, Goring, Bormann and other members of the German High Command at a cinema in Paris where a Goebbels propaganda film starring "the German Sergeant York" Daniel Bruhl is to have its premiere. The cinema is owned by Sosanna, now masquerading as a gentile, who has attracted the unwanted romantic advances of Bruhl.
The most brilliant section of the film sees a British spy (Fassbender) and two of the Bastards arriving in an underground bar to rendezvous with German film star and double agent Bridget von Hammersmark (Kruger). But when they arrive, they unexpectedly find a party of Nazis getting drunk and playing games. When the British spy's accent is questioned by one of the soldiers, a senior German major (Diehl) emerges from the shadows and a tense face off ensues.
Ironically Tarantino's dialogue here is not as tricksy or self- consciously clever as in other sections and the scene works through sheer tension and the skills of the excellent ensemble.
Other supporting players include Mike Myers, somewhat ridiculous as an upper-crust English general, Martin Wuttke as Hitler, the venerable Rod Taylor as Winston Churchill and cameos by Inglorious Bastards star Bo Svenson and Castellari himself. Tarantino regular Samuel L Jackson contributes a jarring voiceover midway through.
The cinema-set finale – which contains more than one fantastical turn of events – is suitably dramatic, and although Tarantino ends the film with Pitt, the real heroes of the film are women – namely the characters played by Laurent and Kruger, both giving showy star turns before grisly demises. With those two on the poster, the film could have been sold as Kill Adolf, Parts 1 & 2.
To sign up for Screen's weekly Reviews Newsletter with the week's new releases, international openings and full festival reviews delivered free to your mailbox every Friday, please click HERE
Production companies
A Band Apart
Zehnte Babelsberg
North American distributor
The Weinstein Company
International distributor
Universal Pictures/UPI
Producer
Lawrence Bender
Cinematography
Robert Richardson
Production designer
David Wasco
Editor
Sally Menke
Main cast
Brad Pitt
Melanie Laurent
Christoph Waltz
Diane Kruger
Michael Fassbender
Eli Roth
Daniel Bruhl
Til Schweiger
August Diehl
Mike Myers