Dir/scr: Alexander Mindadze. Russia-Ukraine-Germany 2011. 90mins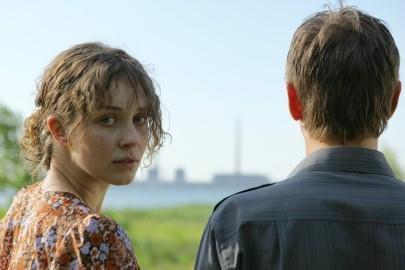 Jean Renoir famously commented that his The Rules of the Game, made on the eve of war, was about a society "dancing on a volcano". That's true too of the world depicted in Alexander Mindadze's troubling Innocent Saturday (V Subotu), except that in this case, the volcano has already erupted. The story is set in April 1986, immediately after the explosion of the Chernobyl nuclear reactor, on a Saturday when the population of the neighbouring town are still blithely unaware of the cataclysm.
Innocent Saturday is a flawed, perhaps overwrought, but often mesmerizing tableau of a dance of death.
While the opening sequence ostensibly promises an art-house variant of the generic disaster movie format, Mindadze's film proves much more distinctive and stylistically heightened, so much so that its sheer relentlessness can feel overwhelming. But, in its attempts to create a stylistic correlative for the panic concentrated in one protagonist who's in the know, Innocent Saturday (the original title V Subotu simply means 'On Saturday') creates a mood of agitated unease from start to finish.
The film is bound to be widely toasted on the fest circuit, although its stylistic intensity and overall bleakness - not to mention a hard-to-like protagonist - will make it a tough sell for all but adventurous art-house outlets.

Set over some 36 hours, the film begins at night, with Valery (Shagin), an engineer and party official, running desperately to get to Chernobyl, pelting up roads and through undergrowth, the camera pelting with him - as it does for much of the film. The first we hear of events, it seems there have been some containable explosions, but when the camera wanders into a meeting of despairing bigwigs, it emerges that the main reactor has blown - as signaled by an ominous glow in the night sky.
Valery is sworn to silence and, for whatever reason, largely keeps his promise. He heads into town, confides in his sort-of girlfriend Vera (Smirnova-Marcinkevich) and takes her for a manic dash in the hope of catching a train out of town.
They don't make it, but end up at a restaurant, where a raucous wedding party is in full flow, with Vera singing in the band for which Valery used to be drummer. As the party gets ever more unruly, Valery boozily re-bonds with his buddies, tempers flaring over old differences. It's only at the film's very end that the action leaves the party, except for a brief sequence when Valery again fails to leave town. For the most part, we're witnessing a society crumbling, prey to self-delusion and despair; the universally-denied reality of nuclear catastrophe also stands as a metaphor for the impending collapse of the Soviet regime.
Some people, including Valery, seem perfectly aware of the reality of events - indeed, the wrecked reactor is on full view for anyone with eyes to see - and yet the sense of life going on in normal, albeit hysterical fashion, takes on a surreal intensity. This intensity is heightened by Oleg Mutu's phenomenally energetic hand-held camera style, usually holding on individual characters, often accompanying them into the thick of fugues, brawls and dance floor mania.

The execution is hugely individual but unrelenting, to the point that many viewers may quickly weary of the onslaught. Another problem is that the volatile characters - fighting one minute, hugging the next - tend to behave as people do in art films rather than in reality, although Mindadze might argue that his film is true to the nature of catastrophe panic, and of Ukrainian society on drunken weekends.
Another stumbling block for viewers may be the continual company of a character who is borderline-inscrutable, and does little to help anyone else or even himself. But, as the consciously doomed Valery, Shagin makes a magnetic centre to the film's chaos, with Smirnova-Marcinkevich offering vivid support as the gauche Vera - although arguably, hers is a misogynistically conceived flibbertigibbet role.
Mindadze - best known as a screenwriter, notably for Vadim Abdrashitov - certainly achieves something very singular in this second feature. An English-language intertitle, following the sobering morning-after coda, puts a bathetic explanatory slant on the whole affair. But overall, as an attempt to evoke life at ground level during one of the great catastrophes of the modern age, Innocent Saturday is a flawed, perhaps overwrought, but often mesmerising tableau of a dance of death.

Production companies: Non Stop Production, Bavaria Pictures, Passenger Film, Sota Cinema Group
International sales: Bavaria Film International, www.bavaria-film.de
Producers: Alexander Rodnyansky, Sergej Melkumov, Matthias Esche, Philipp Kreuzer, Alexander Mindadze, Dmitrij Efremov, Oleg Kohan
Cinematography: Oleg Mutu
Editors: Dasha Danilova, Ivan Lebedev
Production designer: Denis Bauer
Music: Mikhail Kovalev
Main cast: Anton Shagin, Svetlana Smirnova-Marcinkevich, Stanislav Ryadinsky, Vasily Guzov