Dir-scr: Charles Ferguson. US. 2010.109mins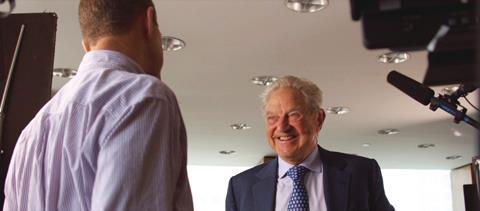 Mixing interviews, archive footage and lush HD aerial shots of its main locations, Charles Ferguson's second full-length documentary, Inside Job, gives the global financial crisis a cold hard stare where Michael Moore's Capitalism: A Love Story threw it a great big Michigan sucker punch.
Inside Job performs the task admirably in audiovisual form so that even financial dummies come out feeling enlightened and suitably angry.
Slickly shot and produced, it lends a voice - Matt Damon's - to the current mood of indignation against fat-cat bankers, but does a lot more to explain, in quietly passionate tones and with a more waspish sense of irony than Moore's, what went wrong and why it is still going wrong.

The non-fiction bestsellers lists prove that there's currently a real appetite for laymen's guides to the crisis that go beyond the bankers' usual defence (presented here more than once by Ferguson's hapless interviewee-victims) that the world of modern finance is extremely complex and we couldn't possibly understand.
Inside Job performs the task admirably in audiovisual form so that even financial dummies - like this reviewer - come out feeling enlightened and suitably angry. But despite its glossy production values and SPC's distribution muscle, it will be up against the theatrical hurdle that all non-Moore documentaries face. Cleverly targeted pitching in urban markets will help, and auxiliary prospects look rosy.

If we could sum up the film's argument in one phrase it would be: "the crisis was caused by deregulation". While voiceover duties are handed over to Damon, whose laconic delivery strikes just the right tone, we assume its Ferguson's voice we hear asking the sort of spiky, well-informed questions that allow his subjects little room to fudge (the only downside here is that the director sometimes cuts after his own clever riposte).

The film's 37 interviewees include such luminaries as financier George Soros, French Finance Minister Christine Lagarde and Singaporean prime minster Lee Hsien Loong. Notable by their absence are those who refused to be interviewed, who are named and shamed as the film's story of state-sanctioned greed, blatant conflict of interest and astonishing economic shortsightedness unfolds.
And whereas Moore's film on the meltdown took a wait-and-see attitude to the Obama administration's handling of the crisis, Inside Job is not so charitable one year on.
The final section, Where We Are Now, exposes the continued hand-in-glove relationship between Wall Street and the US government, and the government's lack of action on bank bonuses or effective financial regulation. As the Bachman Turner Overdrive song goes - one of four ironic pop tracks accompanying cityscape montages that allow us to catch our breath between the talking head chapters - they're just "takin' care of business".

Production companies: Represational Pictures, Sony Pictures Classics
International sales: Sony Pictures Releasing International, (1) 310 244 2073
Producers: Charles Ferguson, Audrey Marrs
Executive producers: Jeffrey Lurie Christina Weiss Lurie
Cinematograph:y Kalyanee Mam, Svetlana Cvetko
Editors: Chad Beck, Adam Bolt
Music: Alex Heffes
Narration: Matt Damon