Sam Claflin plays a charismatic young British officer coming apart under combat stress in First World War drama Journey's End. Screen talks to the actor about his passion for RC Sherriff's 1928 play.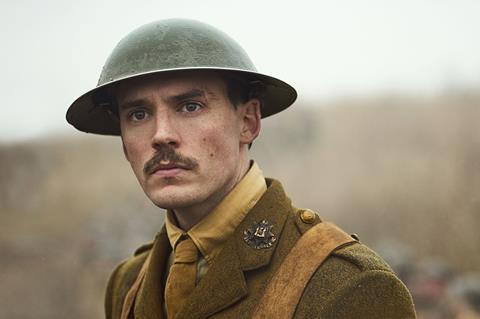 For Sam Claflin, it was seeing Journey's End on the stage that first ignited his passion to play the role of young First World War officer Captain Stanhope. The Suffolk-born actor was in his second year at London acting school Lamda when students in the graduating year presented the 1928 RC Sherriff play.
"I just remember being completely spellbound," says Claflin. "Being completely in awe, not only of the performances, but the story and the characters and the relationships and the world that was created. I remember sitting there in the audience thinking, 'I have to do this play. I have to somehow find a way of doing this professionally.'"
That chance seemed to come when theatre director David Grindley, who had mounted a successful version of the play in 2004, sounded out Claflin about starring in a revival. "We sat in the Groucho, and I was basically swearing, very excited," recalls the actor. "But we couldn't. I was in the middle of doing The Hunger Games. There was an array of scheduling conflicts."
Instead, the 2010 Screen International Star of Tomorrow became attached to a film version, adapted by Simon Reade and produced by Reade and Guy de Beaujeu — who had previously collaborated on the 2012 film version of Michael Morpurgo's First World War novel Private Peaceful. After two years of rather tentative momentum, the film finally came together for a pre-Christmas shoot in 2016, with Saul Dibb, whose credits include The Duchess and Suite Francaise, in the director's chair.
Sherriff's play is set in an officer's bunker beneath a British trench in northern France in the spring of 1918. The men of C-company, commanded by Stanhope, are in the front line, and braced for an imminent German attack. The battle-weary Stanhope hits the whisky bottle to get him through each night, and suffers shame and angry self-loathing when his degeneration is witnessed by teenage officer Raleigh (Asa Butterfield), a younger boy who idolised him at school and who is placed into the company for his very first posting. Reade in fact based his adaptation partly on Sherriff's later novel version, which opens out the action beyond the dugout without sacrificing its claustrophobic essence.
The character of Stanhope bears some superficial similarities to the damaged golden boy of Me Before You — the privileged, handsome accident victim that gave Claflin his biggest hit so far in a leading role, with more than $200m at cinemas worldwide. "I've worked out that pretty much every character I've played since my son [Pip, nearly two years old] was born has been somewhat damaged," he says, laughing. "It's a pattern."
But the two men are damaged in very different ways. "I try to challenge myself in new ways with each character," says Claflin. "With Stanhope, I loved exploring someone who is so detached from who I am. Although there are similarities — when I'm fearful of something, I kind of get louder. It's a front you put on. I sort of figured there were similarities between the way he reacts to things and someone who is a domestic abuser. Someone who, in front of the men, is seen as brave and heroic, but behind closed doors is aggressive, violent and angry."
A soldier's perspective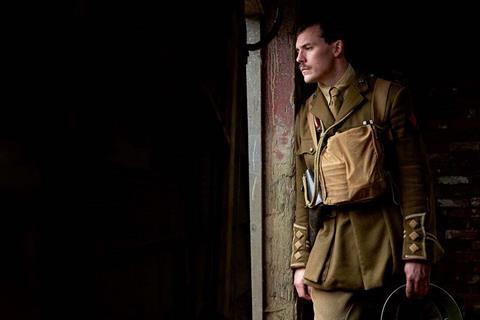 To help Claflin, Butterfield and fellow actors Paul Bettany, Stephen Graham, Toby Jones and Tom Sturridge get under the skin of their characters, the production arranged for them to meet ex-servicemen and sufferers of post-traumatic stress disorder. "Stanhope is obviously someone who will suffer from post-traumatic stress disorder, but what he is living through is the actual combat stress reaction," says Claflin. "He's living it.
"One of Sherriff's working titles for the play was Waiting," he adds. "And so much of war is not war. The ex-serviceman were saying, 'The easy bit is the fighting part. The hardest bit is the waiting for something to happen.' Especially when you know there's an attack coming. It's like a monster movie where you know the monster's coming, and you're waiting for it to come."
Beaujeu and Reade's Fluidity Films produced Journey's End, with investment from BFI Films, Ingenious and other partners. Lionsgate came on board in May for key territory the UK, and will release in early February to qualify for the upcoming Bafta Film Awards. The film premiered at Toronto in September, with Metro International handling international sales.
Future projects
After Journey's End, Claflin has two more films in the can: the 1825 Tasmania-set The Nightingale from The Babadook writer-director Jennifer Kent (the actor plays an ambitious British army officer who crosses paths with a young Irish female convict); and Adrift, opposite Shailene Woodley, for Icelandic filmmaker Baltasar Kormakur.
Claflin, who calls The Nightingale "a period-drama thriller revenge movie", recognises that it is a fourth consecutive period role, after Their Finest, My Cousin Rachel and Journey's End, and also follows previous titles including his two Huntsman films and Pirates Of The Caribbean: On Stranger Tides. Perhaps it is his classic matinee-idol face that helps directors see him adapting to any time period.
"I've done very few contemporary things," he acknowledges. "Most roles have been period. I find that, to be fair, fine. I'm not bothered by that, because I enjoy exploring genres and times."
When accepting the Journey's End role, Claflin had to process that the actor who originated it on the London stage back in 1928 was none other than Laurence Olivier. "I read a review somewhere saying I don't have a patch on Laurence Olivier's version," says Claflin, smiling. "I was thinking, 'Were you there [at that time]?'" He pauses. "I don't want to be Laurence Olivier. I'm a different actor. I admire his work massively, and I think he's an actor of a time when the style of acting is very different. I don't know how you could ever compare the two. But to be stepping into the role that he once originated is an honour."