Kurdish workers drama and Rodrigo Plá's A Monster With a Thousand Heads triumph at festival; industry prizes revealed.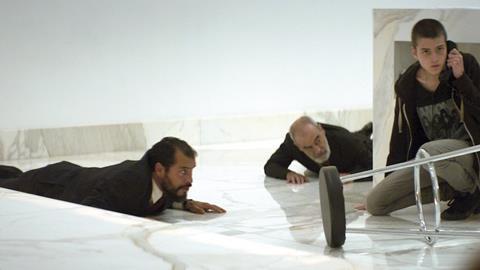 Dust Cloth by Turkish director Ahu Öztürk and A Monster With a Thousand Heads by Mexican director Rodrigo Plá were among big winners at the Istanbul Film Festival.
Dust Cloth about two Kurdish cleaning ladies struggling to make ends meet in Istanbul took home the Golden Tulip Prize in the National Competition in a jury headed by Turkish actress Müjde Ar. The film also won awards for Best Actress for Asiye Cinçsoy and Best Screenplay.
The other big winner was Cold Of Kalandar, which won Best Director for Mustafa Kara, best cinematography by co-cinematographers Cavanhir Sahin and Kürsat Üresin, as well as Best actor, which was awarded to Haydar Sisman.
In the International Competition, presided over by Argentinean director Pablo Trapero, the Golden Tulip was awarded to Pla's A Monster with a Thousand Heads. The sleek thriller follows a desperate woman's attempts to force an insurance company to cover the cost of her husband's cancer treatment.
Industry awards
In the Meetings on the Bridge, the popular industry section of the festival, prizes were awarded to films at both the Works in Progress Workshop and the Film Development Workshop.
From among the Work in Progress Workshop projects, Inflame's director Ceylan Özçelik and producers Emre Oskay, Adnan Şapçı, and Sadık Ekinci were selected to receive the 30.000 TL, for their film about a news reporter who starts to investigate the death of her parents in a car crash that happened 20 years previously.
Awarded at the Work in Progress Workshop for the first time this year, the Digiflame Award for online editing and colour went to director and producer Erkan Tahhuşoğlu and his co-producer Ayhan Salarn for their project, Verge, which follows two schizophrenic women from different generations living on the same road.
Finally, director Ayşe Toprak and producer Cem Doruk received the Başka Sinema Award for their documentary, Mr. Gay Syria, which follows the attempts of a Syrian refugee living in Germany to find a contestant to star in Mr. Gay World.
Of the Film Development Workshop participants, producer Müge Büyüktalaş received the Meetings on the Bridge Support Award of $10,000 for her project Perihan. The director of the film Can Evrenol is a graduate of Film and Art History from Kent University in the UK. He later attended the NYFA programme at Los Angeles Universal Studios.
Ali Vatansever was presented with the Melodika Sound Post-Production Award for his project, Pure. The four-stage Mediterranean Film Institute (MFI) Script Workshop Award went to Lusin Dink for the project Letter of Ashes, and the Jury Special Prize was awarded to Onur Saylak and Doğu Yaşar Akal for their debut feature project, More.
Smooth affair despite some cancellations
A number of industry delegates pulled out of the festival following the recent terrorist attacks, so some industry events were sparsely attended. The makeup of at least one panel changed following last-minute cancellations.
Yet Kerem Ayan who took over as Festival Director this year, will be happy that the festival itself was a smooth affair. He was beset with none of the problems that last year saw the government request that a Kurdish film be withdrawn from the festival as it did not have the correct certificate. This led to a walk-out from Turkish filmmakers and the cancellation of the festival.
Not that there was no disquiet shown at the state of the Istanbul film industry, although this time it was an issue that many art-house filmmakers around the world will feel affinity with.
Some of that disquiet was expressed in a film which got its world premiere at the festival, Only Blockbusters Left Alive: Monopolizing Film Distribution in Turkey.
The documentary is about the gripe of Kaan Müjdeci, director of Venice Jury Prize winner Sivas, and a group of Turkish directors who will next week be taking Mars Cinema Group to court, because they feel that Mars has exceeded it's commercial powers by producing, distributing and exhibiting films.
This led to a situation last December when Turkish cinemas were showing just two films, 'Ali Baba and the 7 Dwarfs' and 'Unconventional Circumcision' in over three-quarters of screens. The directors are taking inspiration from the landmark Hollywood anti-trust case of 1948, United States v. Paramount Pictures Inc.
Last week Mars agreed to sell their cinema chain to South Korea's CJ CGV for $688 million.
Istanbul winners:
This year's Cinema Honorary Award recipients were Suzan Avcı, Şerafettin Gür, Perran Kutman, and Jeyan Ayral Tözüm. The recently departed Ülkü Erakalın's Cinema Honorary Award was presented to his son, Murat Erakalın.
Türker Inanoğlu was awarded a Special Prize for his contributions to Turkish cinema, on the 60th anniversary of his career.
This year's winner of the International Golden Tulip Competition's Golden Tulip Award, presented in memory of Şakir Eczacıbaşı,was A Monster With A Thousand Heads by Mexican director Rodrigo Plá.
The International Golden Tulip Competition Special Jury Prize was awarded to director Brady Corbet's The Childhood of a Leader.
From the National Competition, featuring a total of 11 films, the Golden Tulip for Best Film was presented to Ahu Öztürk'sDust Cloth.
The Golden Tulip for Best Director was presented to Mustafa Kara for his film Cold of Kalandar.
The Special Jury Prize, presented in memory of Onat Kutlar, was awarded toBarış Kaya and Soner Caner's filmRauf.
The Best Actress Award went to Asiye Dinçsoy for her performance in Dust Cloth.
The Best Actor Award went to Haydar Şişmanfor his performance in Cold of Kalandar.
The Best Screenplay Award went to Ahu Öztürk for her film Dust Cloth.
The Best Director of Photography Award went to Cevahir Şahinand Kürşat Üresin for Cold of Kalandar.
The Best Editing Award was presented to Mustafa Kara, Umut Sakallıoğlu, and Ali Aga, also for Cold of Kalandar.
The Best Music Award was presented to Doğan Duru for the film The Field.
The winner of the National Short Film Competition's Best Short Film Award was Ziya Demirel's Tuesday, and Barış Sarhan received a Special Mention for his film The Cemil Show.
The winner of the Best Documentary Award was Onur Bakırand Panagiotis Charamis's Attention!, andAyşe Polat's film The Others received a Special Mention.
The Seyfi Teoman Best Debut Film Award was presented to director Emre Konuk for his film The Apprentice.
The AUDENTIA Award was presented to Anca Damian, the director of The Magic Mountain, which was part of the festival's Human Rights in Cinema section.
The winner of the Film Award of the European Council (FACE) was Italian director Jonas Carpignano's Mediterranea. Colombian director Ciro Guerra's film Embrace of the Serpent received a Special Mention.
The recipients of this year's FIPRESCI Awards were Aslı Özge's All of A Sudden from the International Golden Tulip Competition, Senem Tüzen's Motherland from the National Golden Tulip Competition, and Levent Türkan's Jamais Vu from the National Short Film Competition.