Dir: Kenneth Branagh. US. 2013. 105mins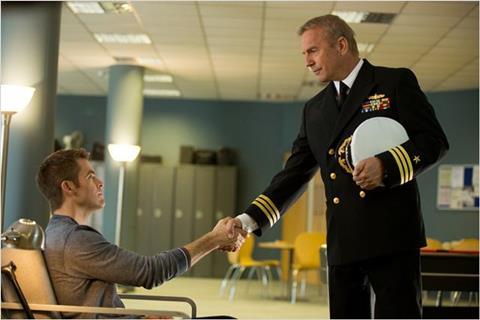 The Jack Ryan spy franchise receives a slick re-boot with the rather clumsily titled Jack Ryan: Shadow Recruit, a film that takes the character back to his origins and pitches him up against a hiss-worthy Russian villain. Bourne-style action blend with nicely judged espionage fun-and-games, with Chris Pine proving – as with Star Trek – he is the go-to guy when it comes to re-boots of established characters.
The film is littered with some genuinely tense and exciting action sequences, with Branagh proving he can direct the complex fight scenes as well as he can the monologues.
The film drops into cinemas bereft of old-fashioned action fare, and in amidst the awards contenders and smattering of horror films it is likely this romping adventure could find a cozy niche with audiences looking for a little spy-fun. It should have a nice box-office run prior to The Monuments Men, the Robocop re-boot and the plethora of slushier Valentine's Day movies.
This is the first film in the series not to be based on one of Tom Clancy's blockbuster books, and while Pine has pretty big boots to fill – Alec Baldwin played Ryan in The Hunt For Red October; Harrison Ford in Patriot Games and Clear And Present Danger, and Ben Affleck in The Sum Of All Fears – the film does a fine job of detailing Ryan's shift from smart student through to CIA analyst and onto reluctant action-guy spy.
Director Kenneth Branagh does a good job in staging a series of slick and exciting action sequences to help punctuate the spy-stuff, and also has a good old time playing the villainous Russian oligarch who is plotting a sophisticated bit of financial-based terrorism (as well as some of the old-fashioned bomb stuff as well) in a plan to bring down the United States.
The original screenplay was written by Adam Cozad and titled Dubai, and was planned as a vehicle for Eric Bana, but was eventually re-drafted with the lead switched to Ryan.
While Chris Pine fits nicely into the square-jawed all-American persona for Ryan, what works best with the film is the casting around the edges. Branagh is suitably gloomy and brutal as the bad guy; Kevin Costner is perfect as US Navy Commander William Harper who recruits Ryan to the CIA and is his long term handler; Keira Knightly is nicely feisty as Ryan's girlfriend (though she is not really given enough to do after a good start, which is a shame), while there is also a nice uncredited cameo from Mikhail Baryshnikov as a shadowy Russian politician.
The film opens with a prologue in London where Ryan, then a student, watches the events of 9/11 on television and decides to join up and do his bit. Badly injured in Afghanistan he is struggling in his rehabilitation until approached by Harper who suggests he can work for the CIA as a covert agent based in Wall Street with the mission of spotting possible terrorist money movements. He also falls for Kathy (Knightley), his doctor, which also speeds his recovery.
When Ryan spots something fishy with Russian businessman Viktor Cherevin's (Branagh) accounts he is sent to Moscow to unearth what is happening. It is here that – with Harper's help – he makes the shift from number-crunching analyst to face-crunching spy.
The relationship between Jack and Kathy is nicely developed, with him having to keep his CIA work secret and she suspecting he may be having an affair. When she arrives to join him in Moscow as a surprise all has to be revealed and she joins him on the mission to try and get information from Cherevin.
The film is littered with some genuinely tense and exciting action sequences, with Branagh proving he can direct the complex fight scenes as well as he can the monologues. As is the way with such Bourne-style romps the editing and pacing can get overly frantic at times – especially when the film heads back to New York for the hurried climax – but Jack Ryan: Shadow Recruit delivers in terms of smart and savvy espionage entertainment.
Production companies: Skydance Productions, Mace Neufeld Productions, Di Bonaventura Pictures, Paramount Pictures
Producers: Mace Neufeld, Lorenzo do Bonaventura, David Barron, Mark Vahradian
Distribution: Paramount Pictures
Executive producers: David Ellison, Dana Goldberg, Paul Schwake
Screenplay: Adam Cozad, David Koepp, based on characters created by Tom Clancy
Cinematography: Haris Zambarloukos
Editor: Martin Walsh
Production designer: Andrew Laws
Music: Patrick Doyle
Main cast: Chris Pine, Kevin Costner, Kenneth Branagh, Keira Knightley, Nonso Anozie, Lenn Kudrjawizki, Alec Utgoff, Peter Andersson, Elena Velikanova, Colm Feore, Gemma Chan, Seth Ayott