Dir: Billy Bob Thornton. Russia-US. 2012. 122mins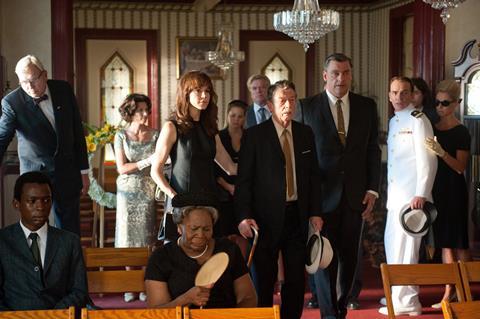 Billy Bob Thornton returns to directing after an 11-year gap with this dense multi-character melodrama that is fitfully amusing, punctuated with occasional unexpected moody moments and littered with intriguing performances, but is essentially too scattershot and unfocussed to attract a mainstream audience. Screen veterans Robert Duvall and John Hurt make a strong impact, but sadly Jayne Mansfield's Car is never quite as intriguing as the title suggests.
It is familiar dramatic fodder, but Thornton gives it a different cross-cultural spin by have the story driven by two rival grieving families.
Languid in pace and often leaden in atmosphere, the film feels rather oddly as if it could have worked better as a long-form television series that would have made better use of its many characters and have allowed them the time to develop and reveal more about themselves. Running just over two hours, the film sets up characters and plotlines but never really follows through, and feels rather hurried as it freewheels to its completely expected climax.
In his director's statement, director and co-scripter Billy Bob Thornton admits that the story links to aspects of his childhood, and he certainly does a fine job in recreating the atmosphere of Alabama of 1969. The core of the story is how war is viewed by different generations and how it impacts on the families who experience it. It is familiar dramatic fodder, but Thornton gives it a different cross-cultural spin by have the story driven by two rival grieving families – one deep-rooted Alabama and the other rather clichéd straight-laced Brits.
In Morrison, Alabama, of 1969, crusty cattle farmer (though few cattle are actually spotted) runs his gracious home with a steely hand. His three adult sons still live at home – Skip (Thornton) and Carroll (Bacon) both fought in World War II returning home heroes, while Jimbo (Patrick) had a less illustrious military career – while his daughter Donna (LaNasa) is married to a bombastic car salesman.
One evening Jim receives a phone call from England. Naomi Caldwell Bedford, the woman who left Jim and the children 20 years earlier for an Englishman has died, and her English family want to bring her home to be buried with her people. When her new husband Kingsley Bedford (Hurt) and his adult children Phillip (Stevenson) and Camilla (O'Connor) arrive in Alabama for the funeral the scene is set for a clash of cultures.
Each and every character has a quirk or fault – Carroll is a long-haired hippie protesting about Vietnam; Phillip suffered during Japanese wartime imprisonment; Skip was badly burned as a pilot during the war and Jimbo appears jealous of his brothers heroism – while both patriarchs are constricted by their generation and unable to properly talk to their children. Sadly the script offers little to his female characters – Donna is simply sad in her marriage and generous of spirit (though dismissed by Jimbo as a man-eater) while Camilla is simply a 1960s free spirit for Skip to lust after.
There are some droll moments – such as Duvall's blustering Jim on an accidental LSD trip while out hunting or Skip trying to explain the love for his car collection – but the film can never quite sustain the heightened sense of oddness it is after, and comes nearest to it with Jim's obsession with car wrecks…hence his fascination for the visiting touring exhibition of the car in which Hollywood icon Jayne Mansfield died.
Production companies: A.R. Films, Media Talent Group
International sales: Hyde Park International, www.hydeparkentertainment.com
Producers: Alexander Rodnyansky, Geyer Kosinski
Executive producers: Marc C Manuel, Sergei Bespalov, James D Brubaker, Robert Teitel
Screenplay: Billy Bob Thornton, Tom Epperson
Cinematography: Barry Markowitz
Editor: Lauren Zuckerman
Production designer: Clark Hunter
Music: Owen Easterling Hatfield
Main cast: Robert Duvall, John Hurt, Billy Bob Thornton, Kevin Bacon, Robert Patrick, Ray Stevenson, Katherine LaNasa, Frances O'Connor, Shawnee Smith, Ron White. John Patrick Amedori, Marshall Allman, Irma P Hall