Dir: Clint Eastwood. US. 2014. 134mins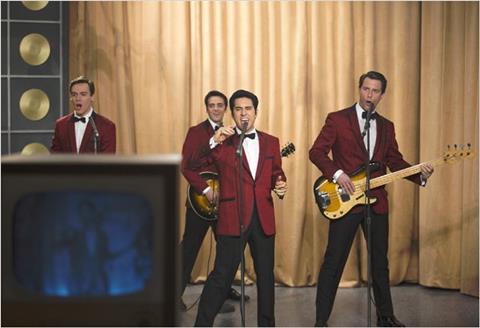 Clint Eastwood may not be the first filmmaker who comes to mind as an ideal candidate to bring a jukebox musical to the big screen. So what's intriguing about his treatment of the Tony-winning Jersey Boys is how he homes in on the material's qualities that most suit his style: the meticulous re-creation of period detail, the subtle questioning of how our impressions of history don't always square with the facts. Unfortunately, Eastwood's intelligent, unfussy chronicling of the popular musical act The Four Seasons is undermined by a painfully familiar rise-then-fall biopic structure, which nullifies this drama's potentially more interesting elements.
The life and times of The Four Seasons aren't nearly as epochal, which perhaps explains why Jersey Boys, despite its sombre moments, is one of Eastwood's most playful and gently nostalgic films.
Opening in the States on June 20 after premiering at the Los Angeles Film Festival, Jersey Boys will target older audiences who aren't always well-served during summer movie season. Nostalgia for The Four Seasons — paired with widespread awareness of the Broadway musical, which has been touring nationally (and internationally) in recent years — could propel this Warner Bros. release to respectable grosses, despite the lack of stars. However, Jersey Boys isn't merely a giddy recycling of durable pop hits like Mamma Mia! or Rock Of Ages — it's more of a drama about a band, with songs — which may convince some that this film lacks the outright "fun factor" of those other jukebox musicals.
Spanning about 40 years, Jersey Boys charts the history of The Four Seasons, a 1960s New Jersey quartet that found fame as a squeaky-clean pop vocal group highlighted by the angelic pipes of their frontman, Frankie Valli (John Lloyd Young, who won a Tony for the role). But their offstage lives weren't nearly so innocent. Valli was on the road so much that it created friction between him and his wife and children, exacerbated by his infidelity. As for Valli's childhood friend and bandmate Tommy DeVito (Vincent Piazza), the hothead's criminal past and connections to the mob eventually jeopardise the group's financial future, threatening the legacy they've created after amassing a string of carefree hit singles such as Sherry and Big Girls Don't Cry.
Winner of four Tonys in 2006, including Best Musical, Jersey Boys was lauded for its wealth of indelible pop chestnuts and its somewhat innovative narrative approach in which each member of The Four Seasons was given an opportunity to tell his version of the group's story. That latter aspect has been reduced somewhat in Eastwood's adaptation, credited to Marshall Brickman and Rick Elice, who also wrote the musical's book. But that central idea remains: The history of a beloved musical act is never as simple as we on the outside might think.
Each of the four lead actors — as well as Young and Piazza, there's also Erich Bergen as principal songwriter Bob Gaudio and Michael Lomenda as bassist Nick Massi — addresses the camera directly, their characters confiding in us how they felt about a particularly crucial moment in the band's progression. These multiple, sometimes conflicting narrations create an expectation that Eastwood is once again upending our understanding of our shared past. Since his Oscar-winning revisionist Western Unforgiven more than 20 years ago, he's made a habit of pursuing projects that rewrite history, whether it's the black-and-white heroism of World War II (Flags Of Our Fathers and Letters From Iwo Jima), the reviled lawman J. Edgar Hoover (J. Edgar), or even the notion that the saintly Nelson Mandela eschewed calculated political manoeuvring to bring his country's people together (Invictus).
The life and times of The Four Seasons aren't nearly as epochal, which perhaps explains why Jersey Boys, despite its sombre moments, is one of Eastwood's most playful and gently nostalgic films. (For proof, look no further than the director's cheeky decision to include a scene in which a character watches the '60s TV show Rawhide, which just so happened to star Eastwood.) Nonetheless, there's a nagging sense that beneath the pleasant, straightforward depictions of some of The Four Seasons' many highlights — appearing on The Ed Sullivan Show, landing three songs in a row at the top of the charts — Eastwood is setting the audience up, tricking us into believing the age-old lie about famous bands' meteoric, unblemished rise to fame.
The problem is that, if this is the case, Jersey Boys isn't particularly clever or insightful in how it subverts the conventional rock-star biopic. The main tension in the band comes from DeVito's jealousy of Valli's stardom — and the fact that, even though DeVito was the one who encouraged Valli's talent and brought the band together, Valli soon becomes closer to Gaudio, the group's creative genius who's far more level-headed than DeVito. But these smouldering resentments don't yield much heat: It's all rather standard backstage drama in which young men linked by a shared ambition slowly start to tear apart as they grow up and drift away from each other.
The performances reflect this biopic's fundamental conventionality. Young wonderfully mimics Valli's ringing, joyous falsetto on deathless numbers like "Walk Like a Man," but he can't bring much complexity to a character who's been drawn in broad strokes. Eaten up by guilt to be loyal to his floundering pal DeVito, Valli continues to stick his neck out for the guy, but we don't see much internal wrestling over these decisions — nor is his womanising given enough screen time to register as some sort of personal failing.
Likewise, Piazza's DeVito is all cocky posturing; there's no pathos or demons underpinning his actions, and so the two men's sibling-like rivalry feels tepid. (Christopher Walken plays a local gangster, to little effect. And as the awkward but talented and sweet-natured Gaudio, Bergen shows a little flair, but again this is a character encased in amber.)
Despite its familiar storyline — apparently, every great musical group started from humble origins, captured the public imagination, got famous, and then imploded — Jersey Boys does have its consistent minor charms. Eastwood effortlessly guides the predictable narrative along its comfortable turns, and long-time cinematographer Tom Stern crafts his dependably blue-grey images, which lend the past a vivid, hyper-real preciousness.
But without the moral weight and melodramatic gravitas Eastwood usually brings to his films, Jersey Boys ultimately doesn't seem to have much to say about The Four Seasons, the mid-century America that spawned them, or the burgeoning musical scene to which the band was connected. This is even more frustrating because the final scenes, though undoubtedly meant to be uplifting, provocatively (but subtly) undercut the feel-good tone in such a way that we're meant to wonder about the artifice of everything that came before. Over the last few decades, Eastwood has wilfully skewered and complicated our relationship with history. With Jersey Boys, he seems a little more forgiving, which isn't nearly as interesting.
Production companies: GK Films, Malpaso
US distribution: Warner Bros. Pictures, www.warnerbros.com
Producers: Graham King, Robert Lorenz
Executive producers: Frankie Valli, Bob Gaudio, Tim Moore, Tim Headington, James Packer, Brett Ratner
Screenplay/Musical Book: Marshall Brickman & Rick Elice
Cinematography: Tom Stern
Editors: Joel Cox, Gary D. Roach
Production designer: James J. Murakami
Song Music: Bob Gaudio
Lyrics: Bob Crewe
Website: www.jerseyboysmovie.com
Main cast: John Lloyd Young, Erich Bergen, Michael Lomenda, Vincent Piazza, Christopher Walken