Dir: John Schultz. US. 2011. 91mins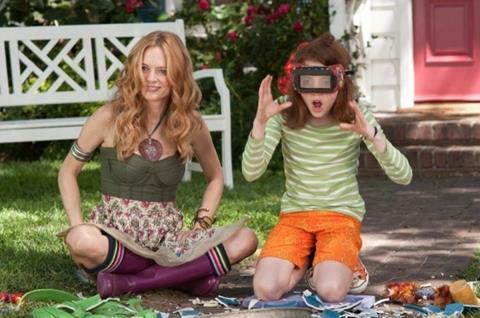 Unfolding in an explosion of primary colours and prodding musical cues, Judy Moody and the Not Bummer Summer tries and fails to establish a beachhead in the competitive arena of family film franchises. A slapdash exercise in sensory stimulation, the movie has none of the comparative panache and technical accomplishment of Robert Rodriguez's Shorts or Danny DeVito's Matilda, exaggerated tales of adolescent adventure that this tiresome effort fitfully seems to want to emulate.
The movie even fails as a piece of wan, moralising entertainment.
Given that it's based on a series of same-named books, a certain brand name recognition and absence of genre competition may give Judy Moody a short theatrical window. But negative word-of-mouth from parents and a lack of any real appeal for tweens will quickly resign it to video babysitter home viewing rotation, where it should eke out most of its meager returns.
When her parents are pulled away on a trip and all her friends save one scatter for the summer, frizzy-haired, excitable third-grader Judy (Jordana Beatty) is dejected. Judy's Aunt Opal (Heather Graham), a free-spirited hippie chick who makes her own tangerine fondues, comes to stay with her and her little brother, Stink (Parris Mosteller), who is obsessed with hunting down what he believes to be a local version of Bigfoot.
To try to stave off boredom, Judy loosely devises a game she can play with her friends long-distance, in which "thrill points" are awarded for certain acts of derring-do. Over the course of the summer, Judy finds her quests for points continuously foiled, but she slowly connects with her aunt, and eventually even learns to become more tolerant of Stink.
Director John Schultz (Like Mike, Aliens in the Attic) has a history of poorly staged kiddie action sequences, and his work here does nothing to evidence any particular positive growth or development. Any scenes involving significant movement are feebly captured and confusingly edited, particularly in a chase finale involving an ice cream truck.
Apart from a sunny supporting turn by the effervescent Graham, the over-caffeinated performances grate from early on, and don't particularly mesh with what becomes a more naturalistic backdrop. It's ironic that had it been a bit more fanciful and outlandish in its construction, Judy Moody could have arguably met with more success in capturing the urgent, heightened stakes of prepubescent playtime.
The screenplay flirts with giving Judy a secondary summer quest, based around a vague riddle from her teacher (Jaleel White). Schultz and his collaborators also seed Judy Moody with a random collection of animated interstitial tidbits, in a nod to the books. But neither of these ideas is integrated smoothly or smartly enough to emotionally matter.
Most damningly, the movie even fails as a piece of wan, moralising entertainment, since it doesn't more firmly and lastingly establish Judy's anger at being "left alone," and then also violates the logic it instills in its protagonist by in the end having Judy arbitrarily award herself a victory.
Sensible family audiences who seek more in a movie than merely an air-conditioned place to escape for 90 minutes will likely find their own "thrill points" by spending an afternoon in the park instead.
Production companies: Smokewood Entertainment Group
Domestic distribution: Relativity Media
Producers: Gary Magness, Sarah Siegel-Magness
Executive producers: Bobbi Sue Luther, Andrew Sugerman
Screenplay: Kathy Waugh & Megan McDonald, based on the book series by Megan McDonald
Cinematography: Shawn Maurer
Editor: John Pace
Production designer: Cynthia Kay Charette
Music: Richard Gibbs
Website: JudyMoodyMovie.com
Main cast: Jordana Beatty, Parris Mosteller, Heather Graham, Garrett Ryan, Preston Bailey, Jaleel White, Janet Varney, Kristoffer Winters, Ashley Boettcher, Taylar Hender