Dir: Dennis Dugan. US. 2011. 117mins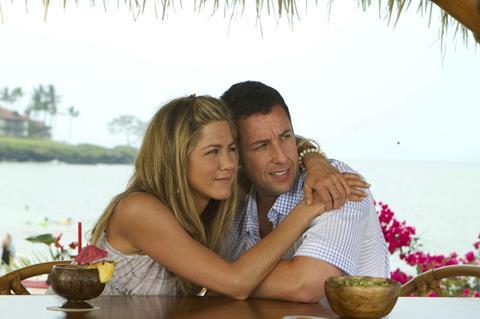 The framework for a potentially whipsmart, spitfire modern comedy of the sexes gets utterly wasted in Just Go With It, a bloated, mind-numbingly unfunny affair that reeks of improvisation run amok. The possible intriguing chemistry of stars Adam Sandler and Jennifer Aniston is willfully undercut, and when, midway through, a plot twist takes the story to Hawaii, the entire film morphs into nothing more than one big corporate-funded travelogue spot for its travel, hotel and luxury sponsors.

Sandler and Aniston each peddle their own shopworn collection of comedic mannerisms.
A decidedly double-barreled sales approach from Sony, pitching the film as an exotic-set romantic comedy to women and a much more bawdy affair to guys, will help pump up Just Go With It's debut weekend grosses. Though it's been since 2004's 50 First Dates that Sandler has had a traditional comedy of this sort open this early in the year, even depressed word-of-mouth and savage critical reception seem unlikely to derail the movie from Sandler's reliably seven-figure grosses and robust overseas business, especially given Aniston's participation.

Having had his heart broken as a young man, Beverly Hills plastic surgeon Danny Maccabee (Sandler) wears a wedding ring to keep a convenient emotional distance between him and the women he meets. But after hooking up with a much younger, bombshell grade school math teacher, Palmer (Brooklyn Decker), Danny finds it necessary to cover this lie with another, bigger one — that he is in the process of getting divorced.

Danny then enlists his faithful receptionist, single mom Katherine Murphy (Aniston), in an increasingly complex scheme of deception involving her two kids, his goofy cousin Eddie (Nick Swardson) and a trip to Hawaii. Things get even more complicated when Devlin (Nicole Kidman), an old sorority "frenemy" of Katherine, shows up with her husband Ian (singer Dave Matthews), awakening competitive impulses and compounding commingled dishonesties.

The script, adapted from the 1969 film Cactus Flower and its source material, is lazy throughout, relying heavily on set-pieces of mock-outrageousness (e.g., providing CPR to a sheep) and the presumed goodwill novelty of movie stars bantering wanly, while also sprinkling in some gratuitous groin shots and a bit scatological humor for guys. None of the characters behave in recognizably human fashion, or do anything to upset the wobbly parameters of its conceit. As a result, no scene, either individually or in aggregate, can be taken seriously, or elicit any sense of audience investment.

Longtime Sandler collaborator Dennis Dugan again proves to be an uninspired, point-and-shoot director. If the material is flatly staged and captured, some of the natural outdoor settings of Hawaii at least provide a beautiful distraction when the movie pivots there from the second act on.

Model Decker marginally acquits herself in her acting debut, though the movie does her no favors by placing her in such a structure-less environment, and additionally giving her a character who is irrationally willing to overlook any faults in this new and curiously much older boyfriend, based on an air-quote connection never evidenced on screen.

Sandler and Aniston each peddle their own shopworn collection of comedic mannerisms, which fitfully promise some fresh new combination, but mostly come across as discrete showcases. Kidman, meanwhile, seems a bit liberated by the chance to act silly, and broadly, and the movie leaves one wanting for comedic material more worthy of her participation.
Production companies: Columbia Pictures, Happy Madison Productions
Domestic distribution: Sony Pictures
Producers: Adam Sandler, Jack Giarraputo, Heather Parry
Executive producers: Barry Bernardi, Tim Herlihy, Allen Covert, Steve Koren
Co-producer: Kevin Grady
Screenplay: Allan Loeb and Timothy Dowling, based on the Cactus Flower screenplay by I.A.L. Diamond and stageplay by Abe Burrows, and a French play by Pierre Barillet and Jean-Pierre Grédy
Cinematography: Theo Van de Sande
Editor: Tom Costain
Production designer: Perry Andelin Blake
Music: Rupert Gregson-Williams
Website: www.JustGoWithIt-Movie.com
Main cast: Adam Sandler, Jennifer Aniston, Brooklyn Decker, Nick Swardson, Bailee Madison, Griffin Gluck, Nicole Kidman, Dave Matthews