Dir/scr: Bence Fliegauf. Hungary-Germany-France. 2012. 98mins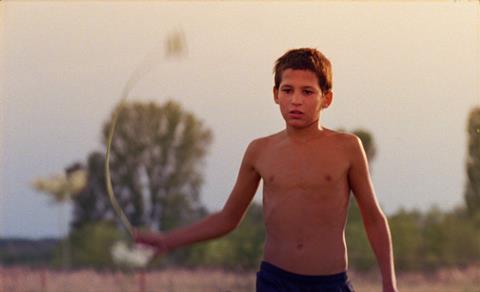 This looks very much like a documentary, but it isn't. A test of endurance for most audiences, requiring enormous patience and curiosity, it will most probably cater to a minuscule market of Fliegauf fans that have seen and appreciated his earlier work, films like Dealer and Milkway, in which he made the same demands on its viewers. Nothing seems to happen in the course of the first 90 minutes, except that it is all preparatory stuff which really makes sense only in the light of the climactic ending.
There is no attempt to idealise, demonise them.
The premise here is a series of violent attacks on Hungarian gypsies perpetrated in 2008 and 2009. Homes were burned down with Molotov bottles, five people were injured by shotgun fires, six were killed, 55 other people were severely harmed. This, however, is not a reconstruction of those cases, but rather Fliegauf's comment on them. The focus here is not on the offenders but on their victims, his entire film following one poor, humble gypsy family.
Middle-aged Mari (Katalin Toldi) lives in a slum next to a forest with her invalid father (Gyorgy Toldi) and her two kids, Anna (Gyongyi Lendvai) and Rio (Lajos Sarkany). Mari works two jobs, from early morning till dark, but still can't meet the payments for her house, her only hope being that her husband, away in Canada for some time, will manage to arrange for them to join him.
Anna, a teenager with a gift for drawing, goes to school and then cares for a neighbour's daughter while Rio skips school, roams around the forest, secretly collecting every useful item he can find for a hideaway he carefully prepares just in case.
For the entire gypsy community, without exception, feels the threat hanging over them. Another family had just been murdered next door, their squealing piglet was the only survivor but even it died later, no one knows who will be next, and the attitude of the police is as cool as can be. "They are just sending the wrong message" is the way one local policeman puts it to his colleague, referring to the murderers. "They are shooting the wrong families, I could show them who to shoot". The gypsies themselves are trying to get organised, patrol the area, even get pistols and guns, but then no one knows who the offenders are and what they will do next.
Fliegauf who uses for the first time his diminutive name Bence on the credits (until now, he was known as Benedek) - shoots Just The Wind (Csak a Szel) as if it was a documentary. The hand-held camera, using almost only natural light, follows each of the characters in very long sequence shots, most of them in medium close-ups, and quite often from the back, as they move about in their entirely unexceptional business.
The animosity towards them, whether veiled, like the bus driver who stops 50 yards after the station forcing Anna to run in order to catch it, or out in the open, like the school janitor who automatically suspects gypsies of having stolen computer equipment, is almost taken for granted, No one seems to make too much of a big deal about it. That is, until the ending that erupts with the force of an explosion.
Patiently, Fliegauf's camera piles up evidence that, as destitute as they are are and living on the edge of society as they have to, these people are not different from anyone else in their social class. There is no attempt to idealise, demonise them, it is only in death that they are being dressed up by others to fit in with their exotic image.
All of which doesn't really take much of an effort to discern here, if one watches carefully for the familiar signs. But it isn't as easy at all that when Fliegauf indulges in his interminable travelling shots, sticking to the most significant but also insignificant acts of his protagonists. It may all be very effective in establishing the mood and the climate of the portrait he is painting, but risks driving at least part of the audience out of the theatre.
Production companies: Inforg M&M Company, The Post Republic Halle, Paprika Films
Producers: Monika Mecs, Andras Muhi, Erno Mesterhazy
International sales: The Match Factory, www.the-match-factory.com
Cinematography: Zoltan Lovasi
Editor: Xavier Box
Production designer: Bence Flieghauf
Music: Bence Flieghauf, Tamas Beke
Main cast: Katalin Toldi, Gyongyi Lendvai, Lajos Sarkany, Gyorgy Toldi