War thriller Anthropoid opens film festival in Czech Republic.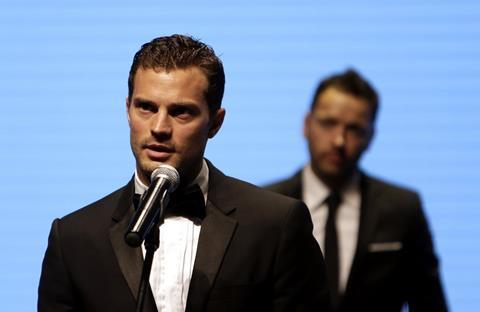 Fifty Shades Of Grey star Jamie Dornan and US actor Willem Dafoe walked the red carpet at the opening of the 51st Karlovy Vary International Film Festival (KVIFF) (July 1-9) tonight.
Dornan, who was met by a legion of fans in the picturesque spa town in the Czech Republic, attended the festival with the world premiere of opening film Anthropoid alongside co-stars Toby Jones, Charlotte Le Bon and local actress Anna Geislerová as well as director Sean Ellis (Metro Manila).
The Second World War thriller stars Dornan and Cillian Murphy as Czech soldiers who plotted to assassinate senior Nazi officer Reinhard Heydrich. The film shot in Prague and Barrandov Studios.
At the opening ceremony, Dornan said: "We realise what an important story this is to Czechoslovakia, now the Czech Republic. We felt a huge amount of pressure to tell the story in an appropriate way and honour the men and women involved. I really hope we've done that. We're very proud of the movie and I hope that we've done the country proud as well."
The ceremony also saw Dafoe receive the honorary Crystal Globe for Outstanding Contribution to World Cinema from KVIFF president Jiri Bartoska.
Addressing the packed theatre at the Hotel Thermal, Dafoe said: "I'm very happy to be here at Karlovy Vary. Film is so important. It gives us so much and I'm just very proud that my contribution has been honoured by this award. Thank you so much."
KVIFF will screen Dafoe's performances in Abel Ferrara's Pasolini and Martin Scorsese's The Last Temptation of Christ.