The final film of Jan Nemec, who died in March, to play in the main competition.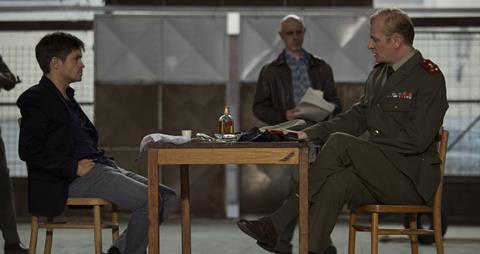 Scroll down for competition line-ups
The 51st Karlovy Vary International Film Festival (July 1-9) has unveiled the competition titles in its Official Selection, East of the West and Documentary sections.
The 12-strong main competition will comprise eight world premieres and four international premieres, including the last film from renowned Czech director Jan Nemec, who died in March.
The Czech filmmaker was a notable voice of the country's New Wave movement of the 1960s with titles such as Diamonds Of The Night (1964). His final film, The Wolf From Royal Vineyard Street, will world premiere at KVIFF and is an adaptation of his own quasi-autobiographical short stories.
Other titles include Slovak-Czech drama The Teacher from Jan Hrebejk while Roberto Andò is returning to KVIFF with The Confessions, three years after his hit Viva la Libertà.
Debut features from Turkey, Poland and Canada will also complete the selection.
East Of The West
Ten debuts and two sophomore features will be introduced in this year's East Of The West Competition.
The section will be opened by dark comedy Kills on Wheels by Attila Till, about wheelchair users who form a gang of hired assassins.
There is a strong female element among this year's 12 films, including Estonian debut Days That Confused by Triin Ruumet and auteur work House of Others by Rusudan Glurjidze.
Czech contenders in this year´s selection include Jiri Sadek's psychological horror The Noonday Witch.
Documentary
Two Czech docs and the latest film from Vitaly Mansky will compete in the 12-strong documentary films competition.
Mansky's Close Relations, about revolution in Ukraine, is one of three world premieres in the section alongside Normal Autistic Film by Miroslav Janek and FC Roma by Tomáš Bojar and Rozálie Kohoutová.
Other titles include Tower, a dramatic reconstruction of the first mediatized school massacre in the US enhanced with rotoscope animation, and Whose Country?, a scathing report on the role police played before, during and after Egyptian Revolution.
KVIFF 51st line-up
Synopses provided by festival
WP = World Premiere / IP = International Premiere / EP = European Premiere
Official Selection - Competition
My Father's Wings (Babamın Kanatları) (Tur) WP
Director: Kıvanç Sezer
Set against the backdrop of construction activity promising to fill in the empty spaces of the urban landscape with entirely new neighborhoods, a story unfolds of an aging construction worker who, unlike his peers, has to drop all plans for the future after being diagnosed with a malignant tumor. This self-assured debut contemplates the dignity of the individual within the context of modern Turkish society.
The Confessions (Le confessioni) (Ita-Fra) IP
Director: Roberto Andò
A charismatic monk named Roberto Salus (the excellent Toni Servillo) is a guest at a meeting of G8 finance ministers held at a luxury hotel on the Baltic coast. But who invited the taciturn friar in the snow-white habit? And who killed one of the financiers who are planning radical changes to the world economic order? A stylistically-polished philosophical suspense drama from the director of the hit Viva la Libertà (KVIFF 2013).
By the Rails (Dincolo de calea ferata) (Rom-Ita) IP
Director: Cătălin Mitulescu
Adrian left for a year's work abroad to help his family financially but when he returns home nothing is like it was before. His wife acts so differently, it's as if they were never married. In his third feature, director Cătălin Mitulescu becomes an observer of that key moment when a love relationship teeters on the fine line between breaking up and beginning anew.
It's not The Time of My Life (Ernelláék Farkaséknál) (Hun) WP
Director: Szabolcs Hajdu
The renowned Hungarian filmmaker (White Palms, Bibliothèque Pascal) has come out with an intimate study of two families thrown together by circumstance to temporarily share an unusual apartment. This independent movie – outstanding for its inventive production, precisely limned characters, and performances that get under the skin – draws faithfully on the work of Cassavetes and Bergman.
Waves (Fale) (Pol) WP
Director: Grzegorz Zariczny
Ania and Kasia are hairstyling apprentices spending time between school, shifts at a salon in a deserted Kraków housing complex, and home, where relations with parents are far from harmonious. The story of two likably headstrong girls on their way to adulthood was shot with an emphasis on authenticity, and it can't help but recall the best work of the Czechoslovak New Wave.
Original Bliss (Gleissendes Glück) (Ger) WP
Director: Sven Taddicken
Helen Brindle's childless marriage bears no traces of happiness, and the somber woman has also lost her faith in God. Liberation from the emotional trap of gloomy thoughts and insomnia has its price, however, when it one day appears in the person of charismatic psychologist Edward Gluck. Martina Gedeck (The Lives of Others), Ulrich Tukur (The White Ribbon), and Johannes Krisch (Revanche) star in an uncommon psychological romance based on the novel of the same name by renowned Scottish author A. L. Kennedy.
Nightlife (Nočno življenje) (Slo-Mac-B&H) WP
Director: Damjan Kozole
The lives of a wealthy married couple radically change in an instant. While the husband is in critical condition after an accident that occurred under strange circumstances, the wife tries to understand the situation and to salvage what she can… In this constricted, small-scale drama by a renowned Slovenian filmmaker, Pia Zemljič excels in the role of the resourceful wife.
The Next Skin (La propera pell) (Spa-Swi) IP
Director: Isaki Lacuesta, Isa Campo
For many years no one knew what happened to nine-year-old Gabriel after a mysterious accident in the mountains. Years later the now teenage boy suddenly appears pleading a case of amnesia. Are we witnessing the return of a real son searching for his identity or the strategic calculations of an imposter?
The Teacher (Učiteľka) (Slo-Cze) WP
Director: Jan Hřebejk
The principal of an elementary school calls a special parents meeting after it's alleged that the seemingly empathetic and kindly-looking teacher Mrs. Drazděchová uses her students to manipulate their parents. Although this confidently-directed drama is set in the era of late Czechoslovak Normalization, the multifaceted study of pathological manipulation has universal applicability.
The Wolf from Royal Vineyard Street (Vlk z Královských Vinohrad) (Cze-Slo-Fra) WP
Director: Jan Němec
"Our life zips by faster than our recollections of it", stated Jan Němec (1936–2016), internationally celebrated Czech director. A true original, the hard-headed and hard-nosed rebel adapted his own quasi-autobiographical short stories into his final film to give us a dejected comedy, an unsentimental reminiscence, and a nonchalant settling of scores in punk regalia. Both the movie and its maker defy categorisation.
We're Still Together (Can) WP
Director: Jesse Klein
Chris can't go on. His classmates bully him, the girls don't know he's alive, and his mother doesn't understand him. When he's attacked by a gang of boys and unexpectedly finds an ally in a young stranger, he'd be happy to take off with him. After having completely new experiences Chris finds out that Bobby may be more needy than he thought.
Zoology (Zoologiya) (Rus-Fra-Ger) IP
Director: Ivan I. Tverdovsky
Natasha is a lonely, middle-aged admin employee at the zoo who still lives at home with her mother. One day her life is turned upside down when she discovers she has grown a tail… A realistically structured story into which the director deftly inserts a fantastic motif in a film that speaks of loneliness, otherness, fear, and also of the courage to be different.
EAST OF THE WEST - COMPETITION
Together For Ever (Amžinai kartu) (Lit-Rom) WP
Director: Lina Lužytė
A three-member family forms a fragile association of isolated individuals who desire love and understanding without knowing how to find it. And so together they spin a web of white lies that merely manage to pour salt into unhealed wounds. A writer-director debut for a Lithuanian helmer that investigates loneliness and the battle to escape it.
Double (Dublu) (Rom) IP
Director: Catrinel Dănăiaƫă
At first glance it seems that George has everything he wants in life: a beautiful girlfriend, an interesting job, and there are always enough friends around to go for drinks. Under the surface of this well-ordered world, however, lurks something self-destructive that has to be dealt with. And George is the only one who can find his way out of this crisis.
Verge (Eşik) (Tur-Ger) WP
Director: Ayhan Salar, Erkan Tahhuşoğlu
A young woman waits for her husband to return from one of his regular business trips. However, he never shows up, and her joyful anticipation of seeing him develops into questioning concern and ultimately paralysing fear. The empty apartment becomes a labyrinth of memory and expectation, its silence broken only by the agonising sound of car engines, none of which announce her husband's arrival.
Home Sweet Home (Kos-Mac) IP
Director: Faton Bajraktari
Agron was long considered dead. His army buddies saw him die during the Kosovo conflict, and thus his return home is beyond surprising. Joy, however, soon shifts to a consideration of practical problems, and the man is forced by a variety of circumstances to remain dead – at least officially. His home thus becomes the backdrop for a portrayal of the myriad problems facing postwar society.
Houston, We Have a Problem! (Houston, imamo problem!) (Cro-Ger-Cze-Qat) EP
Director: Žiga Virc
Tito, Kennedy, Johnson, Nixon, Carter, and Clinton in a narrative docu-fiction about Yugoslavia's hitherto secret space program, which aimed to put American astronauts on the Moon and thereby win the Cold War. Can eyewitnesses unravel the web of lies, dirty political games, and conspiracy theories?
Kamper (Pol) WP
Director: Łukasz Grzegorzek
This acerbic relationship comedy about a young married couple draws together the sad truths about the difficulties of intimate relationships from which the initial passion has evaporated but it's still too early to submit to stereotypes. This Polish directing debut provides a sensitive generational perspective with a catchy soundtrack.
Collector (Kollektor) (Rus) IP
Director: Alexei Krasovskiy
An unscrupulous debt collector who is a prominent member of the Moscow elite has just a few hours to refute an accusation that might cost him his job and his life. A giddy ride to moral depths from which there is no return – a bravura debut which owes its strength to the performance of its sole actor.
The Spy and the Poet (Luuraja ja luuletaja) (Est) WP
Director: Toomas Hussar
One evening, Gustav, a secret agent and hard-boiled loner, rescues a woman who turns out to be a decoy for Russian intelligence. The game of cat-and-mouse he decides to play gets considerably more complicated when he receives orders to succumb to her charms… An Estonian flick that impishly balances on the borderline between thriller and black comedy.
The Days That Confused (Päevad, mis ajasid segadusse) (Est) IP
Director: Triin Ruumet
Allar, 27, and his friends spend their lives in their Estonian small town goofing off, getting drunk, and driving as if there's no tomorrow. When one of their outings ends in an accident, Allar begins to reflect on his life. The journey to finding meaning, however, is full of twists and turns… With the help of bold music and visuals, the debuting Estonian director takes the viewer on a dynamic ride through the wild nineties, while also following the struggles of a searching mind.
The Noonday Witch (Polednice) (Cze) IP
Director: Jiří Sádek
Eliška moves back with her daughter Karolínka to her husband's native village. But something strange is going on and, as the temperature rises, Eliška becomes increasingly jittery. Fear is all-pervading and spectres move freely between dream and reality. The Noonday Witch is both an atmospheric horror film and a psychological drama, deftly toying with the viewer's senses.
House of Others (Skhvisi sakhli) (Geo-Rus-Spa-Cro) WP
Director: Rusudan Glurjidze
They managed to survive the war and, as winners, they are assigned houses that were swiftly abandoned by others. In their new environment filled with old memories and unfamiliar objects they're about to start a new, contented life. But it soon becomes clear that the hardest battle is yet to be won. A quasi-autobiographical debut from an extraordinarily talented Georgian director.
Kills on Wheels (Tiszta szívvel) (Hun) IP
Director: Attila Till
Two disabled lads get together with an ex-fireman and form a gang of hired assassins. But, as is the way with life, the reality is a little more prosaic… Attila Till has come up with an original, action-packed comedy which deftly blends reality and fantasy and whose black humour places it right up there with the audience hit The Art of Negative Thinking.
DOCUMENTARY FILMS – COMPETITION
All These Sleepless Nights (Pol-UK) EP
Director: Michał Marczak
With his portrait of Warsaw youths Krzysztof and Michał, the nonconformist Polish director, who continually veers from the traditional parameters of documentary filmmaking toward hybrid forms, pays tribute to the generation of twentysomethings that grabs life by the horns each day, even after the rest of the town has gone to sleep. This formally elegant film fully pulses to the rhythm of their tempo, whether tinny techno or melodic house is laying down the rhythm.
Ama-San (Por-Swi-Jap) EP
Director: Cláudia Varejão
This lightly lyrical documentary takes us to a remote corner of Japan, where a community of traditional pearl hunters sets out to sea each day to dive down several metres below the surface in search of shellfish, octopuses, sea urchins and lobsters. If we adjust our breathing rhythm to the tranquil tempo of the passing scenes we will be rewarded with a fascinating world where, in equal measure, time-honoured rituals and companionable warmth introduce a sense of requisite harmony.
Whose Country? (Balad Meen?) (Egy-US-Fra) EP
Director: Mohamed Siam
A young Egyptian filmmaker turns in a scathing report on the dissolution of his homeland, whose people had barely tasted their suddenly-acquired freedom when they found themselves choking on the turbulent events of the months that followed. The candid testimony of plainclothes police officers, the cornerstone of the old system, reveals the waning enthusiasm after the early post-revolution period and offers a bleak look at Egypt's future.
FC Roma (Cze) WP
Director: Tomáš Bojar, Rozálie Kohoutová
Last season, when a new team, consisting primarily of Romany players, made it into the lowest Czech football league, most of their opponents decided to boycott them. Will the FC Roma teammates be able to convince everyone that they're not a bunch of ruffians from the fringes of society and that they just want to play football?
LoveTrue (US) EP
Director: Alma Har'el
The highly anticipated sophomore effort from an Israeli director who has returned five years after her successful debut BombayBeach, this time to uncover the essence of something as universal as the emotion of love. A documentary essay interweaving three true life stories and exposing naïve notions of the existence of "true" love that is free of pain.
Normal Autistic Film (Normální autistický film) (Cze) WP
Director: Miroslav Janek
A foremost Czech documentarist with a unique authorial vision challenges us once and for all to stop perceiving autism as a medical diagnosis. Let's take hold of the surrounding chaos and overload our senses! In such a state one may understand autism as a fascinating way of thinking that's often maddeningly difficult to decipher.
On Call (La permanence) (Fra) WP
Director: Alice Diop
This exquisitely measured, softly engaging documentary observes the events at a suburban Parisian doctor's office where free consulting services are offered to immigrants from around the world. Dedicated to his profession, the internist provides them with a safe haven that prevents their lives from hitting rock bottom.
Close Relations (Rodnye) (Ger-Lat-Est-Ukr) WP
Director: Vitaly Mansky
"I became a Russian citizen simply because I happened to live in Moscow when the Soviet Union broke apart," says the celebrated Ukrainian documentarist. A few decades later his family in Ukraine face the dramatic consequences of further turbulent change, and their fresh experience of the revolution shows us that the media presentation of the country's east-west dichotomy is deeply flawed.
Solar (Arg) IP
Director: Manuel Abramovich
When 10-year-old Flavio Cabobianco published a New Age book with his brother in 1991, it became a nationwide sensation. But what if underneath it all the supposed child prodigy was, in fact, merely a lonely, wounded little soul? And how do you defy Flavio's ambitions now that he is an adult and might choose to shake off his protagonist's role and plonk himself down in the director's chair? Let the remorseless tug-of-war for creative control begin…
Tower (US) EP
Director: Keith Maitland
August 1, 1966, a hot day in Austin, Texas. An unknown shooter occupies the upper floor of the clock tower on the university campus and begins firing at passersby. Outstanding rotoscope animation enhances this reconstruction of the first mediatized school massacre in the United States.
Transit Havana (Ger-Neth) IP
Director: Daniel Abma
"Homophobia no, socialismo si!" shouts the official slogan of progressive Cuban politics. Thus, once a year, top plastic surgeons are invited to Havana to fulfil the dreams of five inhabitants eager for sex reassignment surgery. A full-blooded documentary that tracks the obstacles three candidates face on the way to attaining a procedure they have so long desired.
The Last Summer (El último verano) (Spa) EP
Director: Leire Apellaniz López
Miguel Ángel, an itinerant projectionist who fell in love with celluloid in his young days, witnessed the arrival of digital film projection and is slowly coming to terms with the fact that, for his small business, the coming summer season may be his last. This observational film tells a very human story which intersects with an account of a profession in inevitable decline.