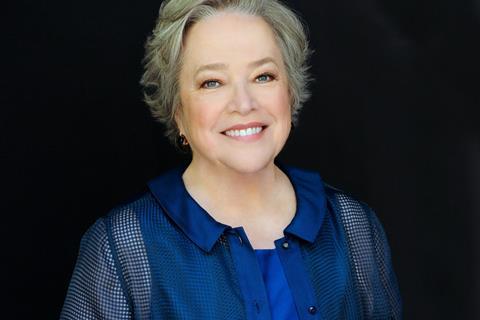 Oscar winner Kathy Bates will star in The Laureate, a drama based on the life of British war poet Robert Graves that 13 Films will introduce to buyers in Berlin next week.
Dianna Agron, Tom Hughes and Laura Haddock round out the key cast and William Nunez directs from his screenplay. CAA handles US sales.
Principal photography is scheduled to commence in April on the story of how the renowned London poet Graves shocked his parents when he invited his muse and lover Laura Riding to move in with him and his wife.
Bates portrays Graves' meddling mother who fears Riding will ruin the seemingly idyllic marriage as tensions in the household rise. Hughes plays Graves, while Agron is cast as the American interloper and literary critic Riding.
Tristan Lynch and Aoife O'Sullivan of Subotica are producing alongside Nunez, while Tannaz Anisi and Greg Schenz of 13 Films serve as executive producers.
"I am looking forward to working with the great cast assembled, as well as the Subotica and 13 Films teams," Nunez said. "Robert has such a controversial and fascinating life that will resonate with audiences worldwide"
13 Films' current slate includes Roland Joffé's upcoming prestige drama The Forgiven starring Forrest Whittaker and Eric Bana (Star Trek, Lone Survivor) directed by two time Oscar nominee writer/director Roland Joffé set to open in the US on March 9 through; Puerto Rican-set thriller Imprisoned with Laurence Fishburne; and bodybuilding biopic Bigger.