Hopes are high for the return of Lynne Ramsay.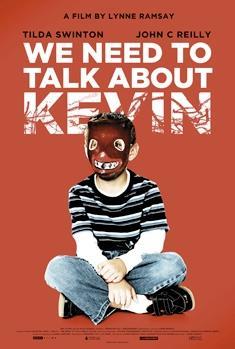 So far, it's a slim year for the Brits in Cannes (although we'll see if there are more films coming in Critics Week or Directors Fortnight). But here at Screen HQ we're extremely excited to see Lynne Ramsay's We Need To Talk About Kevin landing a spot in Competition. (And yes, it counts as British despite being shot in Connecticut.)
It's based on the amazing, un-put-down-able novel by Lionel Shriver; it stars powerhouse talents Tilda Swinton and John C Reilly; and it's the return of director Lynne Ramsay. Plus Radiohead's Jonny Greenwood does the score. Hopes are high, and our sources tell us the film – about parents grappling with the aftermath of their son's violent rampage – isn't as depressing as you'd imagine. Count us in for the red carpet.
The film's backers are also understandably chuffed. "We're extremely excited that Lynne Ramsay's We Need To Talk About Kevin has been selected to compete in Cannes this year," said Christine Langan, Head of BBC Films. "It's a great tribute to Lynne's unique talent and a fitting result for the profound cinematic vision she has brought to bear on Lionel Shriver's fascinating novel."
Tanya Seghatchian, Head of the Film Fund, BFI, added, "We are so proud that Lynne Ramsay's UK Film Council funded film We Need To Talk About Kevin' has been invited to Cannes Competition. Lynne has made a stunning, audacious and compelling film about modern motherhood and it is a testimony to her extraordinary vision and reach as a world class filmmaker that the film will be premiering at the festival."
Independent produced and handles international sales, and the company has already sold the film widely, including deals for the UK (Artificial Eye, which came on at script stage), France (Diaphana), Benelux (Wild Bunch), Israel (Shani), Greece (Seven) and the Middle East (Shooting Stars).


Based in the UK.