Dir: Anthony Silverston. South Africa. 2013. 85mins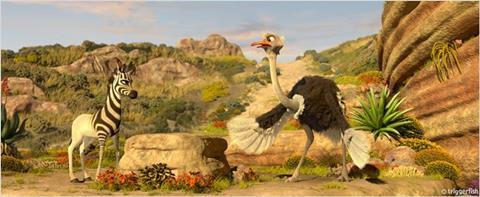 This bright and frothy animated animal romp may well be rather familiar, but it still offers plenty of fun and enjoyment for the young ones. This South African-made animation flirts around the edges of Lion King territory, but a strong voice cast and well-mapped out story make it make it a breezy part coming-of-age story, part quest tale.
The film is beautifully animated with great attention paid to the striking locations of The Karoo.
The film had a brief US theatrical towards the end of last year and opens for the Easter period in the UK. It opens against strong family film opposition, and while it should appeal to young ones it lacks the script sophistication to click with accompanying adults.
The film follows the adventures of a young zebra named Khumba (voiced by Jake T Austin) who is unfortunately born with only half of his stripes, much to the amusement of fellow young zebras. His lack of stripes is also deemed unlucky by some of the older zebras and he is blamed for the lack of water in the secure area where the zebra herd is based, deep in The Karoo, a section of the South African desert.
A mute grasshopper draws him a map to what may be a fresh source of water, which fits in nicely to his ailing mother's (Anika Noni Rose) story about the first zebras, who got their stripes through magical water. When she dies and he is blamed for the drought he decides to leave the safety of his home and head off on a quest of his own.
He is stalked by villainous Phango (Liam Neeson), a cheetah who's blind in one eye and fancies Khumba for lunch; deceived by Skalk (Steve Buscemi), a dog who lures Khumba into a trap and helped by Mama V (Loretta Devine), a wildebeest who mothers the young zebra. Comedy comes in the form of Bradley (Richard E. Grant), an ostrich who dreams of stardom.
The film is beautifully animated with great attention paid to the striking locations of The Karoo. It may be an agreeably familiar coming-of-age story, but the voice performances are impressive and there is a nice balance of adventure, humour and spectacle to keep it breezy and entertaining.
Production company: Triggerfish Animation
International sales: Cinema Management Group, www.cinemamanagementgroup.com
Producers: Mike Buckland, Stuart Forrest, Jean-Michael Koenig, James Middleton, Anthony Silverston
Executive producers: Michael Auret, Basil Ford, Edward Noeltner
Screenplay: Raffaella Delle Donne, Anthony Silverston and Jonathan Roberts
Editor: Luke MacKay
Production designer: Daniel Clarke
Music: Bruce Retief
Website: www.triggerfish.co.za/khumba
Main cast: (voices) Jake T Austin, Liam Neeson, Steve Buscemi, AnnaSophia Robb, Laurence Fishburne, Greg Ellis, Richard E Grant, Catherine Tate, Loretta Devine