Dir: Matthew Vaughn. UK-US. 2010. 117 mins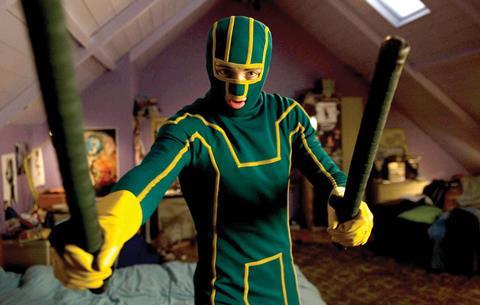 The superhero movie gets an adrenalin-fuelled shot in the arm with the all-action Kick-Ass, a film that has got the words 'cult' and 'classic' written all over it, and which is likely to truly deliver at the box office.
This funny and brutal story of masked vigilantes is generating early internet fan buzz and looks likely to attract return-viewers.
The bloodily over-the-top violence – especially when perpetrated by 11 year-old gun-wielding pocket dynamo Hit Girl (Chloe Moretz) and her tough-as-nails father Big Daddy (Nicolas Cage) – might cause concern when it comes to reaching the superhero-friendly teen audience, but this funny and brutal story of masked vigilantes is generating early internet fan buzz and looks likely to attract return-viewers.
Based on the comic-book by Mark Miller and John Romita Jr, Kick-Ass starts off in teen territory as comic-obsessed nerdy Dave Lizewski (Aaron Johnson, unrecognisable following his stint playing the young John Lennon in Nowhere Boy) assembles his own superhero suit and mask and heads out onto New York's mean streets to fight crime.
The fact that he has no super powers hampers his crime-fighting ambitions and he is left virtually naked, beaten and stabbed and is rushed to hospital. He emerges six months later, his skeletal system supported by metal and so much nerve damage that he barely feels pain. His next outing as Kick-Ass sees him filmed by a bunch of teens, and he ends up a YouTube sensation and with 16,000 My Space friends.
But ifKick-Ass is a genial do-gooder, then the flip-side of the would-be superhero equation is Hit Girl and Big Daddy, who are waging a bloodthirsty war against local criminals, and in particular local mob boss Frank D'Amico (Mark Strong). Big Daddy favours the Batman look – plus shotgun and pistols – while Hit Girl sports a purple wig and is handy with knives, swords, guns and grenades. They are a loving father-and-daughter combo who are at their happiest spilling blood and counting corpses, and who end up saving Kick-Ass from a band of killers.
When Kick-Ass forges an alliance with another oddball fledgling superhero named Red Mist (Christopher Mintz-Plasse) he finds himself thrown into a bloody plan by D'Amico to take his revenge on Big Daddy and Hit Girl.
The film is co-scripted by director Matthew Vaughn and Jane Goldman (high profile in the UK through her marriage to TV chat show host Jonathan Ross), who previously made the fantasy film Stardust together. The script is extremely smart, subtly changing genres – from teen romp through to bloody revenge action movie – with ease, allowing the characters to develop and slowly building the action set-pieces towards an impressively staged explosive climax.
Vaughn is a sure hand in terms of handling the action sequences and is unafraid to push the boundaries in terms of the glossily staged choreographic violence and sociopathic tendencies of many of his lead characters. Bad-guys are slaughtered in increasingly imaginative ways, and despite the comic-book glossiness there is an undercurrent of darkness.
Though largely shot in the UK and Canada – and there are times when you can tell those gritty streets aren't quite New York – Kick-Ass has just the right cult style to work with audiences, with the refreshingly foul-mouthed Hit Girl likely to crop up extensively as an iconic figure. Young Chloe Moretz is excellent in the role, blending tough and childlike without any dodgy sexual connotations, while Nicolas Cage is perfect as Big Daddy, his quirkiness slotting perfectly into the brutally bonkers role.
Aaron Johnson is charmingly gauche as Kick-Ass, hiding his identity from his comic-book loving pals and pretending to be gay to get closer to the teen girl of his dreams, while Christopher Mintz-Plasse builds on his attention-grabbing performances in Superbad and Role Models, and offers some real laughs as the oddball Red Mist, a would-be superhero whose only talent seems to be having a cool car.
Kick-Ass looks to have the style, action, humour and cult-appeal to be a box-office hit with the pocket-sized killer Hit Girl likely to become an iconic movie figure.
Production companies: Marv Films, Plan B Entertainment
North American distribution: Lionsgate
UK distribution: Universal Pictures International
International sales: Lionsgate. www.lionsgate.com
Producers: Matthew Vaughn, Adam Bohling, Tarquin Pack, Brad Pitt, Kris Thykier
Co-producer: Jane Goldman
Screenplay: Jane Goldman, Matthew Vaughn, based on the comic book by Mark Millar & John Romita Jr
Cinematography: Ben Davis
Production designer: Russell De Rozario
Editor: Eddie Hamilton, Jon Harris, Pietro Scalia
Music: John Murphy, Henry Jackman, Marius De Vries, Ilan Eshkeri
Website: www.kickass-themovie.com
Main cast: Aaron Johnson, Nicholas Cage, Chloe Moretz, Mark Strong, Christopher Mintz-Plasse, Lyndsy Fonseca, Clark Duke