Dir: Ian Palmer. Ireland. 2011. 93mins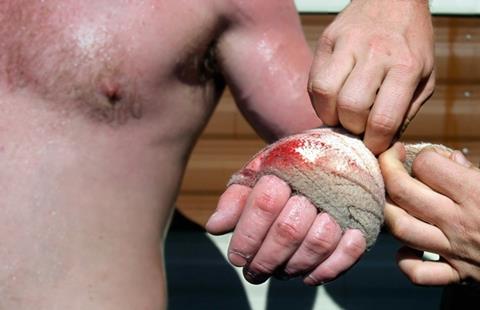 Knuckle is a brilliantly brutal and intriguingly insightful look into the bare-knuckle fights staged between a series of Irish Traveller families as they prolong a long-running feud. Director Ian Palmer has constructed a gripping film that offers no simple criticisms or answers, but superbly records a subculture where violence and honour come knuckle-to-knuckle.
Impressively and compulsively shot, Ian Palmer's film is a fascinating glimpse into a world kept usually very private.
It is a raw and often bloody delve into clan conflicts in modern-day Ireland and likely to be one of the hot tickets of Sundance. Distributors and TV buyers will be keen to acquire and other festivals keen to programme.
Director/producer Ian Palmer also narrates the film, explaining how he first met the Travelling family the Quinn McDonaghs when he was asked to video the 1997 wedding of 18 year-old Michael Quinn McDonagh by a friend. There he met Michael's brother James and was introduced to the long-running feud between the Quinn McDonaghs and their cousins, the Joyce family.
The two families make videos of themselves taunting their enemies, resulting in a challenge being thrown down. Usually one man – sometimes more – agrees to fight for the good name of the family (as well as substantial side bets), with seemingly gentle James a regular winner.
None of the family members are allowed to the bare-knuckle fights themselves, for fear of things getting out of hand. Instead other Traveller families act as referees, insisting on strict rules and deciding on winners and losers.
Palmer follows the various Traveller families for 10 years, recording a series of bloody fights, though as the film draws on and he films two aged men (including Big Joe Joyce, self styled King of the Travellers) slugging it out he decides he wants to stop. "I was recording two grandfathers beating each other up…I want to give up."
But he reluctantly agrees to film one more time – recording Michael Quinn McDonagh (the man whose wedding he films years earlier) in a rematch with the Joyce man who beat him in his first fight eight years earlier.
Palmer spends a lot of time of the various men of the different families, many of whom seem gentle and family-orientated at times, but as soon as the feud is mentioned (and especially after a few drinks) the bloodlust is reignited. When he manages to talk to the Traveller women they just want the fighting to stop, and even an older and wiser James interviewed at the end of Palmer's time with the families admits he now hates bare-knuckle fighting.
But despite an odd sense of honour and adherence to fair fights there seems no chance that the family feuds will come to an end.
Impressively and compulsively shot, Ian Palmer's film is a fascinating glimpse into a world kept usually very private and certainly just within the Travelling community. Nicely edited and with an evocative soundtrack, it is a compellingly brutal film and seems likely to receive strong support.
Production companies: Rise Films, Irish Film Board, BBC
Sales contact: Rise Films, www.risefilms.com
Producers: Teddy Leifer, Ian Palmer
Executive producer: Alan Maher, Nick Fraser
Cinematography: Ian Palmer. Michael Doyle
Editor: Oliver Huddleston
Music: Ilan Eshkeri, Jessica Dannheisser
Website: www.knucklethemovie.com
Music: Jessica Dennheisser, Ilan Eshkeri