From English-language action comedies to local tentpoles and a remake of Ghost, Jean Noh profiles some of the hottest upcoming Korean productions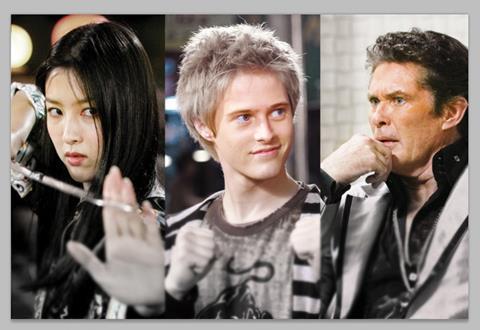 DANCING NINJA
The cast of this English-language action comedy includes David Hasselhof, Lucas Grabeel (Release,High School Musical3: Senior Year) and Kang Jung-hwa (Bunshinsaba: Ouija Board). An abandoned white baby is adopted by a shop owner in an exotic Asian city where he grows up to develop ninja skills through dancing. Directed by Kelly Sandefur (Fangs) and Mitchell Klebanoff (The Rev), and produced by GV Entertainment, CJ Entertainment, Legacy Filmworks and ATM Motionwide. In post-production. (Pictured)
Contact CJ Entertainment - erickim@cj.net; mkchae@cj.net
THE LAST GODFATHER
Harvey Keitel stars in this ambitious English-language film directed by Shim Hyung-rae (D-War). Set in 1951 in the US, this action drama follows a powerful mafia figure who makes the shocking announcement that the heir to his throne is the son he fathered secretly with an Asian woman. Controversy and sabotage ensue. In pre-production, The Last Godfather is to be produced in the US in 2011.
Contact CJ Entertainment erickim@cj.net; mkchae@cj.net
FINDING MR DESTINY
The film adaptation of the hit Korean stage musical stars Lim Soo-jung (I'm A Cyborg, But That's OK) and Gong Yoo (TV series Coffee Prince) as a cute but initially unlikely couple. Gong plays a detective trying to help Lim's character find her long-lost first love. But as they travel around the country on a Letters To Juliet-style odyssey, he falls for her. Finding Mr Destiny is the feature debut of director Chang You-jeong and is set for local release in December. (Pictured)
Contact CJ Entertainment erickim@cj.net; mkchae@cj.net
GHOST (AKA LOVE AND SOUL)
Paramount Pictures Japan is remaking the 1990 hit Ghost with co-producers CJ Entertainment and Japan's Shochiku and Nippon TV. Korean heartthrob Song Seung-heon (A Better Tomorrow) stars in the Demi Moore role as the male/female characters are switched. Matsushima Nanako (Ring) stars in the role taken by Patrick Swayze. This time the story follows a young female entrepreneur who cannot leave her loved one even after her mysterious death, and communicates through a psychic. Directed by Taro Ohtani, the film is set for release in Korea in November.
Contact CJ Entertainment erickim@cj.net; mkchae@cj.net
HEARTBEAT
Drama starring Yunjin Kim, best known outside Korea for US TV series Lost. She plays a mother who will do anything to keep her sick daughter alive. Park Hae-il (Memories Of Murder, Good Morning President) plays a man struggling to let go of his braindead mother. Heartbeat is the directorial feature debut of Yoon Jae-keun. Produced by Ozone Film, the film is due for release in Korea in December.
Contact Lotte Entertainment mhhan@lotte.net
PYONGYANGSEONG (WORKING TITLE)
Directed by Lee Jun-ik (King And The Clown, Radio Star), this $5m period comedy stars Jung Jin-young and is set in 7th century Korea and China as the countries battle over the ancient city of Pyongyang. Now in production, the film is due for release in Korea in February 2011. Tiger Pictures and Achim Pictures are co-producing.
Contact Lotte Entertainment mhhan@lotte.net
SECTOR 7
CJ's tentpole release of next summer is directed by Kim Ji-hoon, whose credits include the hit historical drama May 18, and produced by JK Yoon, director of blockbuster Haeundae. Ha Ji-won (Haeundae), Ahn Sung-ki (Battle Of Wits) and Oh Ji-ho star in the thriller, set on a ship isolated in the middle of a typhoon when it is attacked by a mysterious sea creature.
Contact CJ Entertainment erickim@cj.net; mkchae@cj.net
FOXY FESTIVAL
An erotic comedy about ordinary people with secret carnal desires, Foxy Festival features an ensemble cast including Shin Ha-kyun (Thirst, Welcome To Dongmakgol), Shim Hye-jin (Acacia) and Ryu Seung-beom (Crying Fist). Directed by Lee Hae-young (Like A Virgin), the film is set for local release in November.(Pictured)
Contact Showbox Mediaplex sales@showbox.co.kr
HELLO GHOST (working TITLE)
Memorable for his performances as flummoxed young men in films such as Scandal Makers and My Sassy Girl, Cha Tae-hyun stars in comedy Hello Ghost as a lonely man looking forward to death. But after a near-fatal experience, he begins to see ghosts which he must help. This feature debut from director Kim Young-tak is in post-production. (Pictured)
Contact FineCut cineinfo@finecut.co.kr; jeong@finecut.co.kr; luna@finecut.co.kr
THE YELLOW SEA
Na Hong-jin's action thriller re-teams Na with actors Ha Jung-woo and Kim Yoon-suk from his hit debut feature The Chaser. Ha stars as a man from the Yanji Korean Autonomous Prefecture in China, across the border from Russia and North Korea. He embarks on an assassination mission to South Korea so he can pay off his mounting debt, and finds himself endangered by conspiracy and betrayal. Popcorn Film is producing. The HAF award-winning project is in post-production with a tentative local release date set for December.
Contact Showbox Mediaplex sales@showbox.co.kr
HAUNTERS
Produced by Lee Eugene's Zip Cinema (Woochi), fantasy action film Haunters stars young heartthrobs Gang Dong-won (Secret Reunion, Woochi) and Goh Soo (White Night). Haunters marks the feature debut of director Kim Min-suk and is about a man who has the power to control other people's minds. Now in production, the film is due for completion this winter. (Pictured)
Contact M-line Distribution sales@mline-distribution.com