Dir/scr: Daisuke Shimote. Japan. 2012. 100mins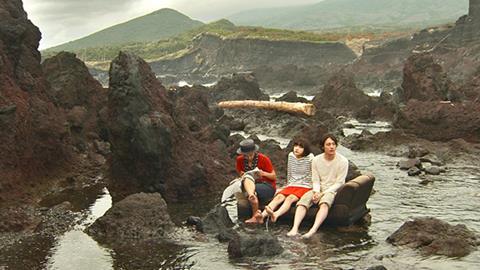 An engagingly playful ensemble drama that wears its love for French New Wave cinema on its sleeve, writer/director Daisuke Shimote's Kuro (Hanare Banareni) is a charmer of an art house film given sweet-natured energy by central character Kuro Ueki (the delightful Airi Kido).
Kuro is just the sort of sweetly charming film to feature strongly on the festival circuit.
An adult coming-of-age ensemble drama, each scene is shot in one long take with minimal dialogue as Shimote strives to emphasise the mental and emotional distances between the characters, as well as shooting elegantly structured scenes that play on a youthful sense of oddball fun, with clear references to Jean-Luc Godard's Bande à part (Band Of Outsiders). The film had its world premiere at the Tokyo Film Festival.
This 'band of outsiders' are sweetly laid-back Kuro dreamed of becoming a baker, but gets fired from the bakery she works at and heads off into the city to steal clothes, charm all around her; Eito (Yu Saitoh), a photographer, breaks up with his girlfriend Nana (Wakana Matsumoto) who wants to get married, and Gou (Hideo Nakaizumi), a theatre director, who has his production thrown into jeopardy after his lead actress drops out.
These three young people, with nothing in common, meet by coincidence head out of Tokyo and stay together at a deserted inn near the sea. They play games, sleep, have fun – Gou plans to adapt his stage play so Kuro can play the lead – and embrace their time together, fending off the realities of life for as long as possible.
The seaside backdrop provides the perfect playground for their antics – from a wide empty veranda where they play invisible tennis through to the rocky beach where they mull over things – with debut writer/director Daisuke Shimote letting the spaces in-between his characters help tell their oddball story as much as the minimal dialogue.
Kuro is just the sort of sweetly charming film to feature strongly on the festival circuit and is certainly a nice balance to more traditionally structured film emerging from mainstream Japanese cinema.
Production company/sales: Particle Pictures, particlepictures@gmail.com
Producer: Takahito Obinata
Executive producer: Taeko Sudo
Cinematography: Takahiro Haibara
Editor: Yusuke Nagae
Website: http://cargocollective.com/hanare_banareni
Main cast: Airi Kido, Yu Saitoh, Hideo Nakaizumi, Wakana Matsumoto, NorA, Miwako Wagatsuma, Hikari Kajiwara, Koichiro Saka