Dir: Jerome Salle. France-Belgium-Germany. 2011. 118mins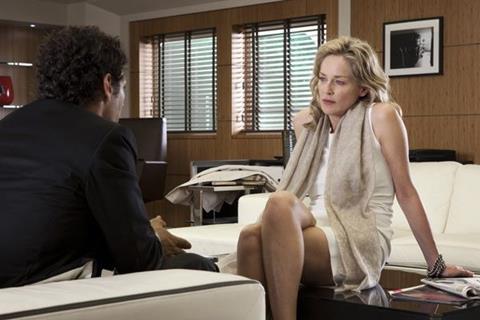 While endeavouring to give his loot to charity, the title heir to a multi-billion dollar business empire finds Sharon Stone accusing him of complicity in crimes against humanity in Largo Winch II (aka: The Burma Conspiracy). In addition to its likable hero, this action-packed sequel to the not-half-bad late-2008 release has its guilty pleasures - including a lengthy skydiving stunt, a better-than-necessary score by Alexandre Desplat and late great vet Laurent Terzieff's final screen performance. But viewers might get whiplash from this edition's "Three Years Earlier" and "Three Years Later" signposts as chase scenes and fist fights accumulate in service to the tale's comic book-style logic.
Salle inches toward The Tourist territory in the film's mix of accents and nationalities and proud insistence on locations that scream "Look how exotic and/or luxurious!"
Action mavens across a swath of territories will probably find enough widescreen antics on display to justify the price of a ticket, but the emotional stakes and business machinations in the first installment were more fun. Inspired by a successful series of graphically distinctive comics, the first film paid for itself and was popular not only in French-speaking territories but took in $1 million in Russia alone. Sharp-eyed US distrib Music Box is releasing the original film- in which Kristin Scott Thomas gives a sly performance as a formidable business exec - as Largo Winch: The Heir Apparent this summer.
The new film's distaff calling card is Stone, who plays a hard-driving international prosecutor out to nail the lowlife scum who massacred the peaceful inhabitants of a Burmese village.
While Stone looks fetching, her line readings are all over the map. As is the story - literally. Ricocheting from Burma to somewhere east of Russia to Hong Kong, Geneva, London, you-name-it, the story champions love, honesty and friendship over money, violence and bad behaviour. But it accomplishes this by showcasing violence and bad behaviour galore.
Before tackling the first Largo Winch, co-writer/director Jerome Salle brought a deft touch to the action in Anthony Zimmer, the 2005 film he also penned that was recently remade as The Tourist. Here Salle inches toward The Tourist territory in the film's mix of accents and nationalities and proud insistence on locations that scream "Look how exotic and/or luxurious!"
Assured, athletic but unpretentious Largo Winch (Tomer Sisley) has decided to sell the $53 billion multinational corporation he inherited and put the proceeds into a charitable foundation. This he does with the blessing of his late father's only friend, Alexandre Jung (Terzieff), an ailing former head of the Red Cross who lives on the shores of Lake Geneva.
But right after Largo signs the papers aboard ship in international waters, crime-buster Diane Francken (Stone) interrupts the cruise. She believes Largo was doing dirty work in Burma for the father he barely knew. Flashbacks depict Largo leading a modest and happy life in Burma with a local lass (Mame Nakprasitte) before he was forced to flee.
Largo now has no cash with which to clear his name and the evil general presumably behind the massacre intends to collect on the $25 million he says Largo's late father still owes. Kidnapping of loved ones, plentiful fist fights, stuff blowing up and seemingly insurmountable legal problems ensue. But Largo, egged on by butler Gautier (Nicolas Vaude as gentle comic relief in the film's most consistently credible performance) has an audacious plan to unmask the real scoundrels Stone is after.

Although loose ends are more or less tied up, it would be easy to make another episode starting where this one leaves off. (Salle has said that he'd enjoy watching another Largo Winch film but doesn't care to direct it). English and French predominate in the lively mix of languages.

Production companies: Pan-Européene, Wild Bunch, TF1 Films Production, Casa Productions, LW Production, Climax Films, RTBF, Wild Bunch Germany
International sales: Wild Bunch, www.wildbunch.biz
Producer: Nathalie Gastaldo
Co-producers: Olivier Rausin, Marc Gabizon, Arlette Zylberberg
Screenplay: Julien Rappeneau, Jerome Salle
Cinematography: Denis Rouden
Production designer: Laurent Ott
Editor: Stan Collet
Music: Alexandre Desplat
Website: www.largowinch2-lefilm.com
Main cast: Tomer Sisley, Sharon Stone, Ulrich Tukur, Mame Nakprasitte, Olivier Barthelemy, Laurent Terzieff, Nicolas Vaude, Clemens Schick, Nirut Sirchanyai