Screen was delighted to be invited to a wonderful LFF reception with Italian producers and directors this afternoon at London's Century Club.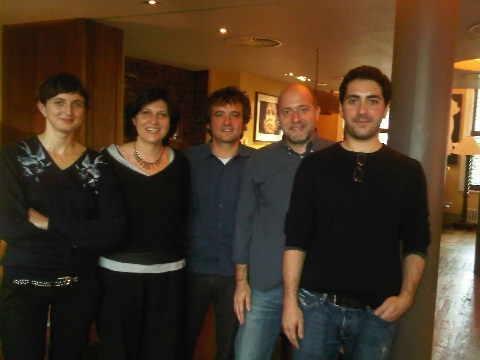 Screen met some of the new wave of Italian talent behind the array of Italian films screening to such fantastic reviews at the LFF this afternoon.
While chatting to Corpo Celeste writer-director Alice Rohrwacher and producer Carlo Cresto-Dina, the duo told me how their Italian-Swiss-French co-production, which has gone down a storm here after its successful Cannes Director's Fortnight berth, was four years in the making but benefitted from an array of European funding, expertly pieced together by producer Cresto-Dina.
The two will be teaming up on Rohrwacher's next film, which she said will be set in a desolate region above Rome and will be another comment on contemporary Italian society.
Cresto-Dina is also producing Naples-set drama The Break, to be directed by newcomer Leonardo Di Constanzo.
The Italian contingent were delighted with the festival: "The festival is really impressive", agreed Cresto-Dina and Paolo Sorrentino's regular producer Francesca Cima of Indigo Film, at the festival with This Must Be The Place and Andrea Molaioli's The Jewel. "It manages to be both public and professional, which is always a risk."
The screenings for The Jewel and Corpo Celeste were both packed. As will be Nanni Moretti's Habemus Papam MEDIA Gala tonight and Sorrentino's This Must Be The Place tomorrow.
Cima confirmed that Sorrentino is currently writing his next film and that Indigo will be producing once again. Trinity will release This Must Be The Place in the UK, while The Jewel is still waiting for a UK distributor.
Cima was also full of praise for The Jewel lead actor Toni Servillo, who she described as the best Italian actor of his generation. Servillo is currently in Athens where he is to star in Theo Angelopoulus' next feature about the Greek economic crisis.
Moretti and Molaioli were in attendance, as was Drifters director Matteo Rovere, who hotstepped it straight from the airport. Rovere's Drifters was a late addition to the festival and screens tomorrow. He is also working on his next script, which he said would address apathy among today's Italian youth, a theme du jour for so many Italian filmmakers.