Dir/scr: Xavier Dolan. Canada-France. 2012. 159mins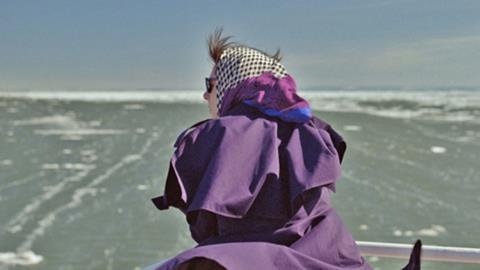 Xavier Dolan reveals a tragic-romantic side in Laurence Anyways, an epic story of a passionate love-that-cannot-be that is alternately absorbing and grating, with the former ultimately winning out. Running to a massive 159 minutes, the film is indulgent and self-important – traits that Dolan exhibited in his first two features – but it also demonstrates significant strides for the 23 year-old director. Working with two superb actors – Melvil Poupaud and Suzanne Clement – he creates an onscreen relationship that feels authentic, brims with emotion and almost manages to sustain the bloated running time.
For the confidence and scale of his ambition, the young film-maker is unrivalled.
This is a highly unconventional romance and the quirk of the story – that Poupaud's character wants to become a woman – will only benefit sales and prospects at the arthouse box office. The film's dreary settings and melancholy tone might make buyers think twice, as will its length, but Dolan's "wunderkind" reputation should secure buyers. Interest in co-producing countries Canada and France is likely to be high, and GLBT festivals will embrace its no-nonsense attitude to prejudice.
Taking place throughout the 1990s – it ends just before the new millennium – the film opens in late 1999 as a statuesque woman walks through a Montreal neighbourhood, back to camera, eliciting stares from everyone she passes.
Cutting back to a decade earlier, we meet Laurence (Poupaud), a masculine writer and college professor, and his girlfriend Fred (Clement), a free-spirited movie AD. The two enjoy a powerful sexual bond and a deep intimacy that is the envy of their friends, but everything changes one day when Laurence announces to Fred that he is a woman born in a man's body and has lived a lie for his entire life. He can only survive if he becomes a woman.
After initial skepticism, Fred agrees to support Laurence as he starts to wear dresses and makeup to work and the two of them confront the judgmental attitudes of friends and family as well as of society in general.
But Fred finds it increasingly hard to cope and suffers a breakdown, while Laurence is fired from his job as a result of complaining parents and beaten up in a bar the same day. Fred eventually moves out and takes up with a new man; Laurence finds new friends in an eccentric bunch of sexually ambiguous characters called "The Five Roses".
Over the next decade, Fred settles down into married life and motherhood in the suburbs and Laurence becomes more confident in his new gender and starts dating a new girlfriend. But their love for each other continues to haunt them and it is only a matter of time before they meet again.
Poupaud, who took over the role from Louis Garrel at the 11th hour, gives an outstanding performance here, playing Laurence with a tender lack of camp, drama or hysteria; Clement is more volatile and has a couple of knockout hysterical outbursts, one memorably with an over-inquisitive waitress. French legend Nathalie Baye gives a nice understated turn as Laurence's mother.
Sometimes there is an immaturity to Dolan's imagery and dialogue – and his choices, visually and in music – are prone to cliché. He is also guilty here of repetition, telling us multiple times what could be said to greater effect just once. A disciplined editor (Dolan takes sole editing credit) would perhaps have helped remove some fat.
But for the confidence and scale of his ambition, the young film-maker is unrivalled. When he closes the film, sentimentally, with a flashback to the first meeting of Laurence and Fred, the final emotional impact of their failed love is considerable.
Production company: Lyla Films
International sales: MK2, www.mk2pro.com
Producer: Lyse Lafontaine
Cinematography: Yves Belanger
Production designer: Anne Pritchard
Editor: Xavier Dolan
Music: Noia
Main cast: Melvil Poupaud, Suzanne Clement, Nathalie Baye, Monia Chokri, Susie Almgren, Magalie Lepine-Blondeau