Dir: Stephen Frears. US. 2012. 103mins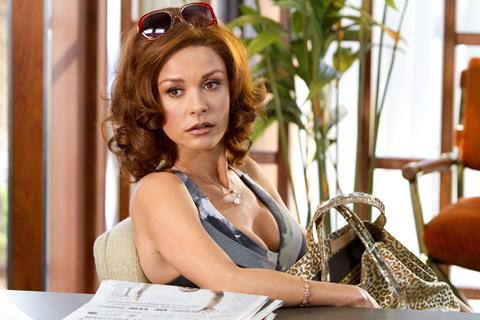 Lay The Favorite demonstrates all the dangers in making a comedy filled with too-colourful-to-be-true characters. Based on writer Beth Raymer's memoir about her time working in Las Vegas for a professional sports gambler in the early 2000s, this adaptation helmed by Stephen Frears wants to be a freewheeling coming-of-age tale that lovingly portrays the bookmaking milieu as a world populated by adorably eccentric individuals. But whether it's Rebecca Hall's unconvincing performance as a ditzy Florida gal trying to find herself or the story's meandering tone, Lay The Favorite is one gamble that doesn't pay off.
As Lay The Favorite rolls along, Frears tries to mix comedy and drama as he's done before so well in movies as different as The Queen and High Fidelity.
Featured in Sundance's Premieres section, Lay The Favorite boasts a cast that includes Bruce Willis, Vince Vaughn and Catherine Zeta-Jones, making it an attractive proposition for distributors. But mixed reviews should temper expectations for the film's commercial prospects.
Rebecca Hall plays Beth, a beautiful, bubbly woman who decides that she wants more out of life than stripping. An eternal optimist, she travels from Florida to Vegas to land her dream job as a cocktail waitress but instead ends up working for Dink (Willis), a legendary sports gambler who's married to an incredibly jealous, high-maintenance woman named Tulip (Zeta-Jones). Beth and Dink's growing attraction draws Tulip's ire, forcing Dink to choose between Beth (whom he considers a good-luck charm) and his marriage.
Lay The Favorite sports such an outlandish narrative – involving everything from an unexpected detour to the Caribbean to a potential run-in with the Feds – that one would be tempted to dismiss it as pure hogwash if it wasn't all based on Raymer's life. And while there are potentially compelling ingredients – including the promise of an inside look at Vegas sports gambling – they're overshadowed by Frears' ill-advised decision to play up the characters' tacky outfits and unsophisticated demeanour. Even granting the possibility that such people exist in real life, Lay The Favorite never goes beyond the wardrobe and mannerisms to understand the mindset of such individuals.
Hall has done good work in Vicky Cristina Barcelona and The Town playing vulnerable, refined characters, so there's some initial kick in watching her as Beth, a goofy, sensual woman who revels in wearing too-short denim skirts and coquettishly chewing the ends of her hair. But the performance ends up being a collection of tics instead of a fully-realized portrait.
Likewise, the rest of the cast tends toward the broad comedic gesture. Zeta-Jones is all big sunglasses and bigger hairdos as Dink's drama-queen wife, while Vaughn does his regular obnoxious-blowhard routine as a rival bookmaker. By comparison, Willis shows somewhat more restraint as a man facing a crossroads in his life, but ultimately it's a performance in search of an interesting character.
As Lay The Favorite rolls along, Frears tries to mix comedy and drama as he's done before so well in movies as different as The Queen and High Fidelity. But because these characters rarely rise above caricature, their deep-seated hopes and dreams have little impact. It's difficult enough when Lay The Favorite asks us to find these people adorable – it's nearly impossible when the tone changes and we're expected to be intimately invested in their fates.
Production companies: Emmett/Furla Films, Wild Bunch, A Likely Story, Ruby Films, Jackson Investment Group, LipSync, Random House Films
International sales: CAA, www.caa.com
Producers: Anthony Bregman, Randall Emmett, George Furla, D.V. DeVincentis, Paul Trijbits
Executive producers: Agnes Mentre, Vincent Maraval, James W. Skotchdopole, Richard Jackson, Curtis Jackson, Brandt Anderson, Brandon Grimes, Anthony Gudas, Michael Corso, Peter Hampden, James Gibb
Screenplay: D.V. DeVincentis, based on the book Lay The Favorite: A Memoir Of Gambling by Beth Raymer
Cinematography: Michael McDonough
Production designer: Dan Davis
Editor: Mick Audsley
Music: James Seymour Brett
Main cast: Rebecca Hall, Bruce Willis, Vince Vaughn, Catherine Zeta-Jones, Laura Prepon, Joshua Jackson, Corbin Bernsen