Ian Sandwell picks the brains of Jeff Baena, Aubrey Plaza and Matthew Gray Gubler to find out more about Life After Beth.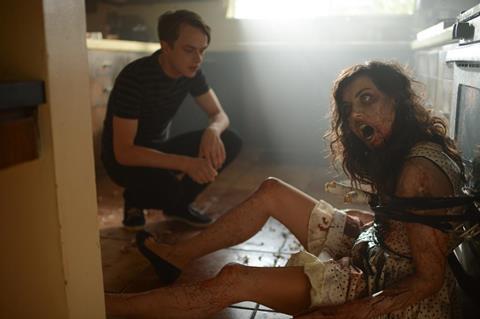 Smooth jazz and a fascination with attics. Just two of the ways that Life After Beth is not your typical zombie film.
I Heart Huckabees screenwriter Jeff Baena's directorial debut has just received its Canadian premiere at Montreal's Fantasia International Film Festival, but was written 11 years ago when Baena almost made it before it fell apart at the last second.
It means it actually predates an obvious rom-zom-com comparison in Shaun of the Dead, but is a very different film altogether in any case.
"For me, the zombie stuff was definitely important to the story, but I tried to downplay that and put it on the periphery," explains Baena. "I favour the inter-personal dynamics because I feel that's a richer territory to mine. I observe a lot of the zombie tropes but try to reinvent them at the same part."
Aubrey Plaza and Matthew Gray Gubler are both clear in what attracted them to the project: the script. "I really just loved the script, the dialogue was so great and I loved the characters," outlines Plaza.
Gubler expands: "It's really just a parable for a dying relationship. When you're trying to revive a relationship with someone who doesn't want to be in it anymore, Jeff's taking that core and just made it a zombie so it's also a physically dying relationship."
Having assembled a killer cast that also includes Dane DeHaan, John C. Reilly and Molly Shannon, the film shot in 22 days but, despite the comedic backgrounds of some of the cast, there was little improvisation on set.
"The movie ended up being 98% of the script," notes Baena. "We would do rehearsals and if anything funny came up, we'd incorporate it. I try not to be precious but there was a lot of overlapping dialogue and chaos, so if one thing changes, everything changes."
The film features a wonderfully physical performance from Plaza, one that on set saw her tore her abdominal muscles with one stunt in a must-see sequence involving a stove. And her zombie is very much the Parks and Recreation's star's own creation.
"At first I thought I would do research and I'd watch a million zombie movies, but then I decided that I didn't want to copy other peoples' performances. All of those movies are making it up; zombies aren't real so I thought I can make up my own version of one too."
Both Plaza and Gubler have considerable TV experience, so how different do they find it? "Whatever I do, the lesson I've learned is to just try to be sincere and hopefully create a character that people can love and relate to. My hope is to just tell stories that make people happy," says Gubler.
Plaza differs: "It's very different. Working on Parks, I know my character so well, inside and out, so it's easier. I just know how she would react. Movies are different because there's a beginning, middle and end, so you have to structure a complete journey and that's a whole different skill."
On that note, would April Ludgate approve of Life After Beth? "She would like it. I only do movies that April would like."
With his first directorial feature under his belt, Baena will next adapt Krystle Cole's book Lysergic – "we've just secured financing, so hopefully we'll be shooting that by next summer" – but his partner Plaza could soon be following in his footsteps.
"I've been working on a couple of different screenplay projects very slowly, I'm not a very disciplined writer but I will some day finish one and direct it," notes Plaza.
"I went to film school for directing and production in college, so I have the training for that and I'd like to put that money to good use some day, just for my parents' sake."
Variety is the key word for Plaza who, along with the upcoming About Alex, has two other films of varying scales set for release: Hal Hartley's independent drama Ned Rifle and David Koepp's Mortdecai, starring Johnny Depp, Gwyneth Paltrow and Oliver Platt, among others.
But what we all want to know is what the three of them would do if they woke up as a fully functioning zombie like Beth:
Baena: "I would just go on my way and stalk someone that I'd want to kill."
Plaza: "It depends on how much of a zombie I am. I'd probably go find all the people who've wronged me and eat them, then I'd listen to smooth jazz for a reward."
Gubler: "I would just put on some Kenny G and rock out for a good hour."
Life After Beth is released in the US through A24 on Aug 15 and in the UK through Koch Media on Oct 3. It also plays Film4 FrightFest in August.