Dir: Steve James. US. 2014. 112mins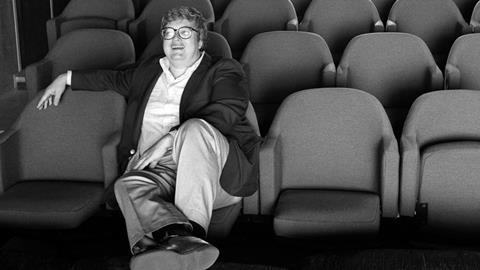 Life Itself is not just an overview of the life and times of famous film critic Roger Ebert, but it's also, and more poignantly, an examination of death and how both its victims and survivors grapple with it.
Ultimately, one leaves the documentary feeling that Ebert's lifelong dedication to cinema was genuine and heart-felt.
Directed by veteran documentary filmmaker Steve James (Hoop Dreams), one of many filmmakers who benefited directly from Ebert's critical support, Life Itself is certainly a celebratory and moving tribute to the Chicago movie reviewer, his craft and his career, but it also shows the dark sides, debates and difficulties that also defined his life.
Set for domestic broadcast on CNN, this polished documentary—on a subject beloved by many—is also destined for art-house theatrical runs wherever Ebert-lovers reside.
Tellingly, James begins the film in a hospital room—a place familiar to Ebert ever since he was diagnosed with throat cancer in 2002. Throughout the documentary, James returns to the hospitals and rehabilitation facilities that defined the later years of Ebert's life and the uncomfortable procedures he had to endure. "It's the third act," the ever-buoyant Ebert notes, at one point, speaking through a voice synthesizer on his computer.
Life Itself, then, goes back to Act One. Through Chicago friends and fellow writers, we hear about his rapid rise to journalistic fame, from the University of Illinois's newspaper to the Chicago Sun Times, and his wild early years, when he suffered from alcoholism. The film also delves into Ebert's legendary involvement in the sexploitation flick Beyond The Valley of the Dolls—he did it for "the boobs," one friend notes—and his early championing of movies like Bonnie & Clyde and Martin Scorsese's debut I Call First, a.k.a. Whose That Knocking At My Door?
In a candid interview, Scorsese, an executive producer on the documentary, recalls, with startling emotion, at how Ebert not only kick-started his career, but kept him going after a turbulent period in his personal life in the 1980s. Other filmmakers also testify to Ebert's crucial role in supporting their first films, including Errol Morris (Gates of Heaven), Gregory Nava (El Norte), Ramin Bahrani (Man Push Cart) and Ava DuVernay (I Will Follow).
But the documentary's most lively parts involve Ebert's contentious partnership with rival Chicago Tribune film critic Gene Siskel. One observer describes the relationship as "radioactive." While the two collaborated for years together on their movie review TV shows Sneak Previews and At the Movies and shared the national spotlight together as they grew in popularity, Life Itself goes behind the scenes to reveal bitter in-fighting between them. One astonishing archival clip shows the two in between takes on their show, delivering their lines with smiles, and then snapping at each other off-script with vicious enmity. And when Siskel unexpectedly died in his fifties, the documentary pivots to reveal a surprising tenderness and respect that eventually existed between them.
Life Itself also addresses the challenges to Siskel and Ebert from other film critics, who accused them of dumbing down film criticism with their thumbs up/thumbs down approach.
But ultimately, one leaves the documentary feeling that Ebert's lifelong dedication to cinema was genuine and heart-felt, and it was this very commitment to his craft that kept him going long after he was struck with cancer. But at a certain point, the film reveals, Ebert was finally ready for the end credits to roll. And in a heartbreaking interview with Ebert's wife Chaz, she describes the moment where he—and she—finally decided to let go. It's an affecting conclusion that Ebert would have surely appreciated.
Production companies: CNN Films, Kartemquin Films
Executive producers: Martin Scorsese, Steven Zaillian, Michael W. Ferro Jr, Gordon Quinn, Justine Nagan, Kat White, Mark Mitten, Vinnie Malhotra, Amy Entelis
Producers: Zak Piper, Steve James, Garrett Basch, Emily Hart, Josh Schollmeyer
Cinematographer: Dana Kupper
Editor: David E. Simpson
Composer: Joshua Abrams
Main cast: Roger Ebert, Chaz Ebert