Dir: Ang Lee. US. 2012. 125mins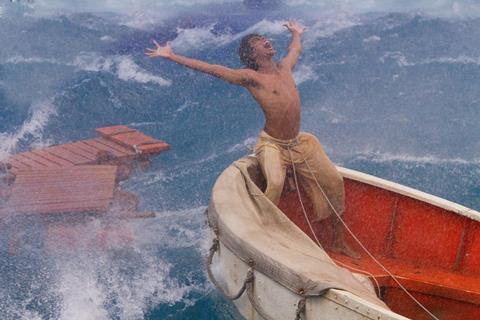 Yann Martel's 2001 book was relatively straightforward. Even its most delirious flashbacks were signalled, its metaphors undisguised. As much an old-fashioned children's tale of wonder as a deceptively graceful, state-of- the-art technological construction, Life Of Pi the novel and now the Ang Lee film is first and foremost an imaginative take on the nature of storytelling.
Fox has struck gold with this risky film, having found a perfect match in Ang and this unique narrative.
For example, new or peripheral narration might be couched in an as-yet-unheard voiceover. An unnamed author, presumably a surrogate for Martel, listens to the story told by Pi, now a middle-aged man whom we have observed through his childhood, for the purpose of using the information for a book. And Pi's story—he even invents a second one in case the first doesn't work—is rejected as too unbelievable by the extremely literal Japanese insurance men who come on the scene, searching for clues to the tragic sinking of the boat that carried his family.
Ang Lee has always blurred the boundaries between fiction and non-fiction, as well as those between materialism and spirituality, so it is not by chance that, after the project went through director after director and was generally considered unfilmable, he would be the one selected. He could approach it without irony or condescension, without a veneer of cuteness or faux-seriousness.
The underlying premise of Life Of Pi is theological rather than philosophical, confronting questions about the relationship between man and the divine, and between men. That the main character is from India and has embraced three different religions simultaneously helps to explain an inclusive worldview that embraces both love of what is familiar and empathy for what is antithetical to his nature.
In order to externalise these intangibles, Ang almost perversely borrows from the most recent and complex strides in visual technology, creating a palette of f/x that is both credible and seamlessly magical, especially for the young. It will succeed as family entertainment, with or without kids in tow.
That the locales and many of the players are products of fantasy gives the film, and the book, a universal flavour that surpasses consideration of national origin and territorial fit. Fox has struck gold with this risky film - which opened the New York Film Festival - having found a perfect match in Ang and this unique narrative.
Pi, short for Piscine (French for swimming pool), is a teen-aged boy whose mother recently purchased a zoo in the former French colony of Pondicherry and, on account of financial hardship, whose father must take the family and the rare species they house to Canada to earn money from a quick sale.
Unfortunately, their boat encounters a severe storm, and most of the animals perish, as does Pi's entire family. He is left in a lifeboat with just a few oddities, like a manic hyena, an orange orangutan, a rat, and an anaemic zebra.
The only other survivor, and the one most critical to the humane message of book and movie, is a threatening Bengal tiger called Richard Parker (from a clerical error), whose shifting relationship to Pi parallels Martel's and Ang's increasingly hopeful takes on the possibility of intra- and inter-species harmony.
What comes across as lame is some overindulgence in the effects, no matter how ravishing or impressive (especially to a young mind), to the point where it becomes distraction. Is this, though, not what 3D is ultimately all about—even in Ang's nimble hands, a bit of uninterrupted digression? Schools of luminous fish, sea creatures with lava-lamp-like motility, a carnivorous island of standing meerkats—at times they feel like a colourful dressing poured over a nutritious, enriching salad.
Besides the brilliant use of artifice in evidence here, the real-flesh-and-blood lead performer Suraj Sharma, in his first role at the age of 17, is indispensable to the film's success. As Pi, he is in almost every scene, and, since the other characters are fake animals, acting alone. He transforms himself from meditative introvert to high-energy defender of his own life and his limited space on the boat, then back again, all at a moment's notice.
The creature Richard Parker is a formidable foe but, even though he is expertly constructed, at the end of the day he remains a machine.
Production companies: Haishang Films, Gil Netter Productions, Big Screen Productions, Inglorious Film Partners
International sales: Fox, www.fox.com
Producers: Gil Netter, Ang Lee, David Womark,
Executive producer: Dean Georgaris
Screenplay: David Magee, based upon the novel by Yann Martel
Cinematography: Claudio Miranda
Editor: Tim Squyres
Production designer: David Gropman
Music: Mychael Danna
www.lifeofpimovie.com
Main cast: Suraj Sharma, Irrfan Khan, Tabu, Rafe Spall, Gerard Depardieu