Dir: Johnnie To. Hong Kong. 2011. 106mins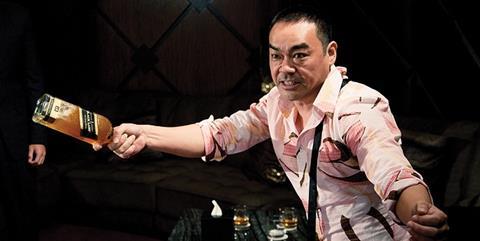 There are some good ideas knocking around in Hong Kong genre auteur Johnnie To's multi-strand financial crisis dramedy- but they're swamped by an inept script that keeps getting bogged down in details and forgetting the big dramatic picture. The film does have the merit of rendering, with a certain ironic detachment, the human side of the profits and losses generated by stock-market meltdown in a money-oriented urban hothouse like Hong Kong. But that doesn't make it any less of a frustrating viewing experience.
Johnnie To usually also serves up wok-fuls of visual style and a lush Hong Kong soundscape, but Life Without Principle disappoints on this front.
To's output of two or three films a year (this is number two for 2011) generally pans out between local-consumption comedies (like Don't Go Breaking My Heart, released in Hong Kong earlier this year) and festival-pleasing Triad actioners or police procedurals with out-of-Asia distribution potential. With its comedic thrust, artsy choral structure and (in part) gangland settings, Life Without Principle (Duo Ming Jin) looks like an attempt to bridge the gap between these two modes. But it's a hybrid that is unlikely to translate into the sort of East-West box office crossover achieved by, say, Exiled or Mad Detective.
The three characters, and stories, that will intertwine in the course of the film each get such a leisurely run-up that we're a third of the way in before we've even begun to tease out the dramatic thread that unites them. Plot strand one -easily the thinnest - focuses on serious, honourable detective Cheung (Jen), a chiselled heartthrob who is absorbed by his job, much to the frustration of his fiancée, Connie (Wu), who is trying to get him to commit to putting a down payment on a new apartment.
The second and most dramatically coherent story is that of Teresa (Ho), an under-pressure clerk in a bank where 'financial products' are the new mantra and each employee is judged by his or her performance in selling them - no matter if the recipients are effectively conned into gambling their savings on dodgy stock and bond bundles.
Strand number three focuses on Panther (Ching Wan), a low-grade gangland henchman with a comic range of facial tics, who is scrupulously honest and indelibly servile. This is the story that takes longest to get off the ground, as we see Panther involved in organising a dinner for his boss and raising the money to bail out a gang lieutenant: here the script takes an awfully long time to make the point that even underworld bosses can have cashflow problems.
It's not until well over an hour in that Panther's strand coalesces into something more incisive, when the search for bail money takes him to old friend Lung (Keung), who runs a backstreet business operation that helps people to play the futures market on the Internet.
Television news reports about the Greek debt crisis and graphs of the Hang Seng index's rise and fall provide a sort of running audiovisual bass line, and there's a nice, queasy see-saw motion established around these ups and down that will culminate in a decision Panther has to make near the end. And there are always a few cut-out-and-keep scenes in even the most rapidly dashed-off Johnnie To movie: leading candidates here are a botched robbery in an underground carpark and a priceless comedy stabbing.
To usually also serves up wok-fuls of visual style and a lush Hong Kong soundscape, but Life Without Principle disappoints on this front: everything here looks shot in a hurry, and although an a cappella musical theme with a Michel Legrand feel lends a certain jaunty je ne sais quoi, we yearn for the stylishness of Sparrow or The Mission.


Production companies: Media Asia Films presents a Milkway Image production
International sales: Media Asia Distribution, www.mediaasia.com
Producer: Johnnie To
Executive producers: John Chong
Screenplay: Au Kin Yee, Wong King Fai, Milkyway Creative Team
Cinematography: Cheng Siu Keung
Editor: David Richardson
Production designe:r Sukie Yip
Main cast: Lau Ching Wan, Rickie Jen, Denise Ho, Myolie Wu, Philip Keung, Terence Yin