Dir: Paul Weitz. US. 2010. 98mins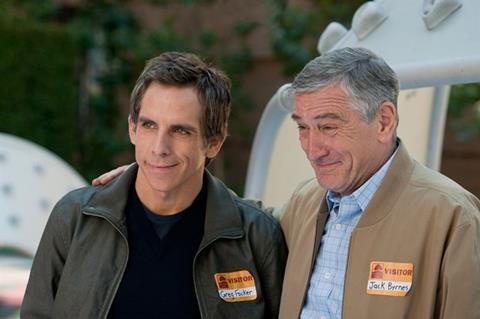 Brutally unfunny, Little Fockers brings back the characters of the first two Meet The Parents films for one more go-round of cheap physical comedy and wan dysfunctional-family gags. Where once Robert De Niro and Ben Stiller's contrasting comedic styles proved fresh, now 10 years after the original film their tired byplay seems as phoned in as the rest of this sorry affair.
While De Niro and Stiller's bickering takes centre stage, the rest of the starry cast is forced to make do in the margins.
Opening December 22, Little Fockers will hope to continue to milk audiences' fondness for the series, which has thus far grossed $847m worldwide. But considering that it has been six years since Meet The Fockers – and that the film will battle TRON: Legacy, Gulliver's Travels and Yogi Bear for family dollars – this latest instalment may ultimately find more breathing room in ancillaries.
Happily married with young twins, Greg (Stiller) and Pam (Teri Polo) invite their parents to their Chicago home for their kids' fifth birthday party. Unfortunately, the visit only reignites Pam's hardnosed former CIA agent father Jack's (De Niro) belief that Greg isn't a good enough husband or father, especially when he begins to suspect that Greg is having an affair with a flirty pharmaceutical rep (Jessica Alba).
When Meet The Parents was released in 2000, the tension between De Niro's buttoned-down dad and Stiller's nervous boyfriend energised the entire film, wringing ample laughs from a familiar ritual in the dating process.
Unfortunately, like with Meet The Fockers, Little Fockers has reduced their funny sparring to a series of crude, spiteful exchanges that have become increasingly more forced as the franchise has progressed.
American Pie co-director Paul Weitz has taken over the helm from original director Jay Roach, but Little Fockers shows no signs of renewed spark, clinging to the franchise's same comedic strategy of would-be outrageous mishaps around the dinner table mixed with sexual humour and ludicrous misunderstandings that lead to more problems for Greg.
Not only is the comedy recycled from the earlier films, but so too is the central conflict between Greg and his father-in-law, which yields no new laughs since the animosity no longer contains any novelty.
While De Niro and Stiller's bickering takes centre stage, the rest of the starry cast is forced to make do in the margins. Alba is particularly wasted as generic eye candy meant to tempt faithful Greg. And reprising their roles as Greg's parents, Barbra Streisand and Dustin Hoffman are no less caricaturish than they were in Meet The Fockers, practically an afterthought in a movie that isn't worth remembering.
Production companies: Relativity Media, Tribeca Productions, Everyman Pictures
US distribution: Universal Pictures
Producers: Jane Rosenthal, Robert De Niro, Jay Roach, John Hamburg
Executive producers: Nancy Tenenbaum, Daniel Lupi, Meghan Lyvers, Andrew Miano, Ryan Kavanaugh
Screenplay: John Hamburg, Larry Stuckey, based on characters created by Greg Glienna & Mary Ruth Clarke
Cinematography: Remi Adefarasin
Production designer: William Arnold
Editors: Greg Hayden, Leslie Jones, Myron Kerstein,
Music: Stephen Trask
Website: www.littlefockers.net
Main cast: Robert De Niro, Ben Stiller, Owen Wilson, Blythe Danner, Teri Polo, Jessica Alba, Laura Dern, Harvey Keitel, Dustin Hoffman, Barbra Streisand