Locarno's fifth annual Industry Days (Aug 9-11) will feature an increasingly proactive Swiss presence, as well as a more international approach with STEP IN.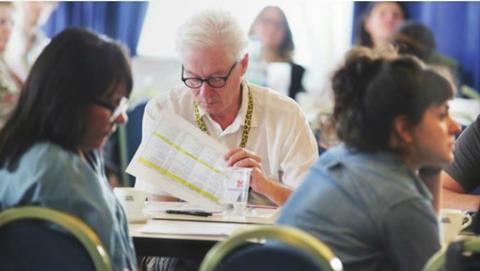 The Swiss film industry may have suffered a blow earlier this year when it was shut out of Creative Europe (the European Commission's framework programme for support to the cultural and media sectors) as a result of Switzerland's anti-immigration stance, but for Locarno's head of industry Nadia Dresti it is business as usual.
"We may be out of Europe but we're still a strong festival," says Dresti who will oversee the festival's Industry Days, which launched in 2010 and will this year run from August 9-11. "The people we work with in the industry still want to invest in Locarno and still want to come to Locarno."
In addition to its annual industry screenings at Locarno's Rialto Theatre - which also serves as the festival's Industry Home Base for international buyers and sellers - Industry Days will host the third edition of its STEP IN initiative, which was launched in 2012 to serve as a platform to discuss new strategies for the distribution and exhibition of films in the light of the shift to digital.
While initially focusing on central and eastern Europe, STEP IN widened its scope in 2013 to include other European territories. "Last year, we opened up more to Europe and, in 2014, we're going one step further and becoming more international," Dresti says.
STEP IN will kick off with two interactive presentations of the Brazilian and South African distribution and exhibition markets with key players from the two regions including André Strum (Cinema do Brasil), distributor Jean-Thomas Bernardini (Imovision), producer Michael Auret of Spier Films, and Clive Fisher from exhibitor Ster-Kinekor Theatres, reflecting the subjects of this year's Carte Blanche and Open Doors programmes.
UK industry consultant Peter Buckingham of Sampomedia will offer a keynote speech. For the brainstorming part of STEP IN, 60 to 70 participants - distributors, sales agents, cinema owners and film funders - will be divided into small working groups moderated by industry figures such as Eurimages' Roberto Olla and Eugene Hernandez of Film Society of Lincoln Center in New York.
Each group will have a specific topic to discuss around the state of arthouse cinema and will be expected to deliver their conclusions in a general discussion.
"This year, we want to go into more detail on VoD, day-and-date releases and multi-platform releases," Dresti says of the event.
"We have been developing these discussion topics in close co-operation with our partners Europa Cinemas, Europa Distribution and Europa International, longtime associate Festival Scope, and for the first time the Federation of European Film Directors (FERA) to give the authorial perspective from the side of the film directors."
"We believe distribution is a big issue," adds Locarno's artistic director Carlo Chatrian. "More and more films are being made but it's very difficult to see them properly in a cinema. We will try to take the discussion on from last year and involve more people who are distributing films in a different way."
Swiss strength
New for this year is STEP IN.ch, a networking event that takes place ahead of the main STEP IN event. Launched in collaboration with the Swiss Association of Film Journalists, Swiss Films and MEDIA Desk Suisse, the event will bring together European distributors and sales agents, who have acquired Swiss films in the past, with leading players from the Swiss industry such as Hélene Cardis from distributor Pathé Films.
Dresti hopes the new event will help to forge international partnerships, especially in the light of the Creative Europe shut out that came on the back of a Swiss referendum in February, in which the country voted to introduce immigration quotas. "Locarno is increasingly becoming a platform for the industry to raise its voice and will now develop a role as the place where the Swiss industry can meet its international partners," Dresti says.
This year's Locarno Film Festival will also see the Swiss industry being more proactive in forging international contacts thanks to a series of initiatives planned by the promotion agency Swiss Films under its new CEO Catherine Ann Berger. As well as being a partner of STEP IN.ch, Swiss Films will be organising business lunches to bring together Swiss professionals and international guests, and manning a dedicated Swiss Films Industry Desk in the Industry Home Base to distribute information about new local films.
Berger will also moderate a Swiss Films Talk that will involve leading international film critics giving their take on the current state of Swiss film-making.
Latin flavour
The fourth edition of the festival's Carte Blanche section will focus on Brazil. It is being led by a new member of the team, Markus Duffner, who served as programme director of July's VOICES film festival in Vologda, Russia.
"Cinema do Brasil and ANCINE will bring a delegation of film-makers from Brazil," Dresti explains. "We have invited some buyers and Sao Paulo International Film Festival's programme director Renata de Almeida and Kleber Mendonca Filho, director of Festival Janela Internacional de Cinema in Recife. We are expecting more than 50 Brazilian professionals." Duffner will also be busy with another new venture, Carte Blanche Extra, meeting the demand from producers who have presented projects in Carte Blanche in the past and would like to return to Locarno Film Festival.
This year will see Cinema Chile send three Chilean producers, while Colombia will be represented by the best projects in development from Bogata Audiovisual Market held in July.
International reach
For the first time last year, Europa Cinemas chose to award its coveted label at the Swiss festival, putting it alongside other Europa Cinemas Label festivals Cannes, Berlin, Venice and Karlovy Vary. Europa Cinemas will be back this year with a jury of Europa Cinemas members - Clive Fisher (Ster-Kinekor Theatres), Jon Barrenechea (Picturehouse, UK), André Ceuterik (Cinema Plaza Art, Belgium) and Gosia Kuzdra (Kino Muza, Poland) - who will be awarding the Europa Cinemas Label to a European film from either the International Competition or the Film-makers of the Present Competition.
Meanwhile, Europa Distribution and Europa International will once again bring their member distributors and sales agents to Locarno.
"STEP IN offers a platform to brainstorm and discuss the future challenges of distribution and promotion," says Daphné Kapfer, managing director of Europa International, which will be bringing more than 20 of its member sales companies to attend the festival's Industry Days.
"Locarno is a very important platform for us to have a dialogue about the industry," Kapfer adds.
Kristina Trapp, CEO of EAVE producers training programme, is equally enthusiastic about STEP IN as an interdisciplinary exchange platform and promises even more of a Latin American flavour to Industry Days in 2015, when the Luxembourg-based programme will return to the festival with its Puentes ‹ Europe/Latin America producers workshop.
"It's a very natural partnership - the Argentinian hit film Tanta Agua by Ana Guevara and Leticia Jorge was, for example, discovered in Locarno at Open Doors and then developed through Puentes. This shows that we are on the same track and that Puentes complements the festival in an organic way," adds Trapp, who is hopeful that Switzerland will find its way back into the Creative Europe programme.
"The loyal involvement of Locarno's long-standing European partners such as EAVE shows the relevance of the festival and its industry section within the European festival and co-production market landscape."
Industry academy
While the Creative Europe crisis may have stalled some the more ambitious plans for this edition, Dresti has managed to launch a pilot project for a proposed Industry Academy, along similar lines to the existing Filmmaker and Critics Academies in Locarno.
"If you want to be a director or producer, you can go to film school. But what do you do if you want to become a distributor, or a sales agent, or an exhibitor?" Dresti says of the proposed academy, which would see around nine aspiring distributors/sales agents/exhibitors from Switzerland and the rest of Europe coming together to live under one roof and gain first-hand insights into the working lives and problems of their fellow academy participants.