Desiree Akhavan to head First Feature Competition jury; Jarvis Cocker to host annual awards ceremony.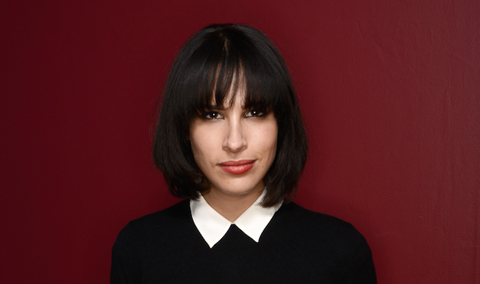 Scroll down for competition titles
The 59th BFI London Film Festival (Oct 7-18) has revealed the full line-up of its competition juries and announced that presenter and Pulp frontman Jarvis Cocker will host this year's awards ceremony on Oct 17.
The jury for the Sutherland Award for the First Feature Competition includes:
Desiree Akhavan, director/screenwriter (Appropriate Behaviour) (president)


Clio Barnard, director/artist (The Selfish Giant)
James Kent, director (Testament of Youth)
Allen Leech, actor (The Imitation Game)
Kate Muir, film critic, The Times
The jury for the Grierson Award for the Documentary Competition includes:
Mark Cousins, director (I Am Belfast) (president)


Brian Woods, producer (The Dying Rooms)
Charlie Phillips, head of docs, The Guardian
Alex Cooke, filmmaker
Iain Forsyth, director (20,000 Days on Earth)
Jane Pollard, director (20,000 Days on Earth)
The jury for the LFF's first Short Film Competition includes:
Daisy Jacobs, director (The Bigger Picture) (president)


Shezad Dawood, artist/filmmaker
Will Massa, British Council
Tom Green, director (Monsters: Dark Continent)
Runa Islam, visual artist/filmmaker
As previously announced, director Pawel Pawlikowski (Ida) will preside over the Official Competition jury, which comprises British actor Chiwetel Ejiofor (12 Years a Slave), British actress Kristin Scott Thomas, US producer Christine Vachon (Carol) and Chinese director Mabel Cheung (A Tales of Three Cities).
Musician and presenter Jarvis Cocker will host the annual Awards Ceremony on Oct 17.
Cocker said: "Having served on the jury back in 2009, it is a great pleasure and honour to be invited back to host the 59th BFI London Film Festival Awards.
"This year's selection may very well be the most wide-ranging yet – I will be working on my pronunciation skills as we have films from over 38 countries in the competition.
"It is sure to be a very memorable evening – now, if only I could remember who I lent my dinner suit to…"
Also previously announced, the BFI Fellowship will be presented to Cate Blanchett.
OFFICIAL COMPETITION
The Official Competition line-up, recognising inspiring, inventive and distinctive filmmaking, includes the following:
11 Minutes, Jerzy Skolimowski
Beasts Of No Nation, Cary Fukunaga
Cemetery Of Splendour, Apichatpong Weerasethakul
Chevalier, Athina Rachel Tsangari
The Daughter, Simon Stone
Desierto, Jonás Cuarón
Evolution, Lucile Hadžihalilović
Office, Johnnie To
Room, Lenny Abrahamson
Son Of Saul, László Nemes
Sunset Song, Terence Davies
Tangerine, Sean Baker
Very Big Shot, Mir-Jean Bou Chaaya
FIRST FEATURE COMPETITION
Titles in consideration for the Sutherland Award in the First Feature Competition recognising an original and imaginative directorial debut are:
3,000 Nights, Mai Masri
Bang Gang (A Modern Love Story), Eva Husson
The Here After, Magnus Von Horn
Krisha, Trey Edward Shults
Lamb, Yared Zeleke
Light Years, Esther May Campbell
Partisan, Ariel Kleiman
Paula, Eugenio Canevari
Tanna, Bentley Dean, Martin Butler
The Wait, Piero Messina
Wedding Doll, Nitzan Gilady
The Witch, Robert Eggers
DOCUMENTARY COMPETITION
The Grierson Award in the Documentary Competition category recognises cinematic documentaries with integrity, originality, and social or cultural significance. This year the Festival is screening:
(Be)Longing, João Pedro Plácido
Censored Voices, Mor Loushy
The Fear Of 13, David Sington
Frame By Frame, Alexandria Bombach, Mo Scarpelli
Francofonia Alexander Sokurov
In Jackson Heights, Frederick Wiseman
A Guy From Fenyang, Walter Salles, Jia Zhangke
Mr. Gaga, Tomer Heymann
The Pearl Button, Patricio Guzmán
Public House, Sarah Turner
Sherpa, Jennifer Peedom
Something Better To Come, Hanna Polak
SHORT FILM AWARD
In its inaugural year, the Short Film Award recognises short form works with a unique cinematic voice and a confident handling of chosen theme and content. This year the Festival is screening:
Command Action, João Paulo Miranda Maria
Dissonance, Till Nowak
Edmond, Nina Gantz
The Exquisite Corpus, Peter Tscherkassky
A Hole In My Heart, Mees Peijnenburg
Lili, An Van Dienderen
Mother(s), Maïmouna Doucouré
An Old Dog's Diary, Shai Heredia, Shumona Goel
Operator, Caroline Bartleet
Over, Jörn Threlfall
Red Moon Rising, Vivienne Dick
Tuesday, Ziya Demirel