Dir: Cate Shortland. Germany-Australia. 2012. 108mins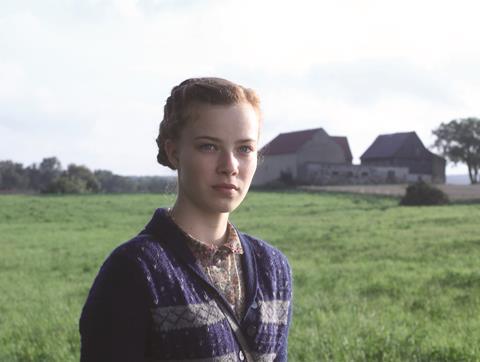 This gripping off-road movie is Australian director/co-writer Shortland's first feature since her debut success, Somersault (Cannes, 2004). In competition at the Sydney Film Festival, Lore is entirely in German with English subtitles, but that hasn't slowed pre-world-premiere international interest: the North American rights have already been grabbed by Music Box Films. Due for local release here late in the year, it's a certainly for multiple festival outings, and a very good bet for local and international directing, technical and acting awards.
The deep-feeling Rosendahl makes a major impression as an intelligent girl learning the power of her sexuality and resolve under maximum stress.
Shortland and her British co-writer Robin Mukherjee have based their taut script with its spare dialogue on a 2001 Booker Prize nominated novel by Rachel Seiffert. It's not really a novel: The Dark Room consists of three thematically linked novellas — Lore is the centrepiece — with the spotlight on post-war German awareness, guilt and responsibility.
In a deadly, real-life variation of The Hunger Games, teenaged Lore (pronounced Lor-a and short for Hannelore) attempts to shepherd her four siblings, one of them only a few months old, across lawless, war-ravaged Germany during the bitter end days of Nazism. Their terrified father (Hans-Jochen Wagner), an SS Officer, burns a huge pile of papers and photographs at their stately Bavarian home before shooting the family dog and disappearing; their traumatised mother (Ursina Lardi, brilliant) decides to give herself up. She abandons her children, urging them to somehow make their way to Omi, their grandmother, who lives in Hamburg, 900 kilometers (560 miles) to the north.
Demure Lore (Saskia Rosendahl) and the children — Fuehrer-loving, Jew-hating, indulged, innocent of the war — are creatures of a strict upbringing and years of lying propaganda. But innocence offers no protection against ragged fellow countrymen reduced to primal needs. Their ability to survive a hostile cross-country trek without money or identification is constantly questioned. Begging for meagre food and cold shelter, they meet stunned Germans, dangerous soldiers and the thin, wild-eyed refugee Thomas (Kai Malina) who takes an immediate interest in the budding Lore.
Their relationship, at once wary, hostile and needy, is beautifully handled by Shortland and her two young actors. The deep-feeling Rosendahl makes a major impression as an intelligent girl learning the power of her sexuality and resolve under maximum stress. We see the Nazi disaster filtered through her teenage decency and incomprehension.
The credits reveal a mainly German shooting crew and a mainly Australian post-production effort. The mix has been well coordinated. Co-produced by Australia's Liz Watts (Animal Kingdom), Lore is perfectly designed by Germany's Silke Fischer (Alle Anderen, Tabu) and shot in exemplary outdoors style by award-winning Adam Arkapaw (Snowtown, Animal Kingdom), who captures both the harshness and the lush, wet colours of the forested landscape. There's excellent music by Max Richter and a tense, unsettling soundscape by Sam Petty.
Wouldn't you know, there's another project with the same name currently on the go. According to media, an action-adventure franchise called Lore has been "picked up by Warner Bros," concerning a "secret order charged with protecting humanity from the beasts of folklore". Bet it's not as tense and unrelentingly gripping as Cate Shortland's Lore.
Production companies: Rohfilm, Porchlight Films, Edge City Films
Aust/NZ distribution: Transmission Films
International sales: Memento Films International, www.memento-films.com
Producers: Karsten Stöter, Liz Watts, Paul Welsh, Benny Dreschel
Executive producers: Margaret Matheson, Vincent Sheehan, Anita Sheehan
Screenplay: Cate Shortland, Robin Mukherjee, based on the novel The Dark Room by Rachel Seiffert
Cinematography: Adam Arkapaw
Editor: Veronika Jenet
Production designer: Silke Fischer
Music: Max Richter
Main cast: Saskia Rosendahl, Kai Malina, Nele Trebs, Ursina Lardi, Hans-Jochen Wagner, Mika Seidel, André Frid, Eva-Maria Hagen