Dir: Vu Ngoc Dang. Vietnam 2011. 103 mins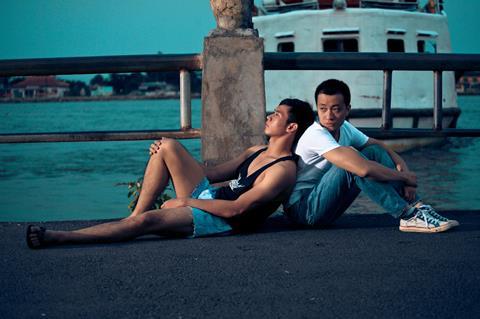 The characters may feel lost in paradise, but this Vietnam gay melodrama may be more like purgatory to viewers not fully committed to the softer fringes of Asian gay cinema. As soft-core narratively as it is sexually, Vu Ngoc Dang's story of male prostitutes in Ho Chi Mihn City may be set in the harder fringes of the city's hustling community, but despite the merest veneer of tough urban realism, the story is told with a shameless sentimentality and manipulativeness that would have had Charles Dickens squirming.
The basic theme of the film is the difficulty of surviving on the hard-hustling streets.
Director Vu Ngoc Dang is big news in Vietnam, with box-office hits including The Long Leg Girls (2004) and a major profile for his TV work. But Lost In Paradise (Hotboy noi loan, cau chuyen vet hang cuoi, co gai diem va con vit) is a decidedly sugary item unlikely to export beyond South-East Asian markets and gay or Asian specialist festivals.
The increasingly tangled story begins with gauche country boy Khoi (Ho Vinh Khoa) arriving in the big city, where he's befriended by muscular type Dong (Lihn Son) who offers him room in an apartment. In fact, Dong is a rent boy who promptly robs Khoi, and takes off in the company of his gay lover Lam (Luong Manh Hai), also on the game. Penniless Khoi lives on the street for a while, but conscience-stricken Lam returns his money and clothes; the two boys fall for each other and set up home.
But will love prevail, or will the cynicism that Lam learned from Dong ruin everything? Meanwhile, in a strand that's related only thematically - and tenuously at that - aging female prostitute Hahn (Phuong Thanh) gets to know Cuoi (Hieiu Hien), a middle-aged man with learning difficulties, whose closest relationship is with a duckling that he's brought up since he lovingly hatched it from an egg.
The basic theme of the film is the difficulty of surviving on the hard-hustling streets – or as one character puts it, "We came here thinking it was paradise, but in reality we're in a living nightmare." (The film's original title, less ominously, means something like, 'Rebellious Hot Boy and the Story About the Laughing Chap, the Whore and the Duck').
The narrative muses on the difficulty of maintaining love and innocence (the latter embodied by Cuoi and duck) in a tough world ruled by hard hearts and brutality - as embodied by amoral Dong, a nasty madame-and-pimp team, and assorted hustlers, johns and gay-bashers who haunt the meat-rack terrace where Lam works (and which, end titles reassure us, has now been torn down and replaced with a mall).
Made with the softest of stylistic edges, the tone verging at times on the twee, the film variously purports to tell it like it is (signally pulling its punches when it comes to showing violence) and yet sugars the pill with romantic interludes (including young lovers Lam and Khoi actually running in slow-motion while bubbles blow at them).
For all the pert male bottoms on show, the sex scenes are coy in the extreme, further glazed by a saccharine score, plus the odd pop ballad. Luong Manh Hai's performance as the conflicted Lam is the film's most winning aspect. Conversely, what rankles most is the horribly mawkish subplot involving Cuoi, played for utterly condescending laughs by Hieu Hien. Whenever his incessantly chirping duckling is in sight, even the softest-hearted viewer will find themselves wanting to reach for the orange sauce.
Production companies: BHD Co Ltd, Vietnam Studio
International sales: Fortissimo, info@fortissimo.nl
Producer: Nsut Hgoc Hiep
Executive producers: Nguyen Phan Quang Binh, Ngo Thi Bich Hien
Screenplay: Vu Ngoc Dang, Luong Man Hai
Cinematography: Nguyen Nam
Editor: Khanh Ly
Production designer: Le Tuan
Music: Minh Tu
Main cast: Luong Manh Hai, Ho Vinh Khoa, Linh Son, Phuong Thanh, Hieu Hien