Dir: Danny Mooney. US. 2013. 96mins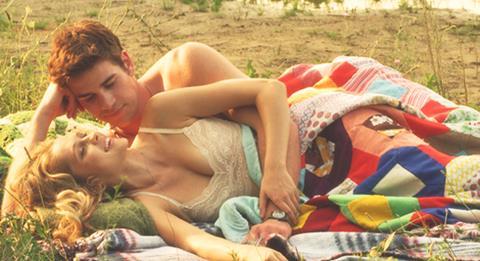 The combination of Liam Hemsworth without his shirt on and an evocative 1960s backdrop makes Love And Honor a solidly appealing – if rather familiar in a sub-Nicolas Sparks sort of way - romantic drama that should hit the modest sweet spot for swooning fans of the genre.
Hemsworth and Palmer are an appealing couple.
The pairing of Hemsworth (whose stock is high after The Hunger Games and Expendables 2) and fellow Aussie Teresa Palmer (who starred in recent hit zom-rom-com Warm Bodies) works well and they have the youthful charm to appeal to audiences. The film has a VOD release in the US prior to a theatrical release later in March.
The film is set in 1969 – cue appropriate music – and opens in Vietnam where best friends buddies Mickey (Hemsworth) and Dalton (Austin Stowell) serve in the same unit. When Dalton receives a 'Dear John' letter from his girlfriend June (Aimee Teegarden) the pair end up flying back to Michigan so Dalton can try and win her back.
They find she has embraced the hippie lifestyle (and now living under the name Juniper) and lives in an Ann Arbor commune with students, including Candace (Palmer). Passing themselves off as deserters (the film was originally titled AWOL) Mickey and Dalton set about upping the romance stakes, with Mickey setting his sights on the initially aloof Candace.
It is all pretty familiar romantic fodder – there's even an expected late night dip in the lake, but all handled in the best possible taste – with the film offering up little in the way of surprises, though at least Hemsworth and Palmer are an appealing couple and Love And Honor never attempts to pretend to be anything other than an accessible and warm-hearted romantic drama.
Production companies: Red 56, Deep Blue Pictures
International sales: Lightning Entertainment, www.lightningentertainmentgroup.com
Screenwriters: Jim Burnstein, Garrett K. Schiff
Producers: Chip Diggins, Patrick Olson
Executive producers: Jim Burnstein, Garret K. Schiff, Eddie Rubin, Peter Pastorelli
Cinematography: Theo Van de Sande
Editor: Glenn Garland
Production designer: Ethan Tobman
Main cast: Liam Hemsworth, Austin Stowell, Teresa Palmer, Aimee Teegarden, Chris Lowell, Wyatt Russell, Max Adler, Delvon Roe