Dir: Jasmila Zbanic. Bosnia & Herzegovina-Croatia-Germany-Switzerland. 2014. 90mins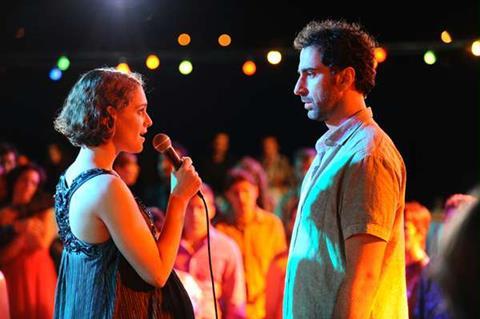 Jasmila Zbanic is letting her hair down, taking a break from the nightmarish memories of the Balkan war which were - up until now - her chief concern, and going instead for a rather tame romantic sex comedy, in a summer resort on a Croatian island. The film had its premiere at the Locarno Film Festival.
Chaste and unpretentious enough to be safe for all ages at all times.
Reminiscent of all the lightweight fare once produced in this part of the world, decorated with all the pumped-up cheerfulness and gaudy economy luxuries of modern package tourism and basking in the leisurely beachside spectacle of the Dalmatian coast, this should be a lucrative proposition for the entire central European market, though probably not frenetic, sophisticated or frantic enough for the rest of the world.
An ebullient, high-spirited, macho Bosnian music promoter, Grebo (Ermin Bravo) takes his tense, highly pregnant French wife, Liliane (Ariane Labed) for an all-expenses-paid holiday to relax before she gives birth to their first child, a daughter they intend to name Dalia, unless they change their mind before she comes out. What seems for a brief while to be a typical fortnight in the sun is complicated when Liliane discovers that Flora (Ada Condeescu), with whom she once entertained a torrid affair before meeting her present husband, is one of the resort's entertainers and what's more, she is ready to renew their relationship right away.
Though in love with her husband and unwilling to break her marriage, Lili can't deny her attraction for her former lover. She wavers between the two of them and the result is as close to a classic love triangle as one would dare go today, without taking the risk of appearing exceedingly old-fashioned.
Zbanic's good natured approach makes sure all her three protagonists are equally likeable and just to be on the safe side, she offers the hubby a glimpse into his own latent homosexuality which allows him to better understand his wife's plight. Filling up for what is a pretty thin plot, the script throws in a bunch of lusty clients, many of them past their prime, for whom Love Island is the place to get rid of all inhibitions. Franco Nero launches with a vengeance into one of these characters - a parody of his own persona perhaps - as an over-the-hill beau who discovers old age can be quite comfortable at times.
Bravo, better known as a serious stage and movie actor, seems to have plenty of fun as the confident male discovering his wife has a past and he has a competitor he had never bargained for, looking adequately shocked and scandalised in the circumstances. Labed, as his lively but nervous wife, is self-consciously carrying her oversize pregnancy but does it with surprising ease, while Condeescu's warm personality gets rather lost behind a slutty wardrobe which doesn't flatter her best features.
However, if Labed and Condeescu do not have any problem dealing with their sexuality, it seems that Balkan men, in this case Bravo and Leon Lucev, playing a singing bartender with gay tendencies, are far clumsier when they have to tackle sexual ambiguity.
Chaste and unpretentious enough to be safe for all ages at all times, this looks like the kind of entertainment the doctor ordered for Zbanic after all the stress she had to deal with in all of her previous films.
Production companies: Produkcjia Ziva, Komplizen Film, Okofilm, Deblokada
International sales: The Match Factory, www.the-match-factory.com
Producers: Damir Ibrahimovic, Leon Lucev
Screenplay: Aleksander Hemon, Jasmila Zbanic
Cinematography: Christine A. Maier
Editor: Isabel Meier
Production designer: Zejika Buric
Music: Balz Bachmann
Main cast: Ariane Labed, Ermin Bravo, Ada Condeescu, Franco Nero, Leon Lucev, Branka Petric Fehmiu, Lee Delong, Bojana Gregoric Vejzovic, Nadija Husetic, Aleks Rakos