Dir: Frédéric Beigbeder. France. 2012. 98mins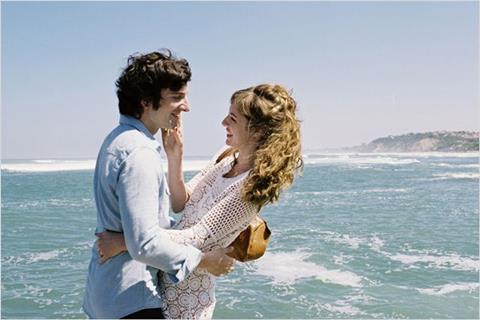 Household-word novelist, columnist, TV host and nightlife fixture Frédéric Beigbeder translates his sharp, dandyish persona and self-deprecating humour to the screen with agreeable flair in Love Lasts Three Years (L'Amour dure trois ans). This breezy, unpretentious comedy chronicles the imbroglios of a young literary critic embittered by divorce who hits the jackpot after writing the cynical title tome under an assumed name.
Proust and Bourgoin exude effortless chemistry.
Affectionately poking fun at Paris literary life and modern romance in a way that should tickle domestic viewers and devoted francophiles alike, Beigbeder, adapting his own 1997 novel for his directing debut, elicits appealing performances from a cast suited to flippant pronouncements. These range from finely tuned epigrams to barely veiled nods to the intractability of the human condition.
While a few of the spot-on inside jokes won't travel, the overall tone is universal enough to entertain urbanites most anywhere. A trail of successful sneak previews and a spare-but-catchy ad campaign suggest a healthy reception awaits this Jan 18th French release.
Beigbeder, who knows a certain segment of Paris as well as Woody Allen knows a certain segment of New York, fondly lampoons the inherent silliness of the flora and fauna and movers and shakers of the city's intellectual/literary/audiovisual/clubbing spheres while painting a convincing portrait of thwarted mating rituals and heartache.
Clever opening credits deftly portray the idyllic courtship and rosy marriage of Marc Marronnier (Gaspard Proust) and cover girl-pretty Anne (Elisa Sednaoui). But bliss turns to indifference and then hostility and the former lovebirds are in divorce court before the opening reel is half over. Heartbroken Marc asks the judge if he can "appeal" the divorce.
While his divorced parents (Anny Dupery, Bernard Menez) are marginally friendlier than Kirsten Dunst's folks in Melancholia, it's not hard to see why their son might have some unresolved issues in the arena of romance.
After a failed suicide attempt, Marc commits his aphorism-packed vitriol to paper, going from a clean-shaven fellow to a replica of Joaquin Phoenix in I'm Still Here in the process.
The rejection letters he receives from several venerable publishing houses are zingers but an intrepid publisher (Valerie Lemercier) decides to accept the manuscript. Not because she likes much besides the title but because she has a quota of first time authors to fill.
Because Marc is himself a literary critic, the editor knows Marc's colleagues will be merciless, so she counsels him to take a pen name. (Beigbeder cameos in the reverie that leads Marc to his pseudonym.)
When the book hits stores and climbs the bestseller list, Marc has fallen hard for his cousin's wife, Alice (sexy, crazy-like-a-fox flake Louise Bourgoin). She hates lies but he can't quite bring himself to admit that he's the real author of Love Lasts Three Years, paving the way for major problems.
Stand-up comic Proust is very appealing as Beigbeder's stand-in - Beigbeder has admitted that the source novel is more like a diary of his state-of-mind after his own divorce over 15 years ago - while Proust and Bourgoin exude effortless chemistry.
Marronnier has it in for indestructible publishing phenom Marc Levy who, as an extremely good sport, appears as himself. An amusing set piece revolves around a lit awards groupie who rates her pen-pushing conquests in the sack. Iconoclastic rapper JoeyStarr, who made his mark with French audiences in Polisse, is dryly amusing as Marc's polymorphously perverse pal, Jean-Georges.
Beigbeder has fun with the 4th wall - Marc regularly addresses the viewer no matter who else is in the frame - and juggles references from Shakespeare to The Thomas Crown Affair. The film uses key melodies by Michel Legrand with respectful bemusement at what pop culture touchstones can mean in moments of both sorrow and joy.
Vet cinematographer Yves Cape makes locations in Paris and along the Basque coast look good enough to eat whatever the state of mind of each protagonist.
Production companies: The Film, Akn Productions, EuropaCorp, France2 Cinema, Scope Pictures
International sales: EuropaCorp www.europacorp.com
Producers: Michael Gentile, Alain Kruger
Screenplay: Frédéric Beigbeder, Christopje Turpin, Gilles Verdiani, based on Beigbeder's novel
Cinematography: Yves Cape
Production designer: Christian Marti
Editor: Stan Collet
Music: Martin Rappeneau
Website: www.facebook.com/lamourduretroisanslefilm
Main cast: Louise Bourgoin, Gaspard Proust, JoeyStarr, Jonathan Lambert, Frederique Bel, Nicolas Bedos, Valerie Lemercier, Elisa Sednaoui, Bernard Menez, Anny Dupery