Dir/scr: Hanne Myren. Norway. 2013. 75mins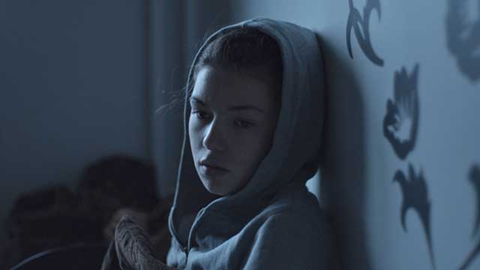 A gently engaging and delightfully performed drama, Hanne Myren's fiction feature debut Love Me (Elsk meg), which had its world premiere at the Abu Dhabi Film Festival (and also screens at CPH:DOX), may well be slight in term of running time and dramatic tension, but it is a delicately handled film brought to life by a charming lead performance by Julia Wildschut.
Hanne Myren prefers to move briskly on to her positive climax and not linger on film clichés.
She plays Maria, a 20 year-old young Norwegian woman whose ability to move on with her life has been hampered by a fear of rejection, all stemming from her intense – but intensely complicated – relationship with her freewheeling father (Petrus Wildschut), who saw little of her after he divorced her mother, but who parachutes back into her life when it suits him.
It is a rather familiar story, but experienced documentary maker Myren crafts some rather poetical images – and is helped by cinematographer Øystein Mamen's excellent work – often using plenty of handheld close-up shots to linger on the confusions and contradictions held on Maria's face.
Maria is in a sweet and happy relationship with genial boyfriend Adam (Ahmed Wasty), gets a part-time job in a café and practices dance by herself…but is unable to fully commit to any of these things, and when her father Paul suggests they go off on a short holiday in Spain on his motorbike she drops everything, all for the hope that she can get to the bottom of their complex relationship and be assured that he truly loves her.
Initially their time together is fun, breezy and happy and they finally get to talk about why he left and what she has missed from him growing up, but after a while his need to be alone is clear, and while they part warm friends there is a real sense that Maria is growing. The only question is whether she can move on with her life and embrace the love that Adam has to offer.
The final scenes are beautifully played, after she and Adam have a fight and he moves out. Alone in her flat she takes a phone call – initially we don't know if it is Adam or her father – and explains that she will have to not see the person for a while. It is a sequence that could have been held longer and played for more dramatic effect, but Hanne Myren prefers to move briskly on to her positive climax and not linger on film clichés. And rightly so – she has made a delicate (though perhaps too brisk and slight for its own good) film that will likely find a welcoming home on the film festival circuit.
Production company: Motiys AS
Sales contact: Norwegian Film Institute, www.nfi.no
Producers: Brede Hovland, Sigve Endresen
Cinematography: Øystein Mamen
Editors: Christian Siebenherz, Wibecke Ronseth
Music: diskJokke & Torgny
Main cast: Julia Wildschut, Ahmed Wasty, Petrus Wildschut