Dir: Muayad Alayan. Palestinian Territories. 2015. 93mins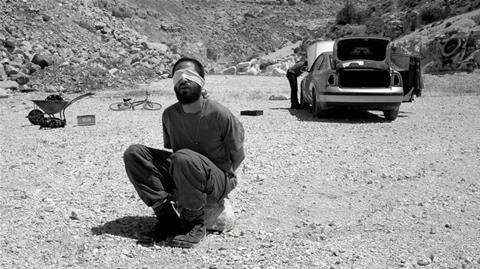 Starting with its flip English-language title, Palestinian feature Love, Theft And Other Entanglements (Al-Hob wa Al-Sariqa wa Mashakel Ukhra) never quite manages to give clear signals of the kind of film it intends to be – anti-hero's redemptive drama, political thriller or deadpan picaresque comedy. In theory, there should be no problem in Muayad Alayan's debut narrative feature being all of these, but frustratingly, the film never hits its stride despite striking visual execution.
Alayan achieves a very palpable documentary evocation of everyday Palestinan life, all in crisp, finely textured images that keep us watching even when the drama flags.
What the film does provide is proof that the hands-on team of Alayan and his brother - co-writer, co-producer and production designer Rami Alayan - mean business with their low-budget collective Palcine Productions. Distribution prospects are middling, although many festivals will look favorably on this politically current statement.
The protagonist is Mousa (Metwasi), first seen working on a building site in Israel, but soon walking out to practice his main trade, car theft. Returning to Palestine, Mousa enjoys a tryst with his girlfriend Manal (Abu Alhayyat), married to a rich man whose young daughter is really Mousa's progeny. Mousa gets into deep water when quizzed by Palestinian militants seeking a lost car; deeper water still when it turns out that the car he has recently stolen contains a bound-and-gagged hostage, Israeli soldier Avi (Sliman), who was being held to exchange for political prisoners. Then Israeli intelligence starts leaning on Mousa for information about the militants. All the while planning to buy his way to Europe by bribing a football official, Mousa ends up on the run with Avi.
One of the film's key problems is establishing a tone. At moments, it suggests a dry, detached comedy à la Jim Jarmusch vein – partly because Alayan's own black-and-white photography echoes the look of the American director's early films, partly because of Nathan Daems's boisterous score, fusing Middle Eastern music with Ethiopian-style jazz. There's some outright drollery too: notably in the absurd interview Mousa undertakes posing as a footballer, and some business with the bemused Avi. Elsewhere, though, the tone is in deadly earnest, and it's clear when Israeli intelligence puts the screws on Mousa (echoes of Hany Abu-Assad's more cogent 2013 drama Omar) that the film isn't joking about its hero's predicament nor about the world he inhabits. But the accretion of event never coheres into a gripping story of struggle against the odds, and some situations are too sketchily handled to feel credible.
The acting is very variable, with Abu Allhayyat seriously over-emoting in what ought to be a stark moment-of-truth climax, and Metwasi struggling throughout to hold the centre. The drama's effectiveness depends on its anti-hero registering as complex and compelling, if not necessarily likeable; but Metwasi's oddly diffident screen presence makes Mousa seem grouchy rather than genuinely beleaguered. When Mousa finally erupts in a cri de coeur that articulates both his back story and his relation to Palestine's political reality, it comes across as overt rhetoric.
Where the film scores quite considerably is in director Alayan's own formidable black-and-white cinematography, with long takes and elegantly composed landscape shots making the most of locations including Bethlehem, Jerusalem and the Dheisheh refugee camp. Alayan achieves a very palpable documentary evocation of everyday Palestinan life, all in crisp, finely textured images that keep us watching even when the drama flags. It's a shame that this energetic and enterprising film should finally resemble a mood board for a more fully realised piece – which, perhaps, the Alayans will yet go on to make.
Production company/sales: Palcine Productions, rami@palcine.net
Producers/screenplay: Muayad Alayan, Rami Alayan
Cinematography: Muayad Alayan
Editor: Sameer Qumsiyeh
Production designer: Rami Alayaa
Music: Nathan Daems
Main cast: Sami Metwasi, Maya Abu Alhayyat, Riyad Sliman, Ramzi Maqdisi