Dir: Doze Niu. China. 2012. 127mins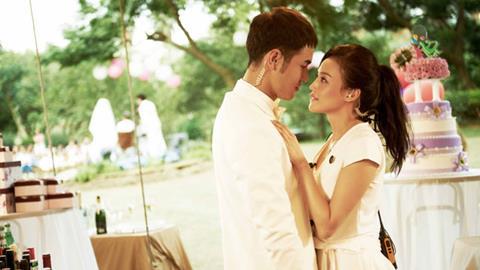 In a rather radical contrast to his successful and vivid period gangster film Monga (2010), writer/director Doze Niu turns his hand to romance with Love, an emotional rollercoaster set in Taipei and Beijing that delivers tears, humour and old-fashioned sentimentality in spades. Certain strands are more successful than others, but Love is an impressively made tale of love and loss that is never less than watchable.
The convoluted and intertwined Taiwan-set stories tend to overpower the film.
Despite on the surface appearing to be a simplistic series of interconnecting love stories (some more closely linked than others) the film does at least try and tackle serious issues along with love and longing, and actor-turned-director Doze Niu show a sure hand with both script and his acting talent. Contemporary love stories rarely travel as well as genre or action films, but there is much to appreciate in Love. The film opened in Taiwan and China in February (to tie-in with Valentine's Day), and screened at Filmart.
There are various story strands. One involves Beijing real-estate worker Jin Xiaoye (Vicki Zhao) to has a series of clumsy encounters with suave Taiwan businessman Mark Na (Mark Jau, who starred in Monga) who wants to buy a traditional courtyard house, with the mis-matched pair discovering a shared Manchurian origin, while in Taiwan beautiful and flighty socialite Fang Jou-yi (Shu Qi) who takes a shine to stuttering hotel worker Li Hsiao-kuan (Ethan Ruan, also from Monga) after a row with her older, wealthy, live-in boyfriend Lu Ping (played by director Doze Niu, who also took a tasty role in his film Monga). Meanwhile Li Hsiao-kuan's sister Yi-chia (Ivy Chen) discovers she is pregnant by film student Kai (Eddie Peng), whose girlfriend is her best friend Lu Hsiao-mi (Amber Kuo), who also happens to be the daughter of Lu Ping.
The convoluted and intertwined Taiwan-set stories tend to overpower the film, which is fine given that the strands, dramas and passions are impressively performed but it tends to mean that the story involving the Jin Xiaoye and Mark Na characters flits in and out when in fact theirs is the most interesting (and amusing, especially involving the antics of Beijing policeman Wang Jingchun (played by Ge Ting).
But Doze Niu keeps the film moving at a nice pace, with Shu Qi and Ethan Ruan memorable as the would-be lovers, some engaging fantasy moments and some romantically glossy locations. The balance between wealth and poverty is used as a romantic driver rather than a dramatic tool, and the dialogue is sprinkled with memorable moments of dialogue and some nice moments of humour.
Production companies: Huayi Brothers Media Corp., Honto Productions Co Ltd
International sales: Huayi Brothers Media Corp., lesliechen116@gmail.com
Producers: Doze Niu, Wang Zhonglei
Screenplay: Doze Niu, Iris Tseng, Wang Qi'nan
Cinematography: Mark Lee, Ali Chen
Editors: Milk Su, Ian Lin
Production designer: Max Huang
Music: George Chen
Main cast: Vicki Zhao, Shu Qi, Ethan Ruan, Mark Jau, Amber Kuo, Ivy Chen, Eddie Peng, Doze Niu, Lung Shao-hua, Belle Yu, Wang Jingchun