Dir: Rachel Perkins. Australia. 2012. 103mins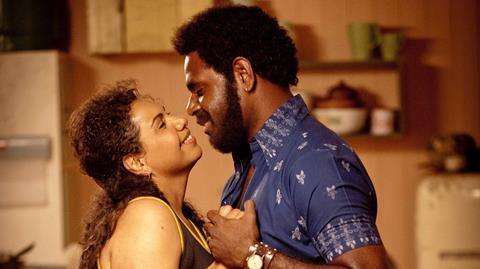 It's 20 years since the High Court of Australia settled the history making 'Mabo Case' and this made-for-television feature is a major focus for celebrations. Though scheduled to be broadcast nationally a mere three days after its premiere at the Sydney Film Festival, the film was given a warm reception from a sell-out house. It's unlikely to be screened internationally, for the story requires background knowledge.
The acting of a big cast is consistently strong, as is the brilliant period detail of sets and costumes.
Indigenous director Perkins, who made the life-affirming Bran Nue Day (2010), concentrates on the personal side of Eddie Mabo's life, leaving the complex details of his lengthy legal battles to a cluster of recent documentaries. The film is a love story between two determined people, played to the hilt by newcomer Jimi Bani and Deborah Mailman (The Sapphires) — though, in a production destined for many years as a DVD teaching tool, their passion is implied rather than depicted.
Loiki Mabo (Eddie is his 'whitefella name') comes from tiny Mer Island in the Torres Strait, way off the northern tip of Queensland. A natural renegade, he is banished to the mainland for illegal grog drinking and encounters mid-20th century racism in many lowly jobs. When he drunkenly crashes a wedding, he meets Bonita, the love of his life: they marry and will eventually have 10 children together.
Dabbling in unionism (she says it's communism), he takes up various causes before discovering that Whitefella Australia claims to own all the land on Mer Island, not the inhabitants. As he can trace his ancestry back to before the 1770 coming of Captain Cook to Australia, Mabo makes a fuss, soon finding himself as lead litigant in a decade-long court case.
Writer Sue Smith leaves details of the court cases until they become impossible to ignore. Complicated issues surrounding Mabo's parents come in a rush towards the end, as does the vital switch to High Court deliberations over Australia-wide 'terra nullius', or 'land that belongs to nobody', and the famous victory for common sense and justice that will forever carry his name.
The acting of a big cast is consistently strong, as is the brilliant period detail of sets and costumes. Bani, hardly off screen, ages convincingly, as does the wonderfully warm Mailman.
Production companies: ABC, Blackfella Films
International sales: ABC
Producers:Darren Dale, Miranda Dear
Executive Producers:Carole Sklan, David Ogilvy, Sally Riley
Screenplay: Sue Smith
Cinematography: Andrew Commis
Editor: Rochelle Oshlack
Production designer: Felicity Abbott
Music: Antony Partos
Website: www.abc.net.au/tv/mabo
Main cast: Jimi Bani, Deborah Mailman, Colin Friels, Miranda Otto, Rob Carlton, Ewen Leslie, Tom Budge, Felix Williamson, Leon Ford