Dir: Robert Rodriguez. US. 2013. 107mins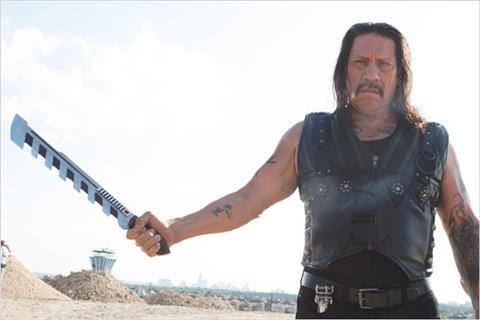 The bloodshed is back, but not much of the fun, in Machete Kills, a disappointing sequel to the enjoyably trashy 2010 grindhouse homage. Without the original's clever set pieces and humorously excessive violence, director Robert Rodriguez's follow-up actioner is a surprisingly dull affair straining to harness the pulp appeal that made Machete a disreputable treat.
Machete Kills gets a little comic mileage out of its relish for schlocky exploitation cinema, which is especially noticeable in the film's parade of scantily-clad buxom babes who talk tough and shoot guns.
Set for an October 11 release in the US and UK, Machete Kills will hope to match the first film's $44m worldwide gross, hardly a substantial sum but respectable for a low-budget offering. Cameos from the likes of pop star Lady Gaga and notorious bad-boy actors Carlos Estevez (better known as Charlie Sheen) and Mel Gibson will help some, but this sequel seems destined to be a niche player, with unrated DVD sales counted on to help recoup costs.
As in the first film, character actor Danny Trejo plays Machete Cortez, a stoic secret agent who is asked by the US president (Estevez) to track a dangerous Mexican crime lord named Mendez (Demian Bichir) who has access to nuclear warheads. But after apprehending Mendez, Machete soon realises that the man is just part of a more nefarious plan being hatched by an unhinged weapons designer (Gibson).
Filmed in the same knowingly retro B-movie style as the first Machete and Planet Terror (Rodriguez's half of his Grindhouse collaboration with Quentin Tarantino), Machete Kills gets a little comic mileage out of its relish for schlocky exploitation cinema, which is especially noticeable in the film's parade of scantily-clad buxom babes who talk tough and shoot guns. (There's also a cheeky sex scene in 3D, although because there aren't 3D glasses provided, the viewer can't make out anything that's happening.)
But the novelty of Rodriguez's approach has mostly evaporated, forcing the filmmaker (who also serves as cinematographer, co-editor and co-composer) to try to top the agreeable absurdity of the first Machete, where the tawdriness and gross-out gore were much fresher. Consequently, the wilfully outlandish tone now feels calculated rather than liberating or transgressive.
Also crippling Machete Kills is the lack of sting in the story's satire of US xenophobia. Where the first film repeatedly mocked Americans' stereotyping of their Mexican neighbours to the south as lazy and uneducated—which allowed the fearsome, confident Machete to come across as an avenging angel—the sequel merely recycles jokes.
Most problematic, however, is the fact that Machete himself doesn't have as much to do this time around. A funny running bit in the first film was that this older, craggy man was somehow catnip to every young lithesome beauty around him, his machismo and sex appeal equal to his ass-kicking skills with a blade. Trejo again underplays the title role for maximum deadpan effect, but Machete Kills screenwriter Kyle Ward hasn't come up with enough signature moments for the character to show off his unflappable cool. Instead, Trejo just seems like a block of wood, the deep lines running across his weathered face revealing more personality than anything in the script does.
As the film's initial villain, Bichir flails to make his character's one quirk funny: He has a split personality and can't control which of his personae will emerge next. As for Gibson, because of his well-documented racist and misogynistic comments, he's mostly stayed away from the limelight in recent years. Gibson conveys sly malice as an evil mastermind with plans for Machete, but it's not a very well developed character, making the actor's decision to appear in such a small part curious rather than compelling.
In truth, the film as a whole suffers from an overabundance of name actors in miniscule roles. Some of them, like Antonio Banderas, have appeared in other Rodriguez films, but for the most part Machete Kills feels uncomfortably close to the director's version of the Expendables series, which is filled with forgotten or low-wattage talents. Even the movie's jokes about one of the characters' odd obsession with Star Wars underline the overall shopworn vibe of the proceedings. Rodriguez has said that he wants to make more Machete films, but there doesn't seem to be much more juice in this particular pulp.
Production companies: AR Films, Demarest Films, Quick Draw Productions, Aldamisa Entertainment, Overnight Productions, 1821 Pictures
US distribution: Open Road Films, www.openroadfilms.com
Producers: Robert Rodriguez, Rick Schwartz, Sergei Bespalov, Alexander Rodnyansky, Aaron Kaufman, Iliana Nikolic
Executive producers: Boris Teterev, Jere Hausfater, Mark C. Manuel, Paris Kasidokostas Latsis, Terry Dougas, Anthony Gudas, Sam Englebardt, William D. Johnson, Alfonso Barragan Jr., John Paul DeJoria,
Screenplay: Kyle Ward, story by Robert Rodriguez & Marcel Rodriguez
Cinematography: Robert Rodriguez
Production design: Steve Joyner, Caylah Eddleblute
Editors: Robert Rodriguez, Rebecca Rodriguez
Music: Carl Thiel, Robert Rodriguez
Website: www.MacheteKills.com
Main Cast: Danny Trejo, Michelle Rodriguez, Sofia Vergara, Amber Heard, Antonio Banderas, Cuba Gooding Jr., Walt Goggins, William Sadler, Demian Bichir, Mel Gibson, Carlos Estevez, Jessica Alba, Lady Gaga, Vanessa Hudgens, Alexa Vega, Marko Zaror, Samuel Davis