Dir/scr: Sudabeh Mortezai. Austria. 2014. 98mins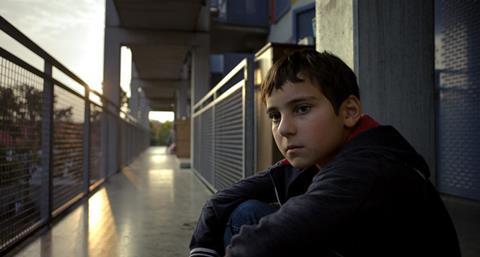 Located agaist the backdrop of Vienna's outskirts and one of its less touristic attractions, Macondo is a downbeat ethnic neighborhood, its population consisting of immigrants and refugees who are coming from every corner of the world to access the so-called bliss of the West. For Iranian-born, Vienna-based Sudabeh Mortezai, a documentary filmmaker who says she discovered the place accidentally, Macondo is exactly the background she needed for her debut feature, the small scale, intimately touching portrait of an 11 year-old boy, Ramasan (Ramasan Minkailov) who grows up in the company of his mother, Aminat (Kheda Gazieva) and his two younger sisters (Rosa Minkailova and Iman Nasuhanowa).
The plot itself might not be terribly original, but to Mortezai's credit, she conveys it in a gentle, subdued manner.
After his father, a Chechen fighter, was shot dead in action, the rest of his family left to seek refuge in Austria, and since their request to stay - like that of many others in Macondo - is still pending, they are trying to make ends meet the best they can. While Aminat, silent, sad-faced and given to bouts of acute melancholia during which she stares vacantly into thin air, is going out to work, Ramasan is shepherding his sisters around, helps in the kitchen, runs the errands, and even serves as his mother's interpreter, since she hardly speaks any German.
But he is also a kid who likes to join a football game, to fool around, to join his pals in dubious pranks or explore on his own the nearby woods, and come into conflict with the man in charge. The boy at play provides the core of Mortezai's film.
When another Chechen refugee, Isa (Aslan Elbiev) joins the community and introduces himself as a friend of Ramasan's father, the boy at first welcomes a new source of information about the parent he had hardly known, but the tentative friendship between the two of them comes to an abrupt end when the boy gathers, from Isa's answers, that his father was not quite the heroic figure he had deemed him to be in his imagination, and even worse, when he suspects Isa might attempt to get too close to his mother.
The plot itself might not be terribly original, but to Mortezai's credit, she conveys it in a gentle, subdued manner, wrapping it inside a documentary portrait of life in Macondo and of the people there, which may lack the deeper political or social implications usually explored in such occasions.
She takes her own sweet time developing the plot, proceeds sometimes too leisurely, observes her characters closely but never permits the camera to crowd or browbeat them, keeps the dialogue to a minimum and allows the images to flow freely and speak for themselves.
Also, luckily for her, Ramasan Minkailov is a natural born actor who has no fear or shame in front of the camera…or else is the exact copy of the character he plays. Either way, the result is utterly convincing, because his unforced facial expression, grave, mischievous or remorseful, and his natural body language are more eloquent than anything written.
Production company: FreibeuterFilm
International sales: Film Boutique, www.filmsboutique.com
Producers: Oliver Neumann, Sabine Moser
Cinematography: Klemens Hufnagl
Editor: Oliver Neumann
Production designer: Julia Llibiseller
Main cast: Ramasan Minkailov, Alsan Elbiev, Kheda Gazieva, Rosa Minkailova, Iman Nasuhanowa, Askhab Umaev, Hamsat Nasuhanov, Champascha Sadulajev