Dir: Mika Kaurismäki. Ger-S Afr-Fin 2011. 90 mins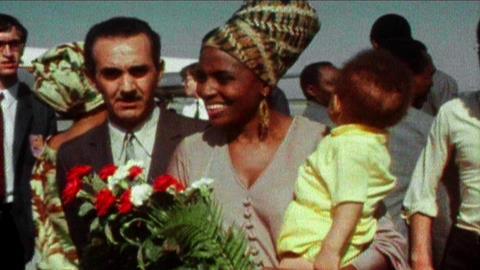 A legend of African music and culture is paid vibrant homage in Mama Africa, a portrait of singer Miriam Makeba, which has everything admirers could ask for - except Makeba herself. Work on the project started before the singer's death in Italy in 2008, but Mika Kaurismäki has nevertheless assembled a compelling portrait of a hugely talented exile and international figurehead for black South Africa.
An assemblage of interviews and archive clips, from the 1950s to the present day, provides a portrait of the multi-lingual Makeba.
Finnish director Kaurismäki has made a number of documentaries in his adopted home of Brazil - including 2005's Brasileirinho - but with Mama Africa, he may hit paydirt. Riveting subject matter, terrific music and engaging interviewees could pay off in crossover appeal in The Buena Vista Social Club manner, if not on that grand scale. TV, DVD and festival prospects are promising, but this rousing film should find a theatrical welcome too.

An assemblage of interviews and archive clips, from the 1950s to the present day, provides a portrait of the multi-lingual Makeba, who popularised South African music, and the click-laden Xhosa tongue. Contemporaries interviewed include singers Dorothy Masuka and Abigail Kubeka - both still in fine voice - and Makeba's former husband, trumpeter Hugh Masekela. The film shows how Makeba's appearance in Lionel Rogosin's 1959 documentary Come Back, Africa led to her exile in the US, where she became a protégée of Harry Belafonte and pleaded in the United Nations for sanctions against the apartheid regime.
Perhaps the most fascinating material covers Makeba's marriage to Black Power activist Stokely Carmichael, and resulting rejection by the US music business. The pair made their home in Conakry, Guinea, where Kaurismäki has shot much new material. The film culminates with Makeba at last returning to South Africa at the behest of Nelson Mandela - a triumphant homecoming, although Masekela regrets that she was never quite accorded the status she deserved there.

The film is generally celebratory, although a sadder note is struck by the loss of a grandchild, and of Makeba's daughter Bongi, a singer who wrote much of her mother's material, and who died tragically young. A dissenting note also comes from veteran musician Joe Mogotsi who complains that Harry Belafonte effectively blocked him from taking his rightful place at Makeba's side in the US: a statement wittily cut against a 1960s clip showing Makeba backed by barbershop-style white singers who could have stepped out of Christopher Guest's folk parody A Mighty Wind.

Music lovers may regret that there are no extended clips of any single Makeba performance; instead Kaurismäki uses a small number of key songs, cutting between performances from over several decades. This can be frustrating, but has the virtue of showing the consistency of Makeba's style and the virtuosity of her backing musicians.
As for the singer herself, the power of her voice and the rhythmic inventiveness of her phrasing emerge magnificently, as does the force of a seemingly generous and gregarious personality. Naturally, there's a lot of smash hit 'Pata Pata', although Makeba amusingly reveals that she never much liked this dance song "with no meaning at all… I would have preferred another song to be popular."



Production companies: Starhaus Filmproduktion, Millennium Films, Marianna Films, ZDF/arte
International sales: Fortissimo Films, www.fortissimo.nl
Screenplay: Mika Kaurismäki, Don Edkins
Producer: Rainer Kölmel
Cinematography: Jacques Cheuiche, Wolfgang Held, Frank Lehmann, Martina Radwan, Eran Tahor
Editors: Karen Harley, Uwe Dresch, André Bendocchi-Alves