Dir/scr: Nicholas Ozeki. US. 2012. 109mins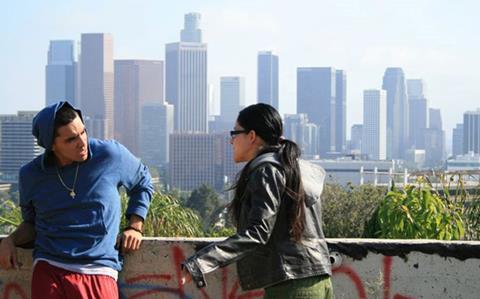 A likeable if rambling coming-of-age drama set in a vividly portrayed Latino Los Angeles, Mamitas probably won't make much of a splash at the box office but it should serve as a good industry calling card for writer-director Nicholas Ozeki and the two young leads.

Bonilla and Diaz-Carranza give very natural and quite touching performances.
After a festival run that began at last June's Los Angeles Film Festival and yielded prizes at a couple of smaller events, the independent production gets a limited US theatrical release at the end of this month. English-language dialogue may broaden the potential audience, though the danger is that the film will slip down the crack between the art house and mainstream markets. There may be some international interest in Latino territories.

Ozeki - nominated for this year's Independent Spirit Someone To Watch award - bases his first feature on his own 2007 short of the same title (a Spanish-language term of endearment for young and sometimes older women).

In the feature version, Jordin (played by E J Bonilla, from recent US release Musical Chairs) is a rebel at high school but at home looks after his grandfather (Mexican veteran Pedro Armendariz Jr) and tries to get on with his single father. Felipa (feature newcomer Veronica Diaz-Carranza) is a bookish girl with an absent mother who sees through Jordin's swagger and begins a tentative romance with her classmate.

Early scenes in Jordin and Felipa's school have the edge and tension of a fairly gritty urban drama. But the film turns into a gentler family drama as Jordin, with Felipa's help, tries to discover more about his late mother and a mysterious friend. Unfortunately, it loses some of its energy and emotion in the process.

Bonilla (who got his start in a US daytime soap) and Diaz-Carranza (who's mostly been seen in small TV parts) give very natural and quite touching performances.

Shooting in a hand-held style on Super 16 film, Ozeki builds atmosphere with nice use of Los Angeles locations.

Production companies: Right Brain Films, Sofias Pictures
US distribution: Screen Media Films
International sales: Right Brain Films, Adamrenehan@gmail.com
Producers: Adam Renehan, Andrew Daniel Wells
Executive producers: Andrew Daniel Wells
Cinematography: Andrew M Davis
Production designer: Julie Ziah
Costume designer: Gina Correll Agiletti
Editor: Melissa Brown
Music: Joseph Trapanese
Website: www.MamitasTheMovie.com
Main cast: E J Bonilla, Veronica Diaz, Jennifer Esposito, Jesse Garcia, Joaquim de Almeida, Pedro Armendariz Jr