Japanese film-maker receives Lifetime Achievement award on opening night of genre festival in Montreal.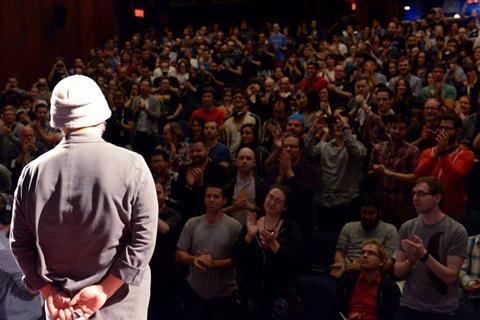 Montreal's Fantasia International Film Festival got off to a winning start last night [July 17] as Mamoru Oshii received a Lifetime Achievement award.
The Japanese film-maker received an extended standing ovation at the sold-out screening of the HD remaster of his seminal 1995 anime classic Ghost in the Shell, the first time the print has been shown outside of Japan.
Oshii was in fine form during a brief Q&A ahead of the screening, when he recalled the only other time he's watched the film since he made it.
"I watched it in San Francisco. The film was so old that all you saw was the rain, and some of the scenes were missing so it was really hard to tell what kind of story it was. I'm praying that today, we'll get to see everything."
Next year will see the 20th anniversary of Ghost in the Shell and Oshii is pleased that it's lived on, and is arguably as relevant and fresh as it was back in 1995. "Each movie has its own lifespan and I feel that once it doesn't play on screen any more, it's probably dead," explained Oshii.
"Fortunately, my movies usually play at least once a year somewhere and it makes me happy to know that somewhere out there, it's playing."
Oshii was refreshingly blunt when asked what was the main difference between Masamune Shirow's original manga and his anime – "the biggest difference is the size of the boobs" – but also noted that the most important thing in adapting a manga is the relationship between the director and the original writer.
He also had an analogy for the adaptation of a manga: "An original comic book is almost like a bowl, and it's just a matter of what to put in that bowl. You can't have it overflowing but you can't have it empty either. It's very challenging to make a movie that fits in that size of bowl."
The Japanese film-maker had one last surprise for the Fantasia crowd with a trailer for his upcoming film, Garm Wars: The Last Druid, which he just wrapped post on in Montreal. The action sci-fi is expected to be released next year.
This year will also see the festival present Tobe Hooper with a Lifetime Achievement award on July 30 at a screening of the 40th anniversary 4K restoration of The Texas Chain Saw Massacre.
Fantasia International Film Festival runs until Aug 6.
All photos Vincent Fréchette