Dir: Batin Ghobadi. Kurdistan. 2014. 110mins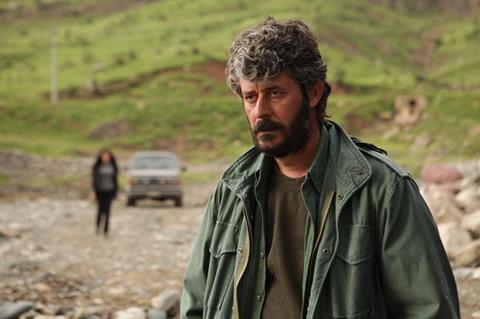 Framed by the silent monumental landscape of Iraqi Kurdistan, Mardan is a complex, elliptical portrait of a policeman crumbling from within, decades after a childhood tragedy.
The momentous symbolism throughout could be heavy going, were Ghobadi not a deft storyteller.
With Kurdistan under siege again (this time by ISIL jihadists), the news of a land torn by conflicts past and present gives context to the feature debut of Iranian-born Batin Ghobadi, the youngest sibling of Bahman Ghobadi (A Time For Drunken Horses).
Mardan should have a solid future in festivals and in European markets like France where Iranian films perform well. Monumentally epic and delicately intimate, the film is a persuasive calling card for future financing for Ghobadi, who made short films until now.
The plot is a seemingly routine police story. A construction worker on a massive remote tunnel has disappeared, presumed to be the victim of a robbery. A woman (Helan Abdullah) and young son (ominously named Kurdu, suggesting the future of a nation) await the outcome of an investigation that the bearded taciturn former warrior Mardan (Hossein Hassan) leads. Yet a second event, flashed back at the beginning, haunts the action. Mardan's younger brother is gang-raped years before when the two boys go swimming. Mardan, off in nearby woods, hears his screams but can't help. Hence a character drowning in guilt.
Heir from his brother to today's rich Iranian cinema (the family's region of origin straddles Iran and Iraq), Ghobadi looks to another bordering country for inspiration here, Turkey, the land of Nuri Bilge Ceylan. Mardan's investigation (like Ceylan's purposeful riddle-laden stories) is a slow deliberate probe, deliberate until suppressed facts and repressed memories hurl it in unexpected directions, like the police vehicle that Mardan drives at breakneck speed until objects in the mountainous landscape inevitably get in the way. This fable-within-a-film of Kurdish fatalism on wheels is the sole dose of humor in an otherwise solemn tale.
Yet the solemnity is lightened by Saba Mazloum's cinematography, alternating between wide vistas of the rugged unforgiving land and tactile close-ups of desperate folk in its rocks and shadows. Delicately placed clues keep your attention poised for the next pivot in Ghobadi's hyper-minimal script.
The land itself, where men like the missing Morad worked in tunnel construction, is a metaphor here. Ghobadi doesn't burden his story with tales of wartime anguish – flashbacks tend to be personal, and not history lessons – yet the transformation of the landscape (the "emerging Kurdistan" of promotional brochures) doesn't bury the troubled past in Mardan's isolated post. Indeed, prosperity may contain a curse. Workers like Morad, with cash in their pockets, are potential crime victims.
The momentous symbolism throughout could be heavy going, were Ghobadi not a deft storyteller. He's helped by an able cast, the core of which is Hassan as Mardan, a bruiser whose grizzled face is offset by eyes with a childish softness. They point to a vulnerable destiny in this promising first feature which proves that Ghobadi knows his territory, cinematic as well as geographic.
Production company: Mijfilm Production
International sales: Versatile vpichon@versatilefilms.com
Producer: Bahman Ghobadi
Screenplay: Bahman Ghobadi
Cinematography: Saba Mazloum
Editor: Hayedeh Safiyari
Music: Kayhan Kalhor
Production designer: Aidin Zarif
Main cast: Hossein Hassan, Helan Abdullah, Ismail Zagros, Feyyaz Duman