Dir/scr: Sean Durkin. US. 2011. 101mins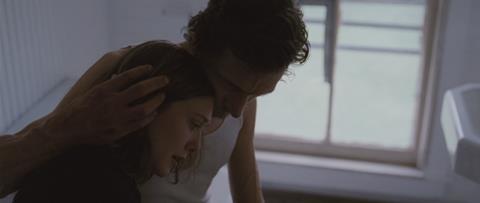 An expertly crafted exercise in cinematic storytelling, Sundance dramatic competition entry Martha Marcy May Marlene follows the plight of a young woman, both inside and outside of a small commune-like cult in the Northeast. While the film confirms the rising talents of its makers—namely the producing-directing team of Borderline Films, which includes director Durkin, Josh Mond and Antonio Campos, and astounding young cinematographer Jody Lee Lipes (Afterschool), Martha Marcy May Marlene is fueled more by its ominous sense of dread than conventional dramatic elements.
What stands out most in Martha Marcy May Marlene is the supremely assured quality of the filmmaking.
It will require delicate handling on the part of distributors and a strong promotional effort on the part of its female star, Elizabeth Olsen (the younger sister of famed siblings, Mary-Kate and Ashley Olsen).
Olsen plays Martha, renamed Marcy May in the confines of her new extended family, all of whom live together—seemingly peacefully—in a farmhouse in Upstate New York. In the very earliest scenes, Durkin and Lipes beautifully capture their quiet, collective living environment, with multiple bodies arranged inside the frame in elegant harmony. But one morning, Martha makes a break for it and disappears into the woods – in a slow outward zoom shot of the forest, evocative of the mysteries of Picnic At Hanging Rock – and leaves her community behind.
Martha ends up with her older sister Lucy (Sarah Paulson) and her newlywed husband (Hugh Dancy) in an immense Connecticut lakeside house—all posh straight lines and spare muted brownish décor—that could sit next door to the vacation home of the family in Michael Haneke's similarly foreboding Funny Games. The reference takes on further resonance later in the film, as members of Martha's commune (which includes actor Brady Corbett, seen in the US-set remake of Funny Games) enter the homes of the bourgeoisie for the purposes of petty theft, or worse.
The film skillfully cuts back and forth between Martha's life in Connecticut, as she fails miserably to connect with her sister and reintegrate into "normal" society, and her time at the commune, which initially appears blissfully utopian, and yet quickly takes on greater shades of oppression, exploitation and violence. Martha, it seems, is trapped in either location.
As the commune's patriarch, actor John Hawkes, looking even more emaciated and feral here than in Winter's Bone, perfectly captures the alternating charisma and menace so often seen in cult leaders. For her part, Olsen (looking as much like Maggie Gyllenhaal as her twin sisters) does a capable job of conveying the mix of confusion, vacuity and post-traumatic stress in the character, as she tries—and fails—to escape her past.
But the key relationship between Martha and her older sister comes across as too generic, and growing tensions between Martha and her sister's husband never go beyond obvious discussions of freeloading and materialism.
Again, what stands out most in Martha Marcy May Marlene is the supremely assured quality of the filmmaking, particularly for a first-time director under 30. Not only are the frames exquisitely composed and highly deliberate in their choice of focus and depth, but the sound design and musical choices are equally bold, from a highly dissonant arrangement when Martha has a breakdown to ominous hums, percussive beats and the faint sounds of bees buzzing somewhere deep in the forest.
Production companies: Borderline Films, FilmHaven Entertainment, MayBach Cunningham, This is That
International sales: United Talent Agency
Producers: Josh Mond, Antonio Campos, Patrick Cunningham, Chris Maybach
Executive producers: Ted Hope, Matt Palmieri, Alexander Schepsman, Saemi Kim, Saerom Kim
Cinematography: Jody Lee Lipes
Production designer: Chad Keith
Editor: Zac Stuart-Pontier
Music: Daniel Bensi, Saunder Jurriaans
Main cast: Elizabeth Olsen, Brady Corbet, Hugh Dancy, John Hawkes, Sarah Paulson