Cloverfield director Matt Reeves talks about his follow up, Let Me In, a remake of Swedish vampire tale Let The Right One In, which is currently in post production.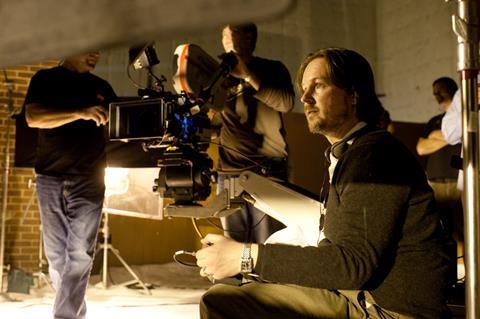 Matt Reeves earned worldwide fame after his monster feature Cloverfield went on a box office rampage in 2008. Overnight the longtime friend and collaborator of J J Abrams became one of the most in-demand film-makers in Hollywood as dozens of projects came his way.
For his follow-up Reeves settled on Let Me In, a remake of the Swedish vampire tale Let The Right One In, switching Tomas Alfredon's beguiling film to a 1980s US suburban milieu. Kodi Smit-McPhee from The Road, Chloe Moretz from Kiss-Ass, and Richard Jenkins star.
The writer-director took time out from post-production to attend Comic-Con in San Diego and talks to Jeremy Kay about the project. Overture Films has scheduled a North American release for October 1.
How did the movie come about?
I'd just finished Cloverfield and was trying to get The Invisible Woman made, which developed from this pilot I'd written and was told from the point of view of an 11-year-old kid. He had these tentative encounters with this 11-year-old girl who lived in the same building. I took it to Overture and they loved the script but thought it was too dark but they said they wanted to do something with me. They were pursuing the remake rights to Let The Right One In and showed me the movie in January 2008.
So I'm watching Let The Right One In and naturally I was blown away. [Let The Right One In novelist and screenwriter John Ajvide] Lindqvist was using the metaphor of vampirism to talk about the pain of growing up. In the novel there's even more of what Oskar [called Owen in the remake] does to ease his pain. In the Swedish film there are some characters who hang out at the Chinese restaurant and you could make a move about each of them. In [Lindqvist's] adaptation he focused primarily on Oskar and that coming-of-age story, so that was the thing I related to.
What was it about the story that appealed to you?
I wasn't sure Overture should remake the movie because it was brilliant. They wanted to age up the characters and I wasn't sure that would work. I wrote to Lindqvist on email to tell him how much I was drawn to his story. I connected with the story of that time in someone's life because it reminded me of my life. He wrote back and said he liked Cloverfield and said he was happy I liked [Let The Right One In] because it was the story of his childhood.
Let The Right One In is rooted in Swedish culture. What parallels will engage US audiences?
In the book [Lindqvist] talks about Blackeberg, the city where he grow up. It was a planned community – kind of like American suburbia. He said the thing that distinguished it was it was a place without history and didn't have a church, which may have been one of the reasons people from the town were so unprepared for events. The elements in his novel [and the screenplay of Let The Right One In] were specifically Scandinavian, so I wanted to do our version of a suburban town.
Lindqvist grew up in the 80s when there was a debate about the death penalty in Sweden. And when I grew up in the 80s I remember Ronald Reagan talking about the Evil Empire. So there was this notion of evil being as from 'the other.' I wanted to explore what it would be like to grow up in that time in suburbia. I tried to find a way to contextualise it. In a weird way the movie owes a lot to the structure of the [original] film, the detail of the book and my memories of growing up.
Tell us about the young leads
Kodi is truly a genius. He was so authentic. I wanted to put in a scene where the boy, who is bullied at school and whose parents are going through a divorce, connects with this girl and after he discovers who this girl is it's very upsetting to him. He would be going nuts, so it reminded me of the scene in Rosemary's Baby where Mia Farrow's on the phone and is dissembling. So I had this idea where in the moment of greatest weakness he would call his father. I had this idea that you would feel his absence but you would never actually see the father. I wrote the scene and wondered how I could get a 12-year-old boy to do this scene.
We tried as many kids as possible. Kodi came in and blew me away. That was the day we not only had our actor, but that I knew we could make this film. You had to have a believable relationship between the two kids and the relationship with Richard's character. Even though this is a genre film, it lives through the relationships. Chloe was the same way – the two of them were so amazing.
How did Richard Jenkins come on board?
I met Richard at an Overture party for The Visitor while I was writing the script and my wife said he had captivating eyes and said it would be him.