Dir-scr: Keith Bearden. US. 2010. 98mins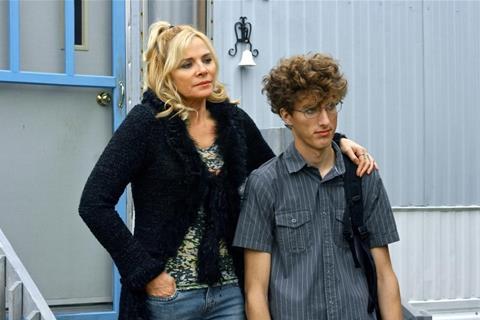 In Meet Monica Velour, a nerdy teenager goes in search of the object of his affection, a middle-aged former porn star, and the results are dispiritingly predictable. Making his feature debut, writer-director Keith Bearden aims for a gentle coming-of-age story that mixes with May-December romance, but despite a sympathetic performance from Sex And The City star Kim Cattrall, there simply isn't much life or surprise in this tepid indie.
Cattrall plays Monica with a weary, lived-in quality that helps paper over the character's lack of development.
Opening in limited release on April 8, Meet Monica Velour will need to rely on Cattrall fans to generate much theatrical interest. It seems far more likely that this low-budget offering will instead quickly migrate to DVD and cable, where Cattrall's name might help lure the curious.
Fresh out of high school and facing an uncertain future, the lonely and geeky Tobe (Dustin Ingram) discovers that Monica Velour (Cattrall), an '80s porn actress that he adores, will be making a rare public appearance halfway across the country at a strip club. Impetuously, he decides to meet her, only to discover that she's a very unhappy divorced mother living in a trailer park.
The modest Meet Monica Velour isn't striving for breathtaking narrative originality, instead sensitively focusing on its two marginalised characters who form an unlikely (and very tenuous) bond. But while Bearden clearly loves his protagonists, he fails to bring fresh insights into either of their predicaments, especially when it comes to Monica, whose life would presumably actually be much more dire and desperate considering her porn past and current state of near-poverty.
Cattrall plays Monica with a weary, lived-in quality that helps paper over the character's lack of development, but Ingram badly overplays Tobe's hopeless awkwardness, failing to make this lanky virgin likable. Although Bearden telegraphs early on that there probably isn't much hope for a real romance between these two very different people, Tobe's ineffectual, clueless behaviour starts to grate pretty quickly, making it nearly impossible to root for his attempts at wooing the much older woman.
Helping to anchor the film is Keith David as an unlikely mentor to Tobe, but otherwise the supporting performances tend to lean toward generic types, most disappointingly with Brian Dennehy as Tobe's cranky, boozing grandfather.
Production company: Gilbert Films
Domestic distribution: Anchor Bay, www.anchorbayentertainment.com
Producers: Gary Gilbert, Jordan Horowitz
Cinematography: Masanobu Takayanagi
Production designer: Lou A. Trabbie, III
Editor: Naomi Geraghty
Music: Andrew Hollander
Website: www.meetmonicavelour.com
Main cast: Kim Cattrall, Dustin Ingram, Sam McMurray, Tony Cox, Jee Young Han, Daniel Yelsky, Keith David, Brian Dennehy